Boylepoker International Poker Open Review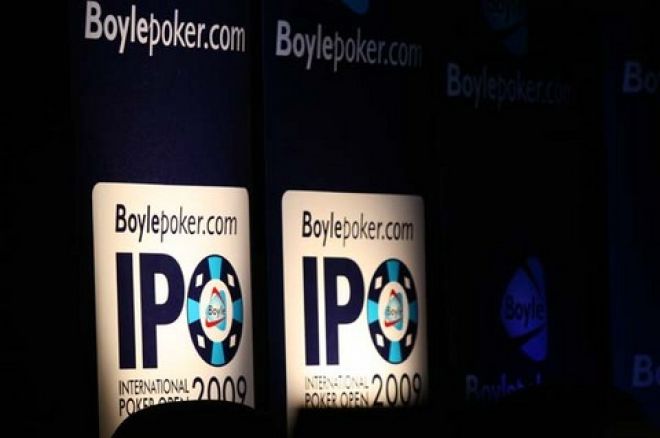 What happens when you get 1440 players, many of whom don't play live much, many of whom can't speak English, to play in a 3 day tournament at a hotel in Dublin? It would be chaos right? Surely it would be rammed, hectic and have a crapshooty structure?
Well, no.
The BoylePoker International Poker Open on paper could have been a real disaster, on its way to again breaking the record for largest field outside of the US, but it wasn't. It was actually one of the most well organised and fun packed weekends of poker I have had in years.
The Regency Hotel is a lovely hotel but at first glance didn't seem big enough to accommodate 1440 poker players, but it did. The quaintness of the hotel, coupled with the really festive atmosphere of the event made it seem almost like a small friendly local competition, certainly not the biggest event ever held outside of the WSOP. I really thought I would be jockeying for space at the bar and at the poker tables, but that wasn't the case and it was much more spacious than many 30 runner tournaments I have played down my local casino.
Boylepoker introduced a new innovation this year, whereby people who commit a certain amount of time at their online poker room would get additional starting chips. There was concern that this would create chaos and complaints on the day, it didn't, not a single complaint or dispute. The event also tried out a new idea that every tournament organiser should pay attention to, the day before the event we all received an email telling us which table and seat we would be starting on. This made things so much easier and navigating your way around the 700 other runners on each day 1 was a breeze.
The banter at the tables was fun and respectful at all times. Nearly a third of the field was French (A very cleverly timed coup, organising the event on the weekend of a French holiday) but language barriers didn't impede the social aspect of the event and I am not aware of any bad feeling at any of the tables. The dealers applied a lot of common sense with the 'English only at the table rule', as it would have been pretty unreasonable to prevent people using their mother tongue altogether at the tables, especially as some needed help communicating with the rest of the table.
There was a ton of added value in the main event too. $27,000 had been added by sponsors Boylepoker and a bunch of the better known players (Yours truly also somehow included) were scattered around the tournament wearing Sunderland Shirts to indicate we were bounties, anyone who busted us got a free ticket into a freeroll that could ultimately win them a sponsorship deal. Bubbling the largest tournament in European history would have normally sucked, but even the bubble boy netted a $320 ticket into an online Boylepoker Sunday Major.
This was only a $225 event, because it was aimed at new and recreational players, but it still created a whopping $62,225 first prize and how many other live events can boast anything like that? The structure was also deep and steady, with levels like 75/150 and 150/300 included when a lot of other events would have excluded them to bust more players sooner. We had to play a lot of levels each day, but this was to be expected and the main event actually finished pretty early into the final night, not a 6am affair like I was expecting. The side events were also low buy-in, large field events and most of the cash games were suitably midstakes. There was a lot of fun to be had railing these games, watching pros and locals alike flipping for fun and playing a variety of prop bet table games into the night.
In fact, the only really negative thing I can say about the event would perhaps be a bit unwarranted anyway, and that was it was expensive at the bar. Having said that, EVERYWHERE in Dublin is pricey so I can hardly hold Boylepoker accountable for this. Especially when you consider the value for money everyone was getting in the tournament itself.
It might sound like I was surprised that the event was such a good one and I must say I was. I always knew this was going to be a fun event, because of the previous two that had such good reviews, but what really surprised me was just how good it actually was. This was the largest tournament ever in Europe and I expected some concessions to have been made either to the comfort or the structure of the tournament, but I discovered neither suffered. In fact, this was much better organised than a lot of much higher stakes events and I think that the BoylePoker International Poker Open is not only a must attend event next year, I think it could be the best value event in Europe for a new player to cut their teeth. I expected a hectic stampede of poker, what I actually got felt much more like a really fun home game that just happened to have 1440 people playing in it.