Darren Annis Wins GUKPT Thanet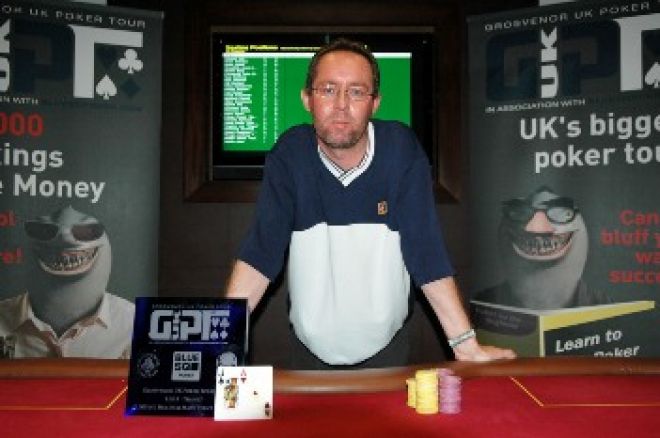 This year's GUKPT event in Thanet attracted 123 runners and may have been the shortest main event on the tour so far, but that didn't stop the cream of the UK poker scene rising to the top. Amongst the stampede making a charge for a coveted GUKPT title and a seat in the Champion of Champions tournament were recent double bracelet winner J.P. Kelly, who, although didn't make it out of day 2, managed to triumph in the £250 No Limit Hold'em side event. Other notable faces who couldn't keep up with the relentless pace were Roberto Romanello, Julian Thew and Jerome Bradpiece.
With the end of day 2 swiftly drawing to a close, 11 hopefuls were all wondering who was about to become the most popular player in the room. First to exit in a final bid for glory was WSOP champ in waiting, James Akenhead. After losing a race just minutes before there was no other move for Akenhead but to open shove his AJ and leave his fate in the hands of the poker gods. Without much hesitation, Lawrie Inman made the call with KT and after connecting with the flop it was Akenhead who was unable to make another final table appearance before his jaunt across the pond in a few weeks time. With 10 players left it was Glen Altham who became the recipient of at least nine pints. After limping along for most of the final day he eventually got the last of his stack in against Jeff Kimber. Altham's big slick was looking good until Jaffa paired his queen on the river to send home Altham in 10th place and secure the final nine.
Weighing in at the final table were some heavyweights of the poker world including former tour winner Jeff "Jaffa Cake" Kimber and a player who was literally born to player poker Adam Vinson. Adam's father Alan and brother Ben are both familiar faces on the UK tour with each having two final appearances at the GUKPT under their belts. Adam was clearly looking to go one step further and seal a victory for the Vinson clan but after battling hard his AK ran into the KK of eventual winner Dennis Annis. Vinson's 8th place exit earned him just shy of £4K. Robert Topp and James Morris quickly followed Vinson, being eliminated in consecutive hands. Prison guard Andreas Achillea was the fifth man down and with a four way tussle between Kimber, Inman, Annis and Peter Charalambous set to ensue it looked as though Jaffa Cake would claim another GUKPT title. After making a stand with A7 and finding a caller with AT it was Charalambous who has heading for the rail in fourth place and £11,500 better off. The quick pace didn't slow as the play went three handed and in no time at all it was Jeff Kimber who was to become chip assassin once again as his bluff got lucky on the river against Lawrie Inman.
With a slight chip advantage going in the heads-up battle it looked as though former HU champion Kimber was a dead cert for the title. Kimber duly increased his chiplead by slowly chipping away at the less experienced Annis. Obviously nobody had told Annis that this was a one horse race and after getting lucky with A4 the bit was firmly between his teeth. He quickly stepped up the pace and only 10 minutes after his fortuitous double-up he dipped his head past the winning post when his AJ came up trumps on a K-Q-Q-T-5 board. This was the first GUKPT the former IT consultant had played in and after seeing off a small but select field he took him £42,000 for his efforts. It wasn't all doom and gloom for Kimber as he'd already notched up a win in the £200 No Limit Hold'em event earlier in the week plus another £27,000 for his second place finish in the main event. Speaking after the event Annis commented, "I played my A-game for three days and it had paid off. When I play my A-game I'm as good as anyone in Europe." Indeed, Annis will certainly have a chance to prove that as he is now guaranteed a seat in the forthcoming GUKPT Champion of Champions tournament at the end of the year.
The next GUKPT is in November, when the G Casino in Blackpool plays host to the 9th and final regular leg of 2010 from the 7th of November.
Picture courtesy of the GUKPT