Challenge James - Greek Poker Tour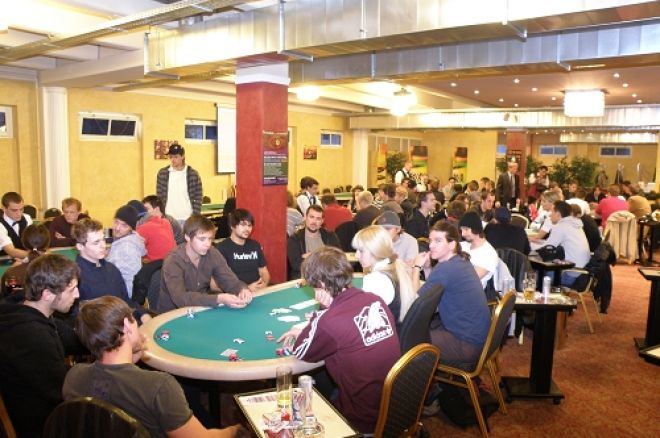 Recently I travelled to Vienna to take part in the Greek Poker Tour. This might seem confusing as Vienna is in Austria (although no-one was more confused than my girlfriend's sisters, one who asked "Is that in Russia?", and one who wanted to make sure that "Austria isn't in Australia, is it?"). Apparently there are various restrictions to playing poker in Greece, hence the location.
It had been a year since I last travelled outside of the UK to play poker, and with the World Heads Up Poker Championships disappointingly not being held in Barcelona this year which had become something of an annual trip for me as I had attended the last three, I was on the look-out for a trip to break up the grind of online play. This one fit the bill of being affordable and having a potentially soft field. I managed to persuade fellow pro Dan Carter to come along with me, and we headed out there for four nights.
Upon arrival we decided to do a little exploring. Dan had informed me that it had been 26°C the week before, but it was a good job I'd decided to take a warm hoody along, because it was bloody freezing, and although I'm not really sure how wind chill factor is measured, there definitely was one, and it was big. At least if Dan got nothing else out of the journey, he picked up a nice coat that he was very pleased with on the Viennese high street.
Over the next couple of days we did a little sightseeing, made very good use of the hotel bar, and had a big night out on the town. In fact I was suffering from one of my worst hangovers, (and there have been some bad ones!) on the day we finally made it to the Casino to play the Main Event. Is it just me or is a hangover so much worse when the person you are with is perfectly fine, and almost whistling with enthusiasm for the day? I don't think my head could take any whistling personally.
I was hoping the breakfast in the Casino would perk me up. Egg, ham and sausage sounded just the business. However my dreams of a Full English were well and truly scuppered when out came some ham, cheese and salami all layed out on a plate. At least there was a soft boiled egg, but sadly no soldiers.
Breakfast aside, the Concord Card Casino is a very nice card room with lots of poker tables, and is exclusively poker based, a single blackjack table aside. There were even a bunch of plasmas showing the footie. It almost felt like Dusk Till Dawn, although not quite as well designed or organised. There was one huge difference though, and that was smoke. I think this is the first time I have encountered such smoke, as even before the smoking ban I believe it had to occur outside the card room. Here this is not the case; with only players in seats 1 and 9 are prevented from smoking for the sake of the dealers. It seemed to me players 2 through 8 took up this privilege often. I liken playing poker here for hours to playing football on a frozen pitch in the Gardens of Babylon. Great location...terrible playing conditions.
The €500+50 Main event attracted 228 entries, most of them Greek, Austrian or German. The field perhaps wasn't as soft as I was expecting, and was mostly quite competent, but it was nice to play a tournament where I never recognised anyone on any of my tables. Even with my hangover I played pretty solid poker throughout the day, and after 12 hours of play I was one of the 33 people who made Day Two, and so was Dan. With 24 players paid we were feeling good about our chances, although neither of us had that many chips.
We came back the next day (and skipped the breakfast), and with the new blind level and all of 11 big blinds to my name I was going to be in shove-mode, but with playing turbo SNGs online, I knew this would not be a hindrance to me. What was a hindrance to me though was picking up pocket fours on the very first hand and running into Kings. I got a bit of a sweat on the turn as the board read Q576, but it didn't hit and I was immediately on the rail. A standard but brutal exit, which could also describe Dan's exit as he made a great re-raise shove on the bubble with A6 of diamonds, and the guy clearly wanted to fold, but just about realised he had to make the call with AJs after tanking. Dan got a sweat too, with the flop reading QTT with two diamonds. He didn't manage to scoop, or bink the chop, and we both stood there as everyone else clapped themselves for being in the money. Yeah, congrats(!).
Still, although we played a lot of poker for no reward, neither of us can complain too much about the trip. Vienna is a really nice place, and Austrian people are just über-polite (as you can probably imagine their English was much better than my German!), and we both had a really good time. It's just a shame I won more money playing Dan at Scrabble on our iPhones on the way home than I did playing poker!