Catman's Column - durrrr Pwned by Gordon Ramsey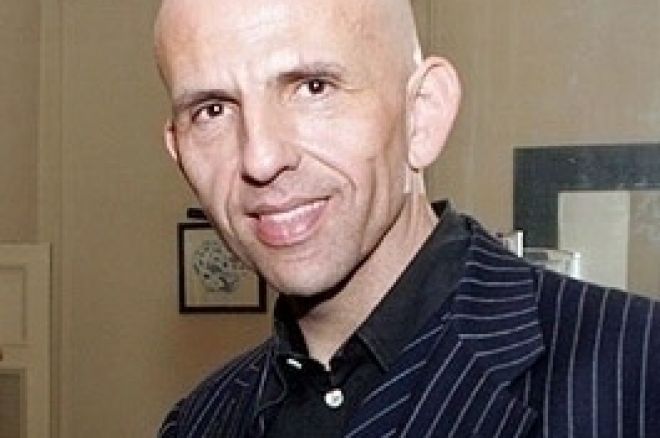 After my little random interview of Luke 'Fullflush' Schwartz, I thought it might be fair that I try again with one of the greatest poker players alive, Tom 'Durrrr' Dwan. The video interview of Tom Durrrr Dwan can be seen below, I believe my big gob allowed Mr Durrrr to get a sentence in edgeways, hopefully it will provide an insight into this rocket propelled titan of poker and money.
Unlike Luke Schwartz, who I simply had to hijack for the cameras at a London Casino, Tom Durrrr Dwan was a little more elusive. Eddie Hearn - Matchroom Sports Poker Capo di Tutti and good mate of Durrrr - fixed the meet. We made our way for our 9.30ish rendezvous at The Mayfair Hotel to be informed by text he was now at The Dorchester. Apparently no less than Whitney Houston had booked the suite he had been staying in, and there were no more rooms, Tom had made the move to slum it at The Dorchester. We cruised over in the Catmobile as the Catgirl groaned about having to play at the Poker Paparazzi and hoping that Tom Durrrr Dwan was not going to be a major Arrogant Poker Pratt. The last time I had tea at The Dorchester it was in a suite with AL Pacino, so what was Poker's equivalent going to be like. We met Tom and his friends in the Dorchester Bar, had a drink and he very kindly whisked us up to his 'Feck off' ( slang meaning F*cking amazing) suite, for a little chat. Make your own decisions about Tom, but without any further ado, may I proudly introduce one super intelligent, nearly as handsome as me, charming, Tom Dwan Durrrr. Tom is one of the few stars I really need and want to know more about, for he has the magic formula.
If Tom Durrrr Dwan would write a book exposing his secrets to success, I would recommend it, but it ain't going to happen, it would be a little like selling the elixir to eternal life. So with this in mind, I accepted Low Stakes Pub Poker supremo Steve Blapo's invite to the Empire Casino for his 25 + 25 squidder. The Catgirl and I arrived late, the girl n the reception said the event was capped at 50, I entered the Catgirl and commenced ffffing and blinding in my very polite way. Within seconds the cavalry had arrived, Kal Art , ex Gutshot Dealer and now working at the Empire told Ginger Steve he had put me in. Kal Art is a diamond and apart from the fabled drunken cash fish playing at The Empire, Kal is a major reason to frequent a club that knows how to look after Cats. A few seconds later , Ex Vic Ginger Steve, decided to come and give me 2 seconds of grief then agreed I was worthy of a squeeze lol. The game took place in the Icon Bar, with the TV table that Annette had won her Million Pounds still in situ (our event Live feed went out to the Housewives Fishing Channel). Another ex Gutshot team member Paul Whiting ( now Empire Poker manager ) ran the tournament. What can I say more than it was a brilliant fun night out, the way poker should be.
My hat goes off to the tilted and charming young man, who ignored my offer of a handshake as I knocked him out, who wandered of mumbling "Nice Moody," loud enough for me to hear. Being the gentleman I am, I stood up and yelled in a nice non offensive voice, 'what are you on about moody?' He wandered off and I took away his 28,000 chips with my straight made on the flop in a BB vs. small blind battle. I caught him in the break, wished to say I had no idea what my moody was. "I play poker here all the time, I know a professional moody, blah, blah. I later found out that my huge moody was the fact that I threw 2 small 25 chips instead of putting in the 2000 min bet I was meant to. This meant my angry opponent had to go all in for 28,000 chips on the turn and girt me his stack. I was kind of thrilled to be mistaken for a merciless pro lol, I came 4th and left at 4am.
Excellent crowd, excellent staff and my huge apologies to the gorg waitress, that I said , 'This tea looks like weak piss.'
Joe Beevers my very good friend from The Hendon Mob, kindly sent me an email the following week to meet him at The Sportsman with his Mob Forum sponsored players, I would never refuse an offer from the mob. The mob forum posters are a strong force in the voice of UK Poker and it is always nice to meet them in the flesh. The event was the London Poker Circuit's new DeepStack £50 + 1 add on and rebuy and got 80 plus runners. The Catgirl insisted on having two glasses of wine, instead of one, this has the equivalent effect of a Bottle of Vodka in her petite frame. The mildly tipsy Catgirl had myself and most tables in stitches or amazement, as she played her way to a non profitable 18th,
The point is, low stakes poker is making a resurgence in a big way, it is fun, there is a huge social element, it is almost affordable and a fantastic way for all Fish, like ourselves, to slowly move toward becoming a gigantic Shark like Mr Tom Dwan Durrrr.
My prize to best Pr of the year in Poker goes to Ms Lucy Sharp of London Clubs International for this comment addressed to The Catman in an email
Hehe loving you at all our venues! Ace
In response : Lucy Sharp, I believe the fantastic staff you have at The Empire and Sportsman, especially Kal, will have my regal presence in the near future.
Next prize to Tom Dwan Durrrr for putting up with an interview by a man that hardly stops talking long enough for him to cut in, but it is entertaining.
Last but not least, congratulations to the King of TV Poker Eddie Hearn on the birth of his baby girl Isabella.
Love, Peace and High Stakes
Catman
Poker Agent