A Busy Weekend for Luke Schwartz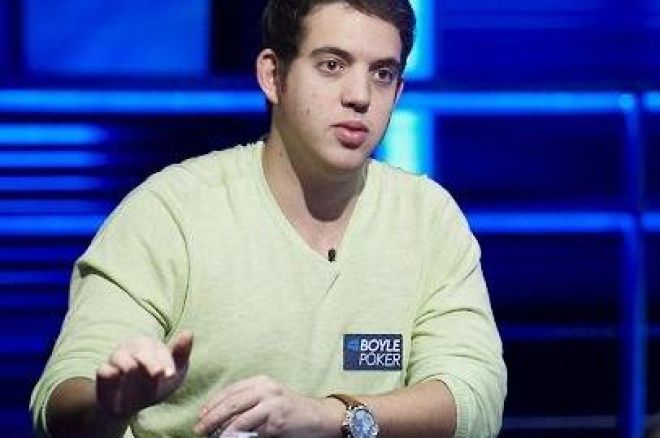 You could not avoid Luke 'Fullflush' Schwartz if you had anything to do with poker over the weekend, as the motor mouth UK star was back and as rowdy as ever. First of all, and perhaps most significantly for his career, he has made the final table of the Poker Million with the chip lead. As always the final takes place in December and will be live on Sky Sports. Schwartz beat a table that included Tony Bloom, Annette Obrestad and Paul Zimbler to progress to the final. The final also includes the other in form young UK player of the year, James Akenhead, who is second in chips and making his third high profile final of the year.
Although the final table is now formed, amazingly you can still be a part of it, with an amazing Parachute promotion from sponsors Full Tilt Poker. On November 22nd you can win your seat in a 5000 FTP point freeroll to go straight into the televised final table with a shot at a $1 million prize. There are feeders to this final satellite running round the clock on Full Tilt Poker.
1 Luke Schwartz 397,000
2 James Akenhead 338,000
3 Taylor Caby 202,000
4 Dag Martin Mikkelsen 160,000
5 Peter Vasiliou 154,000
6 Juha Helppi 149,000
7 Full Tilt online qualifier
If that wasn't enough, Schwartz is finally back playing high stakes at Full Tilt Poker and was as loud as ever. He found himself up against Jason pr1nnyraid Rosenkrantz, the founder of coaching site Deucescracked and current star of the poker reality TV show 2 Months 2 Million. Ever the gent Schwartz decided put his new found chat unban to good use by taking shots at Rosenkrantz's girlfriend. Rosenkrantz tried to keep the conversation on poker, trying to get Schwartz to play higher and telling him he was just trying to be a poker 'celebrity' – but Schwartz continued to take the low road, all of which was a tad too offensive to print here but a quick internet search of the poker forums can find it.
Finally, to top the weekend off, Schwartz turned up for the Party Poker World Open on Sunday at the Palm Beach Casino, but was refused entry. So that's yet another venue you can cross of the list that is keeping Schwartz at home for his poker career. Eventually PartyPoker were able to negotiate a deal to let him in for his heat but at all times he had to be accompanied by an escort from the tournament organisers were responsible for his behaviour. It worked in his favour, as he won his nine hour heat and is in the final, which we found out thanks to our roving reporter Catman who mobbed him in this impromptu video phone interview, with a strangely sombre Schwartz: