London's Calling: Paul Zimbler Breaks World Record, Star Studded £5000 PLO Final at WSOPE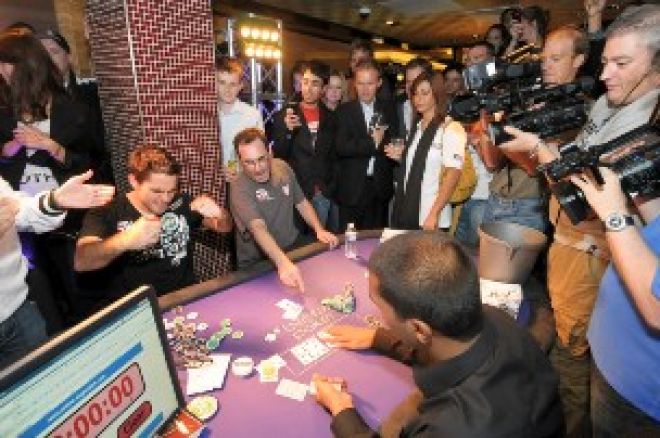 Paul Zimbler Breaks World Record
Congratulations to Paul Zimbler, who yesterday broke the continuous heads up poker world record and set a new time of 74 hours, 20 minutes and 21 seconds. Zimbler had to be carried away from his seat as the physical and mental toll of the challenge became clear. More than £35,000 was raised for the Make-A-Wish foundation, after 1843 sessions of poker. Amazingly, Zimbler ended up a winner overall, with 102 wins and 81 losses recorded by the end of the record. He played against some real icons of the game including Doyle Brunson and ended the record against Mike Matusow (Pictured above). A big congratulations to Paul from everyone at Pokernews.
Ed Note: I bet we see the sicko playing the main event tomorrow
Big Names in £5000 PLO Final
This event always produces a final table to die for, and this year is no different as the £5000 Pot Limit Omaha event plays down to a winner today. Fin Jani Vilmunen has been pummelling the field for two days now and maintained a solid chip lead, but he has a stellar line up vying to take that away from him today. Howard Lederer makes his 25th WSOP final table and will be looking for his 3rd bracelet today and American PLO specialist Robert Williamson III will be looking for his second. UK pro Jeff Kimber is making his 2nd WSOP PLO final of the year and is joined by fellow UK players Ross Boatman and Roberto Romanello. Perhaps the biggest suprise to come from this final table is the fact that Vilmunen is joined by two fellow Finland players, Ville Haasvisto and Aarno Kivelio, and all of them are chipped up. Excellent news for Finnish poker which has some really big names emerging. With three Brits, three Americans and three Fins there will no doubt be plenty of banter at this final table. You can catch all the action today via our live updates.
Seat 1 Robert Williamson III TX 64,000
Seat 2 Ville Haavisto 249,000
Seat 3 Howard Lederer 320,000
Seat 4 Jeff Kimber 133,000
Seat 5 Dan Hindin 320,000
Seat 6 Aarno Kiveilo 608,000
Seat 7 Jani Vilmunen 899,000
Seat 8 Roberto Romanello 306,000
Seat 9 Ross Boatman 186,000
Chris Moorman Picked out by Doyle
In a press conference in London yesterday, top online UK player Chris Moorman was unveiled as one of Doyle Brunson's ten handpicked online pros to represent his online poker room. Moorman has over $1.6 million in winnings and is the latest member of the Brunson 10. It's great news that Chris is being recognised by an overseas card room for all the amazing results he has produced, Brunson commented:
"Moorman reminds me a lot of me, except for the British accent. He's a poker natural, a legend in the making, and that's why I've handpicked him to be the next member of The Brunson 10, my new team of elite poker players who truly are young legends of the game"