Steve Holden - Interview with British Poker Masters Champion Steve Holden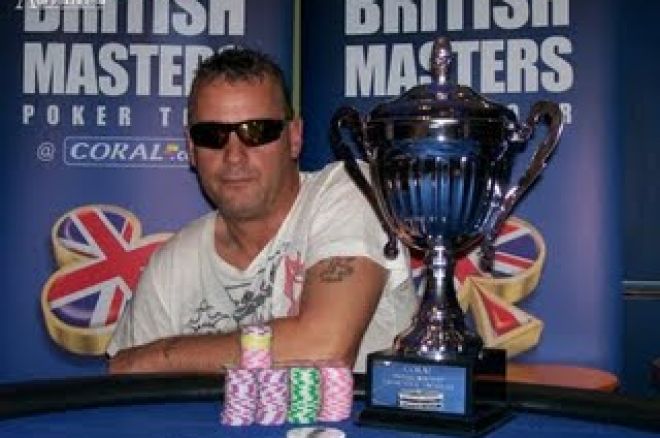 Believe it or not there is poker taking place outside of the WSOPE in London, and one man who can confirm it is Steve Holden. The popular circuit pro took down the Liverpool leg of the British Masters Poker Tour just over a week ago and in doing so, became the first person to take down multiple Gala tour main events (Having won the Nottingham GCBPT in 2007). Steve also has a very popular blog and is a former Blackbelt poker grader:
Pokernews: For those that don't know, how did poker become a part of your life?
Steve Holden: I previously used to be an Office equipment sales manager selling into blue chip, local authority and government accounts and before this I used to manage pubs and clubs in the west midlands area.
I really started playing on-line poker after a trip to Vegas in 2004. I won a works incentive where 8 of us went and stayed at the Bellagio for one week, none of us played poker but we were amazed at just how much people were gambling for, It also reminded me of the games of three card brag that I used to be fond of when I was younger. I decided when I got back from Vegas to start off by playing on the "play" tables rather than the cash tables and learn the game that way.
It had got to the point where I just could not manage to do both a normal job and a poker career – something had to give as I was burning myself out, My boss where I used to work had given me loads of time off to go to Vegas for the 6 weeks during the WSOP and had really stood by me and I didn't want to let them down either, it really was a wrench to leave this secure job with a fantastic income to go into the lions den and play a game professionally whereas before it was just a game that I used to play for fun and I could win a bit of money at the same time. I felt I had the tools in the box to cut my teeth and enough finance behind me for about a 12 month period if I should go without cashing.
I went out to Vegas (won a $12500 seat for the main event on-line) in 2007 after winning the £200 and £500 Gala events back to back and also the £300 Midlands meltdown in the June netting a total of £45k over a 4 week period and then returning back from Vegas another with $30k profit. I ended the year off by finishing 15th in the European rankings
PN: You clearly have a bit of a knack with the gala events, is there something about the structure/field that suits your game?
Steve Holden: The fields are 100% softer than other tours and this is probably due to the level of the buy-in, they also seem to have more Internet qualifiers playing the main event. I seem to do ok with the on-line qualifiers; they offer so much value for money that I'm amazed that more people don't play them. I qualified for Liverpool via a $10sat into a $75 sat which bagged me a seat in the main event and £175 in ex's which I used towards the £220 event.
I seem to know the regular tour players that play these events and tend to keep away from them till final table if I can although sometimes this just isn't possible and you may have to lock horns early on with players you'd rather avoid.
PN: Were you not tempted by the £1000 WSOPE even that was running at the same time instead?
Steve Holden: I had played some sat's on Betfair and just missed out the night James Keys won his seat. I would love to be playing all the events at the WSOPE but my bankroll doesn't stretch to these level of buy-ins so I have to look for value elsewhere. I'm not really one for selling percentages of myself or asking for staking as I like to retain all my winnings when I cash. If I had the funds available I would have loved to have played all the events at the Empire.
PN: Do you wish the WSOPE hadn't took away some players from the field or do you think that helped you win it?
Steve Holden: I think that 73 runners for the Liverpool leg is what they were expecting given that there's just the one starting day now and everything else that's on at the moment. I always hope that all the events that I play are sold out for several reasons, bigger prize pool, better atmosphere, better players. The final table in Liverpool was full of some very useful players with many years experience. I haven't really considered if the WSOPE helped or hindered me, I played good solid aggressive poker all weekend playing my cards rather than the players. I didn't suck out once all weekend and at no time did I put my tournament at risk (apart from a couple of hero calls).
PN: Now many months on, what are your views on the blackbelt grading? Did the experience help your game at all?
Steve Holden: I consider the experience that I had at BlackBelt Poker to have been a valuable lesson and I obviously learnt a lot of stuff from the grading and it's fair to say that I put a lot of effort into trying to attain Brown Belt status. I don't think it helped my game at all because I very rarely play cash games anyway and the grading was predominantly grinding away on the cash tables – generating rake so they could put this in the pot and use it towards the sponsorship packages.
I really wanted to make Brown Belt and worked hard for almost all of the 4 week grind, dropping out with a couple of days to go when it became evident that I was only ever going to make Blue belt. I would have made a good ambassador for BlackBeltPoker, Promoting the site, affiliating and bringing new punters in, blogging and community spirit and I think I would have had some good returns/cashes.
After the grading I probably went through my lowest point in poker, almost walking away from it, I felt drained from the continued grind and having a feeling of jetlag for about three weeks solid. I started bringing bad habits into my tournament play and just wasn't enjoying my poker at all. I was also very deflated that I had worked my bollocks off for 4 weeks, put in the required hours, done almost £2k of my own bankroll, blogged everyday, done the weekly Betfair articles, done the community spirit stuff and shared a lot of my thought processes and other ideas.
It also seemed /appeared that 6 of the chosen brownbelts are considered to be "high rakers" . I hear through the grapevine that there's just two brownbelts left out of the original 8 that had the $20,000 packages, as they feel that they shouldn't have to do the grind.
In the long term I don't see Black Belt Poker continuing down the road of on-line grinding to attain "live" deepstack sponsorship because it's such a contrast from cash to tourneys. I see Black Belt Poker going down the same route as BadBeat and bankrolling players to grind away on their skin. Neil Channing is a very shrewd businessman and has made a lot of money from sponsoring people. Neil has a knack of picking the right horse to back and has profited immensely in the last 2 years from "Live" staking. It's fair to say that a lot of "live" players are shit at on-line cash and visa versa
PN: It must be hard being a live pro compared to the ease of being an online player?
Steve Holden: I put all the festival dates in my diary and would normally plan to play the side events if I'm travelling anywhere and staying over, I prefer to travel and always look forward to arriving at new venue's that I've never been to before, doing some research before I get there, sorting the digs out, what I'm going to do in that location on my day off or in the evening if I get bust out.
Travelling is not that difficult nowadays no matter how far you travel and I would so much rather be sat looking at someone's face and body demeanour when they shove and trying to get a read rather than hitting my timebank on-line and hoping that I make the right decision.
On-line poker has made it a lot easier to win a vast amount of money from the comfort of your arm chair and there are people that specialize in this industry and have all the software and all the stats to hand, I know that it's getting harder to make a final table both live and on-line. I don't think that the live games are getting tougher but I do believe that you need more skill levels for live play than you do on-line, people on line make ridiculous calls for middle pins and other 20/1 outers but they do it because no-one can see their face, the standard of play at live events is far better than on-line cash or tourneys.
You can follow Steve at his popular blog, SteveHoldenPoker.blogspot.com.
Picture courtesy of AWorldOfPoker.