Steve Holden Wins British Poker Masters Liverpool + more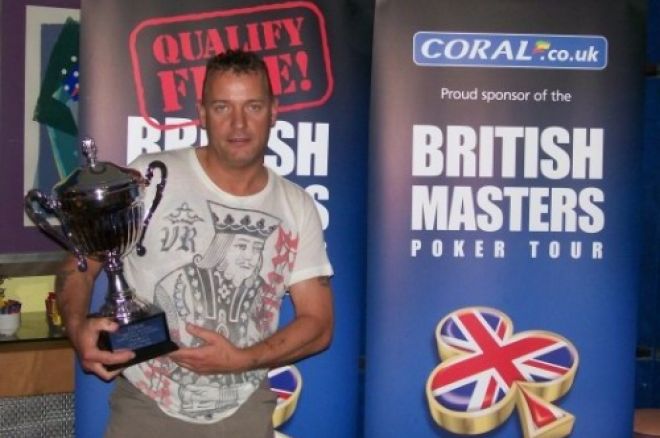 Steve Holden Wins British Masters Poker Tour Liverpool
You would be forgiven for thinking poker had stopped completely outside of the capital this month, but the folks at the Gala in Liverpool would beg to differ. The 5th leg of the British Masters Poker Tour. Just 73 runners in this event, although you can probably forgive them being as over 600 players were playing event one of the WSOPE last weekend, though it did create a £12,000 first prize for the eventual winner.
Who was none other than prolific Gala tour champion Steve Holden of Birmingham. Steve made a big name for himself in 2007 when he won both the main event and a side event of the Great British Poker Tour in Nottingham. With this win now he becomes the first player to win multiple Gala Tour main events. The tour now heads to Bristol for its grand final starting on October 23rd.
Picture courtesy of AWorldOfPoker
Win Tickets to Prizefighter with PartyPoker
It's great when poker and sports combine (Other than sportsmen playing poker on TV) and Party Poker have a fantastic offer for UK fight fans. For just 25 Partypoints tomorrow at 8.00pm, you can win one of four VIP pacjages to watch Prizefighter in London. Each package includes: two ringside tickets to watch the night's seven fights, accommodation in a top London hotel and travel expenses of up to £100.
A Party Poker spokesman said: "The Prizefighter promotion is great – there has been a lot of excitement building up to this event due to the participation of Danny Williams and Audley Harrison and these VIP packages offer some of the best ringside tickets you can get. It's a great prize, especially when a player only has to sacrifice 25 PartyPoints to give it a shot."
World Heads-up Poker Championships Details
More details have been unveiled about this year's World Heads-Up Poker Championships, at their new home of the Vic in London. The event is now sponsored by Littlewoods Poker and is a £3000+£300 event between October 27th and 31st, with room for 128 players. There is also a busy side event schedule which looks like this:
Sat 24 - Sun 25 Oct at 7.00 pm £500 No Limit Hold'em
Sun 25 Oct at 6.00 pm £ 300 No Limit Hold'em
Mon 26 Oct at 7.00 pm £ 350 Supersatellite to Heads-Up Event
Tue 27 - Sat 31 Oct at 12.00 pm £3,000 + 300 No Limit Hold'em – World Heads-Up Championships
Tue 27 Oct at 7.45 pm £ 200 No Limit Hold'em Rebuy
Wed 28 - Thu 29 Oct at 7.45 pm £ 500 No Limit Hold'em
Thu 29 - Fri 30 Oct at 7.45 pm £ 750 No Limit Hold'em
Fri 30 Oct at 7.45 pm £ 200 Pot Limit Omaha Rebuy
Sat 31 Oct at 7.45 pm £ 350 GUKPT Grand Final Super Satellite