Sammy George Wins European Cash Game, World Record Details Revealed + more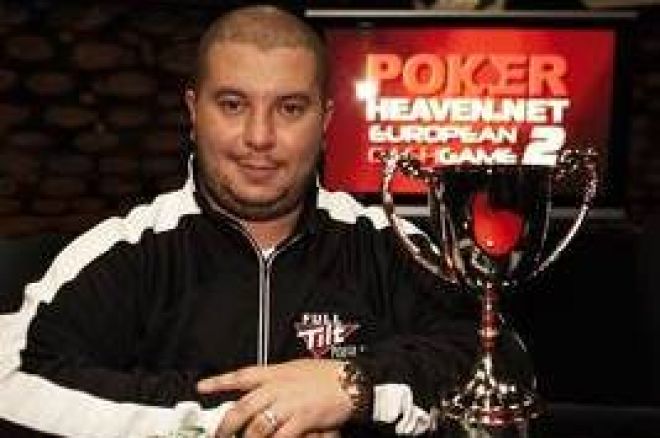 Sammy George Crushes European Cash Game
TV poker regular Sammy 'Any Two' George has finally actually won a game in front of the cameras. Sammy arrived late yesterday at the Pokerheaven European Cash game (Which was streamed live and will be televised later this year) but it didn't stop him netting the biggest profit of the game, winning over $36,000 and the ECG title. He did so in spectacular fashion too, managing to take Simon Munz off a set of sevens and Andy Black off a straight by representing a flush when a fourth club hit the river. Sammy, who will be facing Tom Dwan later on this year in the Million Dollar Challenge, commented "Im ecstatic to have won, but it doesn't stop here, this is just the beginning".
Final profit/loss
Sammy George €44,075 (€+24,075)
Sion Munz €22,550 (€+12,550)
Andy Black €21,275 (€+11,275)
Jens Kyllonen €20,725 (€+10,725)
Francois Balmigere €11,275 (€-3,775)
Andrew Feldman €23,100 (€-6,900)
Eric Liu €22,575 (€-17,425)
Ricardo Sousa €6,950 (€-23,050)
Photo courtesy of James Lyndsay
Paul Zimbler World Record Attempt Confirmed
The details for the Paul Zimber Heads Up World Record have been clarified. From 1pm on the 21st of September, the Empire Casino will host the attempt, which aims to go for 80 hours. This is to raise money for the SPARKS charity and the aim is to raise £50,000. Already due to compete are Neil Channing, Teddy Sheringham, Jesse May, Devilfish, Vicky Coren, The Hendon Mob, Annette Obrestad, Sorel Mizzi, John Tabatabai, Michael Greco, Roberto Romanello and more.
The charity are looking for donations, players to compete and items to auction for the event. If you want to make a donation you can here
Online Poker Player Charged with Benefit Fraud
A 36 year old online poker player has been charged with benefit fraud after revealing he was a successful online player. Alan Forsyth was charged with council tax fraud and disability benefit fraud. He claimed he had no savings, but his online poker winnings, which included a win of $49,000 in a single day, were used as evidence to the contrary. Forsyth of Norwich has been off work with ME and was said to suffer from severe pain and fatigue.
It certainly does raise some interesting questions about to what extent income from online poker should figure in legal proceedings. It isn't taxed after all and whether you are a pro player or just a recreational player, in the eyes of the UK government it is deemed 'winnings'. But at the same time, online poker is becoming an increasingly popular and viable occupation, and surely poker pros must be subject to the same laws as everybody else.