Marc Goodwin and Asa Smith make EPT Barcelona Final + more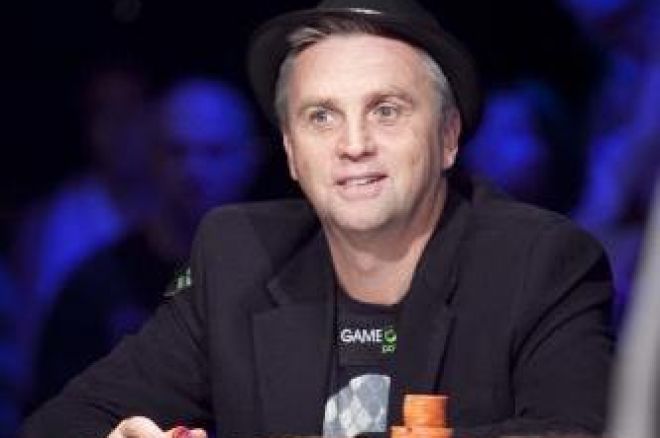 Goodwin and Smith at EPT Barcelona Final
UK hopes are flying high in Barcelona as two Englishmen are at the final table of the latest stop on the European Poker Tour. Roland De Wolfe and Michael Greco went deep but bust out yesterday, leaving up and coming pro Asa Smith and former European Player of the year Marc Goodwin in with a shot at the title.
Smith is an emerging talent on the UK circuit and is celebrating his fourth consecutive cash in the EPT, this result no doubt his biggest so far. Goodwin has enjoyed a big stack for most of this tournament and will be looking to go one better on his GUKPT Manchester title from last year. With over 3 million chips, the newly sponsored Littlewoods Poker pro is in good shape to do just that. First prize is an impressive €850,000 so there is everything to play for in this penultimate event before the poker world migrates to the UK for over a month.
We will have all the action from start to finish today on our world class Live Updates.
Seat 1: Georgios Kapalas - 826,000
Seat 2: Mihai Manole - 410,000
Seat 3: Santiago Terrazas - 546,000
Seat 4: Asa Smith - 1,380,000
Seat 5: Carter Phillips - 4,421,000
Seat 6: Matt "Lapozie" Lapossie - 2,938,000
Seat 7: Toni Ojala - 754,000
Seat 8: Marc Goodwin - 3,100,000
EPT Ladies Game Packages at Pokerstars
More EPT news now, as Pokerstars have announced a unique way for female players to qualify for the EPT Ladies Game on October 5th in London. From now until September 26, PokerStars is running a series of daily freeroll tournaments aimed just at British women. The top nine players each day will get a seat in the online final on September 27 and the top ten finalists will win a £500 Ladies Game prize package including the £220 entry fee for the EPT Ladies Game, £100 spending money and a night at the five-star Hilton Metropole hotel - not to mention a signed copy of Vicky Coren's new book and the chance to meet her in person.
Coren said: "There are a lot of great female poker players out in the world already, but there could be a lot more. Playing online, women don't have to worry about the long late hours of the live game, or the stern faces of a roomful of men. You can log on whenever you like, for as long or short a time as you like, and fit this around the demands of careers, childcare or whatever else is going on. For women who want to take a shot at a live tournament - but don't fancy staring at a table of snarling male opponents - this promotion is perfect."
George Achillea Wins Paradise Series of Poker Main Event
The biggest festival so far at the International Club, the Paradise Series of Poker, sponsored by Paradise Poker, was another huge event over the weekend that finished last night. With £10,000 added by Paradise Poker this was an excellent value event, which was eventually won by popular local George Achillea, who bagged over £32,000.
1st £32,800 George Achillea
2nd £20,150 Oliver Breese
3rd £14,100 Pawel Czartoryski
4th £10,800 Daniel Rudd
5th £8,600 India Storrar
6th £6,950 Thomas Friberg
7th £5,850 Sverre Daniel Langard
8th £4,750 Fez
9th £4,200 Michael Ivory