Eddie Hearn - Interview with Poker TV Producer Eddie Hearn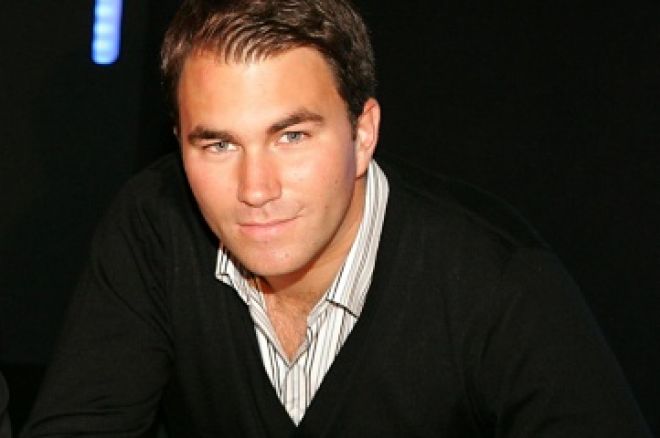 Televised poker in the UK is really on the up at the moment, with new and exciting formats being introduced as well as much more interest from overseas poker players in the last few years. Matchroom are the team behind the vast majority of home grown poker programming in the UK and we caught up with the man at the helm, Eddie Hearn, shortly after busting Phil Hellmuth from event one of the WSOPE:
Pokenews: You guys are involved in some really interesting new additions to TV poker, such as the 36 hour cash den and several upcoming heads up poker shows, why the new formats?
Eddie Hearn: We try to constantly break the barriers, at one time a few years ago we were in that factory mentality, producing event after event, but then we looked at our library and we realised that basically our formats were becoming a little tired. Things like the Premier League, the durrrr Million Dollar Challenge and the PKR Heads Up Grand Slam are ground breaking poker shows. The latter will be similar to the NBC Heads Up Championship, which rates really highly in the States. We are going to have a live audience railing the action, they will be really close to the players and it will have a real live atmosphere. We will have a feature table and four other tables playing at one time, it will have a Gillette Soccer Saturday feel to it, with Jesse and Kara Scott on the floor cutting to and from all the action from each table, all the big hands and all ins, like Jeff Stelling but with poker. As the market becomes more and more saturated you have to keep pushing the boundaries and because of the diversity of our business we are able to incorporate our event management and PR and promotion skills with our production and distribution, which makes us totally unique.
PN: If there is anyone in poker like Jeff Stelling, its Jesse May
Eddie Hearn: We are so lucky we have Jesse on a long term contract, he is a real ace card. I know Late Night Poker would do anything to get him back. I feel sad in a way that Jesse is not a part of it, but as bad as it sounds, we want to be number one so business is business. Late Night Poker hasn't really evolved, Presentable (who produce the show) only have this in their poker portfolio so it's tough to stay in touch with things.
PN: Jesse May is a rare commodity in UK circles, an American who has completely been embraced by UK and Ireland players, how important is he?
Eddie Hearn: Jesse is so enthusiastic, I will sometimes watch a heat that would otherwise bore me to tears but he somehow makes it exciting. It annoys me when some people, usually Americans on the poker forums, say that he annoys them or doesn't know anything about poker. Jesse has been around poker for over 20 years, he knows more than anyone, but he usually plays the dummy and asks obvious questions for the benefit of the audience, when he usually knows the answers to the questions anyway.
PN: Do you ever think that formats such as PLO could make it on to British screens?
Eddie Hearn: We really want to showcase Pot Limit Omaha, I am a poker nut and I really want to raise the bar and show PLO on our shows, but you have to be careful not to go too fast for the mainstream audience. The durrrr challenge may feature some PLO and we want to make it part of the next poker den cash game. Broadcasters don't like it, ESPN did it last year for the WSOP and it bombed, but the poker sites are interested because they are seeing the natural shift towards PLO.
You have to keep poker simple for the mainstream audience; I want to watch PLO and deepstack poker, all of us at Matchroom do, but the mainstream audience don't want anything too advanced, they don't want to be confused, they want to understand exactly what's happening. Serious poker players make up a tiny percentage of the audience, but it is widening all the time. The Premier League got around 400,000 regular viewers, how many of those browse poker forums? Maybe 1%, maybe not even that. How many of those people know what PLO is or play it? Perhaps 5%? How many want to see it? Probably not that many. How many of them know who Phil Ivey is? Perhaps 50,000?
PN: Do you ever think the BBC or ITV will feature poker on their schedule?
Eddie Hearn: The BBC is well out of it, there is no commercial interest there, no advertising possibilities. We are in talks with ITV and that's going well, Pokerstars and Full Tilt have spent huge amounts advertising on ITV, even during the champions league. Terrestrial television is very important for the growth of poker in the UK, Channel 5 are loving it at the moment, Channel 4 still have quite a few shows. Unfortunately for some channels, poker will always have that gangsters playing cards in an underground car park stigma.
Pokernews: Are you much of a player yourself?
Eddie Hearn: Work got me into poker, and of course my old man (Barry Hearn) who reminds me all the time about he has luck-boxed his way around big European events. I'm very busy but I still find the time to play heads up cash quite a lot. We love spending time with great people, the interesting intelligent people that you find in poker. Not degenerate gamblers, but people like JC Tran and Tom Dwan, who are super intelligent and think about the game in an interesting and different way. We only show the things we love at Matchroom, we love fishing, snooker, darts, bowling, boxing and poker. We have a passion for poker and we don't want to let people down, we read all the forums and we know what players want.
Pokernews: And what do they want?
Eddie Hearn: They want characters and big personalities. That's why the Party Poker Premier League was so popular, because over the weeks you got to know the same players, you had your favourites and the ones you wanted to lose. It was like snooker back in the 80s, you had the nice guy Steve Davis who all the grandmothers liked, you had Hurricane Higgins who was an unpredictable alcoholic Irishman – you didn't know what he was going to do next, you had the eccentric Dennis Taylor with the upside down glasses. Poker is the same, you have the Devilfish – 55 year old that dresses like an 18 year old, Phil Hellmuth an arrogant......American, Tony G the loud Australian, Tom Dwan the young online millionaire etc That's why the PKR heads up event will be good, so many interesting characters and potential matches, Fullflush vs Durrrr, Sammy George vs Tony G, Annette could face the Devilfish and so on, the possibilities are endless.
[I]You can currently see the Matchroom produced [I]Poker Million weekly on Sky Sports