David Sklansky - Tournament Poker for Advanced Players Expanded Edition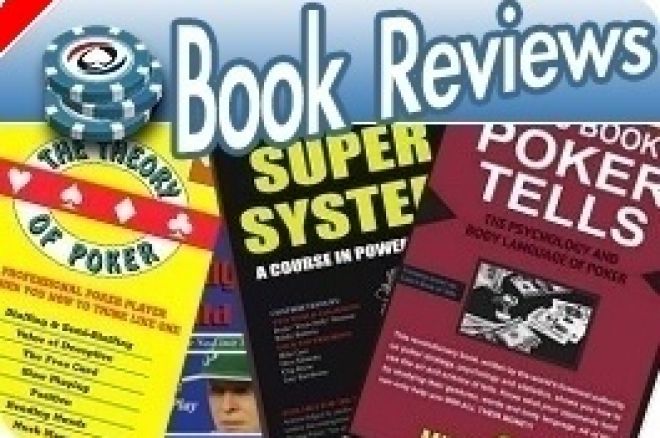 The book we will be discussing this week is David Sklansky's 'Tournament Poker for Advanced Players', and without giving too much away, the book really lives up to its title. As you therefore might expect, this is not a book for the absolute beginner but rather for the more advanced poker player.
In his book, the author David Sklansky gives us a lesson in tournament poker. The expanded edition provides us with an updated version with more than 100 new pages compared to the original version. These 100 pages are purely focussed on No Limit Hold'em, a tournament variant that has become increasingly popular since the original version came out.
Pages: 346
Author: David Sklansky
Publisher: Two Plus Two Publishing (2007)
ISBN10: 1-880-685-41-9
ISBN13: 978-1-880-685-41-8
Structure and Content
Many of the readers will be aware that tournament and cash game poker are two different games, but exactly how different they are will become apparent when reading this book. In the first couple of chapters Sklansky talks about tournament poker in general without focussing on a specific variant. Most of his insights can be applied to stud poker, draw poker, as well as hold'em poker. In this chapter we come across the 'GAP-concept' for the first time, which, according to the author, is a very important aspect in poker tournaments. The 'GAP-concept' – you need a better hand to call a raise than you do to raise yourself – plays an important role in this book
This is followed by a scale of important tournament poker elements, which will open a whole new world for you. The impact of your chips losing value and not being aware of the average chip stack in certain phases of the tournament are concepts that will probably change your view on tournament poker.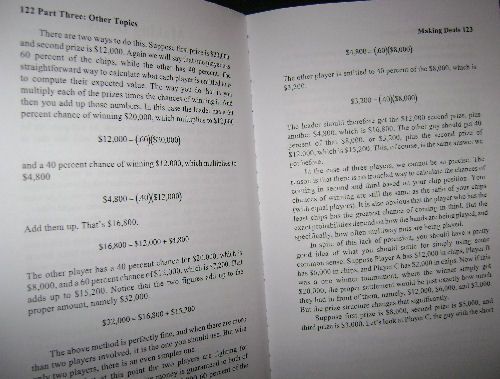 In a manner that is very typical for Sklansky, many concepts in this book are backed by mathematical calculations. But even if maths is one of your weak spots, there is no need to worry, as even without the exact understanding of the maths, the concepts are still explained very clearly. Sklansky offers extreme examples with all concepts to illustrate what he is talking about.
Halfway through the book we find a section with 'hand Quizzes', something we find in all the books published by 2+2. These quizzes deal with the different poker variations and improve your understanding of tournament poker. After the section with the hand quizzes we reach the newly added section about no limit hold'em tournaments. Since no limit hold'em tournaments have grown in popularity since the first edition of the book came out, Sklansky decided to add this section which includes a whole bunch of new information.
Towards the end he discusses a couple of other aspects of tournament poker like making deals at the final table or making last-longer bets during a tournament.
In the back of the book we find an overview of the books content, based on 'frequently asked questions' and the answers to them. This last section is great for testing yourself to see if you fully understood all the concepts discussed throughout the book.
Writing style, layout and verdict
The book is written in a very factual style, which can be said about all 2+2 books. There are, however, also numerous extreme examples with which the author tries to clarify certain situations. One example of this is when Sklansky was asked to prepare the daughter of a rich business man for the World Series of Poker within a week, although she had never played a poker hand in her life. In one week, he teaches her a strategy that is purely based preflop push or fold play. This is one of those extreme examples that show how one can, quite easily, overcome a skill-disadvantage.
As mentioned before, the author takes a very mathematical approach when discussing various tournament aspects, but even without being a mathematical genius you will easily be able to understand the theory in this book. The calculations are there to support and validate the points he makes and are not the main topic in any of the chapters.
The layout itself is also very factual and grey. The only non-text elements in this book are made up by charts and graphics that are connected with the text.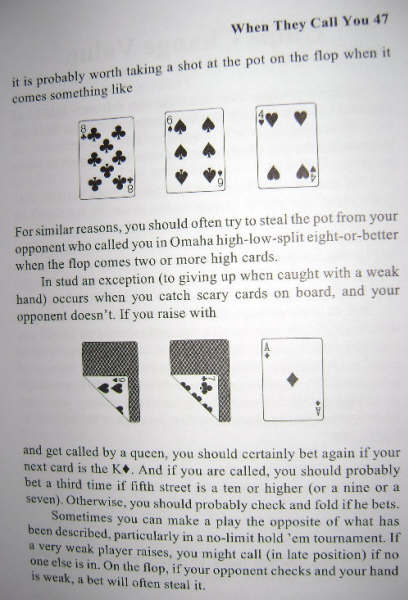 'Harrington on Hold'em' is known as the guide to tournament poker, but in my opinion, everyone who takes tournament poker seriously should add this book to their collection. The book includes so much useful information which completely justifies the price, and if all goes well, the book will help you make that money back in no time. After reading this book you will understand the different stages of the game and should be able to decide what the best action is at any given moment in the tournament. This book will definitely make you a better player and change your approach to tournament poker.