David La Ronde Wins English Poker Open, London Poker Circuit Terminated + more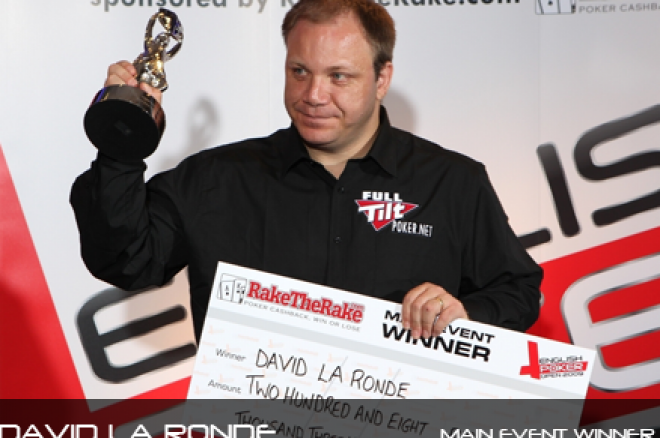 David La Ronde Wins English Poker Open
The first major event of this busy month in the UK is over, and David La Ronde has been crowned the first ever English Poker Open champion. La Ronde of Colchester overcame a tough final table to defeat big favourite Micheal Tureniec heads up for the £208,367 first prize. This was not La Ronde's first taste of a big money pay day, as he came runner up to Sam Trickett for £62,050 in last year's GUKPT Luton Main Event.
The consensus seems to be that the English Poker Open was a resounding success. It attracted a lot of big names, passed its guarantee, ensured the biggest payday to date at Dusk Till Dawn and had a really festive feel to the whole event. It's great to see an Englishman crowned the inaugural champion and now all eyes are on London for the rest of the big money tournament action this month.
1 David La Ronde £208,367
2 Micheal Tureniec £121,815
3 James Moult £73,089
4 Julian Leonard £51,290
5 John Eames £38,468
6 Simon Pearson £28,851
7 Martyn Bebb £22,440
8 Eric Liu £16,028
9 Thor Drexel £12,823
London Poker Circuit Terminated
Bad news now for the London Poker Circuit, who yesterday announced that they will be terminating their poker tour after just 7 months. The reason given was purely financial, as they were not allowed to hold cash games coupled with the new gaming duty. The tour struggled to find its place on the poker circuit, having changed its format considerably several times over the seven month stretch, starting with a £1000 freezout and ending as a £50 rebuy event. It is a real shame, because everyone who attended these events had nothing but positive things about the structure and how well organised the event was. It's clear that any sort of live poker venture these days will be faced with a multitude of challenges, with both economic and regulatory barriers standing in their way. The best of luck to all the guys at the London Poker Circuit for whatever they do in the future.
Paddy Power Announce ECOOP V
The 5th European Championship of Online Poker has been announced by Paddy Power Poker, with an impressive $4.5 million in guaranteed prize pools. Between November 23rd to December 6th, 14 tournaments will take place, with buy-ins Between $109 and $2600. The $1,500 + $80 Main Event takes place on Sunday, December 6th and features a $1.5 million guaranteed prize pool. Satellites start from as little as $1 on September 21st.
"We are excited to announce the return of ECOOP; our players just love it" said Paddy Power, Communications Manager at Paddy Power Poker. "Eoghan 'Intruder123' O'Dea, took down the ECOOP III Main Event last year and Domceee won the $2,500 High Roller event in ECOOP IV, so our players have a fantastic record in the festival. There is over $4,500,000 in guaranteed prizepools, enough to get everyone's blood pumping a little faster!"
NL Hold'em November 23 2009 $200+$15 $250,000 Guaranteed
Limit 7 Card Stud November 24 2009 $250+$18 $50,000 Guaranteed
NL Hold'em Turbo R/A November 25 2009 $100+$9 $200,000 Guaranteed
NL Hold'em November 26 2009 $750+$50 $350,000 Guaranteed
PL Omaha Hi/Lo November 27 2009 $100+$9 $100,000 Guaranteed
PL Omaha 6 max)* Saturday November 28 2009 $1000+$60 $150,000 Guaranteed
NL Hold'em November 29 2009 $500+$35 $500,000 Guaranteed
NL Hold'em November 30 2009 $2,500+$100 $500,000 Guaranteed
PL Omaha R/A December 1 2009 $100+$9 $150,000 Guaranteed
NL Hold'em (6 max) December 2 2009 $300+$20 $300,000 Guaranteed
Limit Hold'em (6 max) Thursday December 3 2009 $200+$15 $100,000 Guaranteed
NL Hold'em R/A December 4 2009 $100+$9 $300,000 Guaranteed
PL Omaha December 5 2009 $400+$30 $100,000 Guaranteed
NL Hold'em December 6 2009 $1,500+$80 $1,500,000 Guaranteed