Challenge James - Poker and Parenthood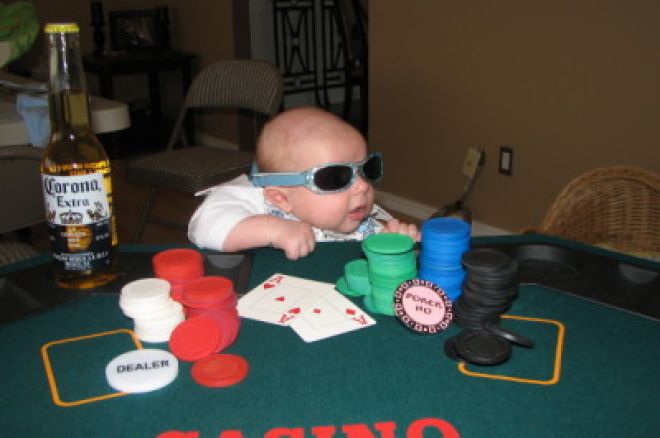 I very recently became a father for the first time, and this recently got me thinking about how it has affected my poker play, and what effects it will have in the future.
I found out about my partner becoming pregnant just before New Year, and initially I just sat there in shock, and glued myself to the TV pretending it wasn't happening. It wasn't exactly planned. I suppose it was a good couple of years earlier than anticipated! When it finally dawned on me that it really was happening, I got to think about the implications it would have surrounding my poker play.
'No more pissing about', was my first thought. If a child's life is going to rest in the balance on me playing poker sensibly, then that's what I'm going to have to do. No more going on monkey tilt, no more playing out of my limits, no more donk sessions. I was going to have to treat this like a proper job.
But then I realised that these were things that I should really be doing anyway, and saw that this imminent induction of responsibility could have a positive effect on my poker. I'm not suggesting anyone with bankroll management problems solve this by going and getting the nearest girl knocked up, but the prospect of having to support a baby really hammers home some responsibility into you.
Since then I have redefined myself as a 'grinder'. Initially I wanted to prove to myself that I could drop stakes, and still win enough money to support my upcoming new family. So that if for some reason it all went tits up, I could always resort back to low stakes, with a limited bankroll, and still earn a decent enough 'wage'. As it happens I've never really looked back. I could have done without a bad month completing the Blackbelt Poker Grading in May, as it was all going so swimmingly up until then, but other than that my 'grinding' has been fairly successful, and I'm happy playing at the level I'm at. Now I'm playing MTT SNGs on Pokerstars, I'm pretty much playing the highest level that gets decent traffic anyway.
My aspirations have changed since I found out about the baby. I use to strive to make as much money as possible. There was a 'peak' amount of money that I had when I used to be a bit of a high roller a couple of years ago, and to some extent I was always trying to get back to this amount of money. However, we all know that chasing losses is not a good mentality to have in poker. It's somewhat of a relief to not be concerned about this anymore. All that bothers me now is that I make enough money each month to pay the rent and the bills, and have enough left over for us all to live fairly comfortably. Anything I win in addition to this is a bonus, and I can bulk up my roll gradually, and put the rest in savings.
So although it has had a positive effect on my general mindset, I still have concerns looking forward to the future.
I enjoy playing live and have a good record. Although I wish my roll might allow me to play more often, I do see myself playing a decent amount of live poker in the future if I can. I'm already planning a trip to the World Series of Poker 2010 with a couple of friends. But what do I do? Do I leave my son and partner at home, and speak to them over Skype for two weeks, or do I take them over with me so that my 2 mates have to have a crying child in the villa at 7am after they've been up all night drinking. Can I go out drinking with them if I take my new family along? Can I deal with being away from them for a large amount of time if I don't take them?
I also wonder about what happens a few years down the line. Poker has evolved so much over the last 4 years, and it is a common conversation to have with fellows pros how much more difficult the game is these days, and how we'd all like to find a time machine and go back to 2004 knowing what we know now. Is there going to be a point where it's not viable to earn a wage from poker? What if the UK starts charging tax on poker winnings? Will we have to emigrate if this happens?
Another concern has just arisen having just got back from Registering the birth, upon which "Professional Poker Player" (after much questioning from the lady) was entered on his Birth Certificate. No you may not enter "Professional Gambler" and no I don't think "Sportsman" would sound better, because it's definitely less accurate...unless you count running up and down 2 flights of stairs during synchronised breaks athletic). Should I be worried about being taken to School by my son, aged 8, for "What my Daddy does Day", and trying to avoid disapproving glares of the other parents?
These are all things that I guess I will just deal with if they ever do occur. I'm just happy that the missus didn't go into labour whilst I was playing a SNG session, and me having to tell her "Not now dear, you'll have to wait until I've finished all these games," and with the new sensible attitude, perhaps my recent nightmare... about my young boy waiting for me to pick him up from School in the pouring rain, holding his lunchbox forlornly, asking "where's Daddy", whilst Daddy is sat in front of his computer trying frantically to come back from a losing session...isn't something that is in danger of ever happening.