Thomas Besnier wins GUKPT Coventry, Vicky Coren Book Launch at the Vic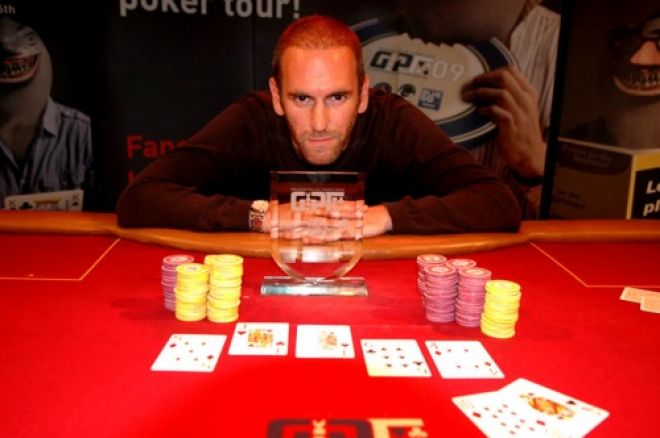 Thomas Besnier wins GUKPT Coventry, GUKPT Cardiff Begins
The latest leg of the Grosvenor UK Poker Tour has been won by Thomas Besnier of France. The Ricoh Arena in Coventry is the location for the new G Casino, which hosted a lower buy-in 'Summer Series' festival to showcase the impressive new venue, with a £300 main event. 84 players attended the main event and Besnier was joined at the final table by his travelling companion Julien Bardet. Besnier was crowned champion after a two hour heads up battle with Marc Deacon of Leicester to bag the title, £8,200 prize and seat in the champion of champion's event at the end of the year.
£200 No Limit Freezeout
1st Cai Huang £5,230
2nd Mohamed Javed £3,540
3rd Paul Jackson £2,230
4th Mathew Seer £1,390
5th Wasim Akhtar £1,080
6th Martin Hockaday £850
7th Naresh Parshad £620
8th Martin Silke £460
£150 No Limit Freezeout
1st Shamil Patel £3,615
2nd Sunil Mistri £2,450
3rd Paresh Dayal £1,530
4th Paul Rayner £920
5th Andy Booth £715
6th Eris Hussain £560
7th Mark Worley £410
£300 Main Event
1st Thomas Besnier £8,200
2nd Mark Deacon £5,480
3rd Andrew O'Flaherty £3,740
4th Paul Rayner £2,240
5th John Exley £1,680
6th Chris Gavriel £1,310
7th Barry MacDonald £1,000
8th Julien Bardet £750
9th Dilbir Sahota £500
£100 Bounty
1st Toni Dicesare £1,490
2nd Daniel Jennings £1,050
3rd Barry Gordon £660
4th Carla Goddard £410
5th Wendy Parry £290
6th Nigel Hill £225
The next leg of the tour begins today in Cardiff, which was missing from the 2008 tour and the scene where Michael Greco took down the main event.
Mon 31 Aug - Tue 1 Sep at 8.00 pm £ 200 + 20 No Limit Hold'em
Tue 1 - Wed 2 Sep at 8.00 pm £ 300 + 30 No Limit Hold'em
Wed 2 Sep at 8.00 pm £ 250 + 25 Pot Limit Omaha
Thu 3-Sun 6 Sep at 2.00 pm £ 1,000 + 60 No Limit Hold'em - Main Event
Thu 3 Sep at 8.00 pm £ 100 + 10 No Limit Hold'em
Fri 4 Sep at 8.00 pm £ 100 + 10 No Limit Hold'em
Sat 5 - Sun 6 Sep at 6.00 pm £ 250 + 25 No Limit Hold'em
Sun 6 Sep at 6.00 pm £ 100 + 10 No Limit Hold'em
Vicky Coren Book Launch at the Vic
EPT London champion Vicky Coren is the latest player to pen her own book, but with her history in journalism and recent top draw appearance on 'You have been watching' last week, this could well be one of the better ones out there. 'For Richer, For Poorer' tells Corens story from relative unknown to the first female EPT champion with winnings of $1.5 million. She is also the first player to win a televised professional tournament and a televised celebrity tournament.
Coren will be at the Vic from 7pm on Thursday the 10th of September and will be giving away some poker tips and selling copies of her book, as well as playing a few hands of poker along the way.
Martin Ramskill, General Manager at the Grosvenor Victoria Casino in London said: "We are delighted to be hosting Victoria's book launch, as she has been playing poker at the Grosvenor Victoria Casino for years. This looks to be a big event, so we would recommend getting here early so that you can have the chance to meet Victoria and learn the secrets of the game."