Student Poker News - Freshers Guide to University Poker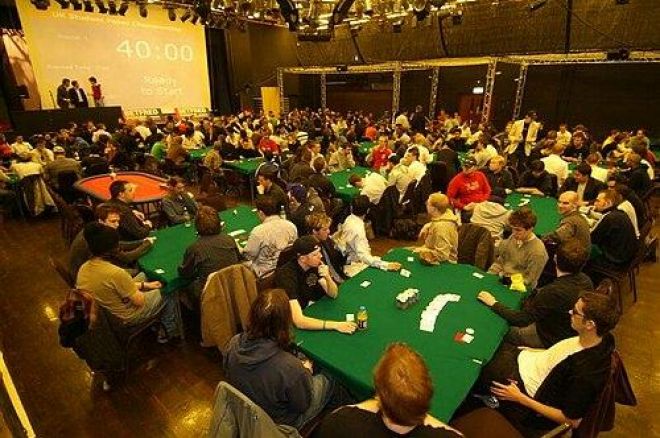 Most students starting University have three questions on their mind: "Did I pick the right course?" "Did I pick the right University?" and "Will I lose my virginity here?"
While the latter question tends to answer all three; there are so many other penchants, lusts, hobbies and careers to pick up at University - including Poker! Indeed, so many young and exuberant players are entering the main stage straight from university. Tom Dwan, for example, developed his game studying engineering at University – and at 23 years old has already been nominated as a Poker Hall of Fame Finalist!
Universities across Britain provide ample opportunity for students to get involved in the game and discover their potential. Be it societies, tournaments, or even major student run events – there are loads of ways for students to develop a wherewithal for the game. Here right now, we aim to give a brief introduction for ways students can get involved in poker - the Real Fresher's Guide…to Poker!
University Poker Societies:
University societies provide fantastic ways to get involved in the game - with well-run events and exiting weekly tournaments. Wherever you study, you're practically guaranteed to have one in your University's list of clubs and societies. While not entirely the most helpful and friendliest places to be around during action, you'll find plenty of friends and mates who share your doting affection for the game.
How Are They Run?
University Poker Societies are usually run by a group of student volunteers who want to add something to their CV. Usually run weekly, they tend to provide simply run, multi-table tournaments with around £3 – 10 worth of buy-in: and are completely free to join.
Normally run in University buildings or halls, the events themselves are quite settling and you'll meet loads of new players and people. At Manchester University's Official Poker Society, you'll find around 100 active students playing regularly. You'll also find however, some poker societies take a more active approach and organize bigger, more innovative events then others.
In terms of competition, you'll find a pretty impressive range of players. If you're unfortunate enough to bump into the guy gloating about the $2/4 ring tables he was playing on Pokerstars last night, please stay clear! However, don't fret, as you're much more likely find tons of friendlier less avaricious players, who are more or less new to the game - and much more pleasant to talk to! Picking these different levels of players out however, is tricky. Making sure you're sat at the right tables is tantamount to a successful tournament night in my experiences. Some might be small, some might be candid, but there are a number of egregious sharks out their just waiting to take your chips!!
As I said however, these societies are available at most universities, and all have their own dedicated websites to keep in contact. Universities I've been bothered to check up with their own poker societies include:
• Birmingham + Birmingham City
• Imperial College
• Essex
• Manchester
• Leeds
• Sheffield
• Nottingham Trent
• Cardiff
• Brighton
• Exeter
• Reading
• Durham
• St Andrews
• Swansea
• Sheffield
• Warwick
• Cambridge
Live & National Student Events:
There are a number of nationally run, live tournament events available to all good student players around the country. Sponsored by major gaming companies like Betfred or Ladbrokes, the competition is guaranteed to be a much greater; however the rewards and attention for wannabe professional poker players is definitely there.
The most significant event to keep in your diary is the National Student Poker Championship. Last year's event, sponsored by Devilfish Gaming, awarded €26,000 in prizes, with 400 places available. Registration for the event -which was hosted at the Regency Airport Hotel in Ireland - cost entrants around €70
Another fantastic student event is the UK Student Poker Championship (pictured above). Founded in 2004 by the University of St Andrews Poker Society, the massive £30 buy-in event is sponsored by Betfred – and offers great prizes including WSOP Main Event seats to the winner and runner-up! The event currently resides at the Birmingham Broadway Casino and has done since 2008.
Online Poker Leagues and Tournaments:
As well as live events, there are a number of enticing online tournaments that are run regularly (particularly by poker affiliate websites), and still provide great prizes and competitions for advanced student poker players:
The University Poker League Championship: This provides an interesting online league for all university students to enter. 15 weekly tournaments, with a guaranteed $1,000 Guaranteed Grand Final!
Ladbrokes Poker Student Poker League: Provided by Ladbrokes, the UK-based gambling company provides online student tournaments for a number of universities including Sheffield, Leeds, Bath and Portsmouth. The site also runs a final University League Table concomitant to the individual events. Prizes are good, and include a seat in the Ladbrokes Caribbean Poker Cruise (worth $5000), tickets to the Student Cruise, as well as first-hand tuition and the right to call yourself 'the Ladbrokes Student Poker Champion!!!
Other than the events listed, there are literally tons of student poker events kicking off monthly. With new promotions for students gathering momentum weekly; there's sure to be plenty of action in the next 3/4yrs for new coming freshers entering uni in the fall!