Five Reasons Why You Should Play the PokerNews Sports Legends Challenge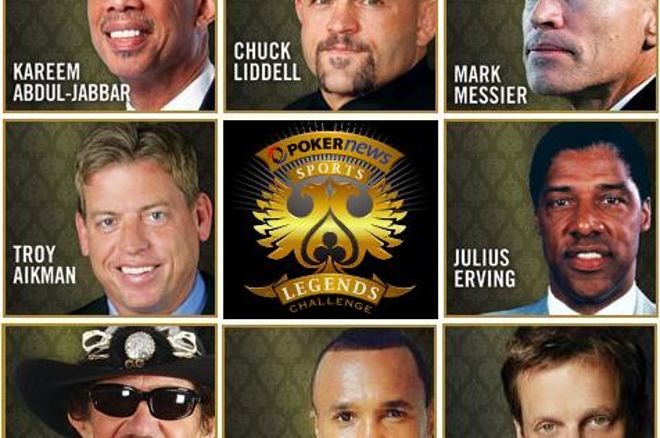 Every now and then you might find yourself at the same table as a bracelet winner like Annie Duke or Layne Flack, but it isn't often you find yourself getting to talk poker with them, play cash games with them and then knock back cocktails afterwards. It's even less likely that you would find yourself doing something similar with world class UFC, boxing, skateboarding, golf and basketball legends. It would be almost never that you find yourself playing a few rounds of golf with these people or playing a televised tournament together, even less likely in the Bahamas.
Ok, you probably get where we are going here by now, this September you actually can do all this and more, in the first ever PokerNews Sports Legends Challenge at the Atlantis Paradise Island Resort in the Bahamas from September 14-17. Twenty-five poker pros including Gavin Smith, Johnny Chan, Antonio Esfandiari, Jamie Gold and Mike Sexton will be there, as will sporting icons Kareem Abdul-Jabbar, Julius Erving, Sugar Ray Leonard, Randy Couture, Tony Hawk and Chuck Liddell
If that isn't enough persuasion, here are five big reasons we think you should come to this huge event:
5. You might learn something
During the first three days of the Sports Legends Challenge, poker pros will be offering training sessions several times a day for all SLC participants. Is betting on the Sunday games more your cup of tea? Top professional handicappers will be offering a workshop on sports betting techniques and you can test your mettle at the Atlantis' Pegasus Race & Sports Book. Who knows, maybe even Chuck Liddell will give you tips on how to floor a guy with one punch?
4. Play both cash games and sit 'n goes with poker pros and world-class athletes
You will have plenty of time to sit down with the poker pros and athletes throughout the event in a casual setting at the poker tables. No-limit hold'em SNGs and both poker and blackjack cash games will run throughout the SLC, giving participants the opportunity to interact with the pros in a small group setting
3. Party with the Pros
Not only will you be "drafted" onto a team featuring one athlete and one poker pro but you'll all strategize together throughout the week when it comes to how you'll approach the series of no-limit hold'em tournaments offered during the SLC. Then, after a long day of playing, you'll all get to relax together in a social setting at one of the nightly parties. On tap are an NFL tailgating party, a "Cocktails & Cigars" event, and individual team gatherings.
2. You could become a star
If you manage to go deep in the no limit tournaments scheduled during the week, the top finishers will be paired up with one poker pro and one athlete to play in a tag-team, $1,000,000 winner-take-all finale that will be televised nationally on Fox Sports.
1. It's the Bahamas!
You did get that part right? The Sports Legends Challenge package includes round trip airfare and five nights of accommodations at the Atlantis Paradise Island Resort. If you actually want to take a breather from all the poker and casino action, you can make the most of a fantastic family holiday destination. The rest of the family can swim in one of the spectacularly landscaped pools, ride the water slides, hit the beach, or check out the Dolphin Cay.
Stamping your ticket to the Bahamas doesn't have to put a dent in your bankroll either. Head over to Absolute Poker, where there are a slew of satellite ways to your Sports Legends Challenge package. Try the STEP tournaments, starting at only $0.10, the daily qualifiers for 500 Absolute Points, or the $215 super satellites running every Wednesday.
For more information, check out www.sportslegendschallenge.com .