Matt Perrins - Interview with Pokerstars IPT Venice Champion Matt Perrins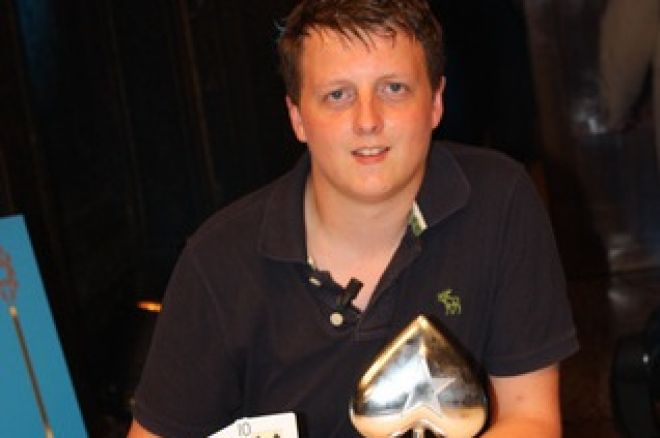 Although a relatively new part of the global poker stage, the Pokerstars Italian Poker Tour is already looking like one of the major pit stops on the European calendar. At the start of this month an amazing 439 players embarked on Venice for their €2,000 main event and it was an up and coming young player from Manchester who took all the cheese. Matt Perrins was the chip leader after day 1 and went all the way to the end landing him a €200,000 pay day.
Pokernews: It perhaps isn't the best known tour amongst UK players, what made you play in this event?
Matt Perrins: It's quite funny how I decided to go really, I was planning on playing in the Full Tilt event in Malaga later on and leaving Venice as I'm quite worn out at the moment, but several of my friends were going to this one and they kept trying to get me to go down. It was Sunday and I'd ended up one tabling the Ultimate Bet 200k and made the final table, they said to me if I won the tournament I had to go to Venice with them. 3 hours later I won the tournament and I was on a train to London to fly out with them.
PN: With all the regulatory ups and downs for players in Italy they are still a developing market, did you expect a soft field?
Matt Perrins: Obviously Venice is really nice which is what got us interested in the tour at first, but we thought that the field would be pretty soft with a lot of newer players in it. We have played a few tournaments in Spain before and they were really similar with lots of value in the field. There were actually some really good thinking players in the field and a lot of really crazy aggro players too.
PN: You were chip leader from start to finish, was it really that easy?
Matt Perrins: That wasn't strictly true, I had really swingy days on day 1 and day 2, I won and lost a lot of big pots, it was just at the end of each day I would suddenly win a big pot to become the chip leader again, so it looked like I never lost the chip lead. The structure on day 3 was pretty bad, it suddenly jumped up and got a lot faster, so I knew, even as the chip leader I would have to get lucky to win it.
PN: 439 players and a €200,000 first prize, it might be a new tour but you must already consider it one of the 'majors' in world poker?
Matt Perrins: I like to think of it as a 'major', just below the EPTs perhaps. I think and hope it will become even more popular, especially as I now have a free San Remo seat courtesy of Pokerstars. It was a really well organised and friendly tournament; hopefully the structure will be a bit slower towards the end next time.
PN: A €200,000 pay day for a 21 year old must be quite overwhelming, what are your plans for the money?
Matt Perrins: I just want to keep on travelling with my friends and win as much money as I can along the way, hopefully win another big tournament like this. I wont be going crazy with the money, I will put most of it in the bank and maybe buy a new car. I plan on playing some of the EPTs this year and a few more live tournaments, but mainly I will be sticking to grinding online.
PN: Finally, back in the UK you and your friends have challenged the BlondePoker 'Shrewdies' to an August Online Tournament Leader Board Prop Bet – how did that come about?
Matt Perrins: It was just a way to motivate us, we have a lot of respect for them, they are one of the better known groups of players out there, but I guess you can say we really just wanted to give Flushy and his team a good beating. I wish we had included live tournament results in the prop bet haha.
Ed Note: You can qualify for the San Remo leg of the tour at the end of this month at Pokerstars