Littlewoods at Poker in the Park, GUKPT Luton Main Event + more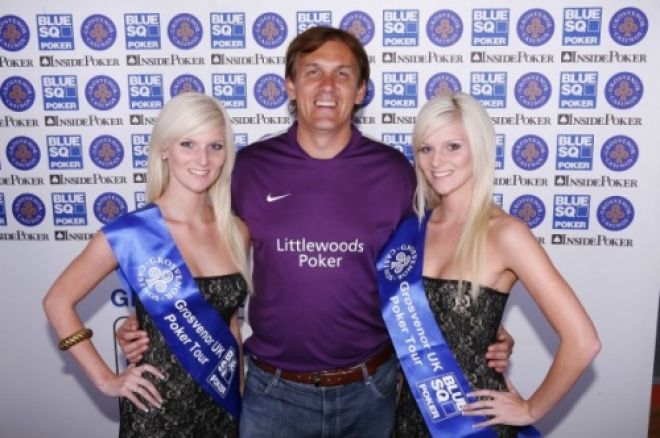 Littlewoods Join Poker in the Park
Littlewoods Poker are the latest high profile addition to Poker in the Park next week in Leicester Square. On August 13th and 14th they will be hosting the Poker Tuition Tent, where players can go toe to toe with their top celebrity poker pros.
The tent will invite players to play poker with ex-Eastenders actor turned Poker Pro Michael Greco and ex Irish football International Tony Cascarino. They will also get expert hand analysis, feedback and guidance. Players will also get a goodie bag and an invitation to a special Cascarino/Greco Free roll on August 26th.
The Tuition Tent will be comprised of 3 Poker Tables seating 6 players and one dealer. Each tuition session will last 15 minutes with a 5 minute turnaround on the table to change players. Littlewoods promotional girls will be floating around the festival encouraging sign-ups and enticing people into the Tuition Tent.
Picture courtesy of the GUKPT
Devilfish Night at the Voodoo Club
You have to hand it to the Devilfish, he is rarely out of the poker press this year. This time it is with the news that he will be hosting a regular tournament at the new Voodoo Card Club in Dublin. Devilfish Night takes place tonight and every Thursday at 8.30pm is a €25+€5 with one rebuy tournament. As a special introductory offer, the €5 registration will be waived throughout August. The winner of the weekly tournament will also receive a limited edition Devilfish chip set (while stock lasts, so hurry, they are almost as in demand as the new iPhone).
The man himself commented, "I love Dublin and made my name as a live poker player so I'm excited by the prospect of having somewhere to play next time I'm in Dublin. This is the first step in bringing the Devilfish experience to live players at an affordable price and I look forward to helping develop the night into something special."
GUKPT Luton Main Event is Underway
The cards are in the air and what is usually one of the biggest legs of the tour, the GUKPT Luton Main Event is underway. Luton is a real hub of UK poker, and being very easy to travel to and its close proximity to London, a lot of big UK names are expected to appear. All the HitSquad members are amongst the favourites with BlueSquare at 66/1, as is Chris Moorman, Roland De Wolfe and last years champion Sam Trickett. Check back here for the day 1a chip counts tomorrow.