GUKPT Luton Report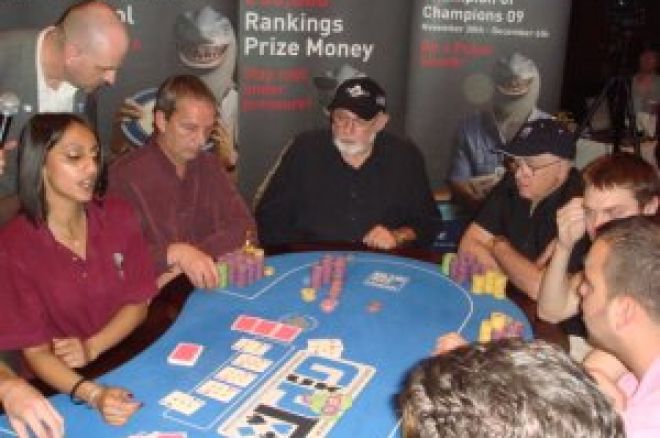 While the madness and mayhem of the World Series may be over for another year (with the small exception of the Main Event final table that is…) it was back to business as usual for the UK poker circuit. Luton's G-casino would be the battleground for the 304 poker aficionados who turned up to fight tooth and nail for Leg 6 of the GUKPT, all hoping that fortune, glory and that all important little bit of luck would be theirs…
Some of the UK's finest turned up to compete for their shot at the £304,000 prize pool including many of the UK's triumphant Vegas contingent in the form of Jeff Duvall, Jeff Kimber, Nik Persaud, Neil Channing and Karl Mahrenholz. While the glamour of Vegas may be behind the majority of players for another year, the notable exception was the Hit Squad's James Akenhead for whom it has merely been put on hold until November and who was greeted with an accolade. Sadly for James he was unable to recreate his deep run in the main event and he was knocked out during Day Two, still a guaranteed $1.2 million and a shot at $8 million in the WSOP Main Event means he won't be that unhappy.
"James Akenhead made Day Two and we actually got him to draw the card at the end of Day One B to see how many more hands we would play and he got a good round of applause,' confirmed tour manager Jonathan Raab, he continued:
"300 runners is a fantastic field – it's the second biggest one we've had this year and I don't think that anybody is too worried about the fact that it's down a bit on last year, the most important thing is that we are still getting the numbers and with a prize pool of over £300,000 and a first prize of almost £90,000 there's still all to play for. The GUKPT rankings are really hotting up; Martin Silke has overtaken Sunny Chattha and had done before this [GUKPT Luton Main Event] started as he finished ninth in the £500 side event, Sunny is not far behind, Tony Phillips who hasn't played this week is still in third place so it's looking very competitive and there is £50,000 of prizes there and I think that it will be a discussion point for the rest of the season."
GUKPT rankings aside, the final table was an interesting one with a good mixture of younger new school players in the form of eventual winner Richard Gryko (the last Englishman standing in the 2006 WSOP Main Event finishing 50th for $164,932), James Morris, James Williams and Nick McLellan (all with prior GUKPT cashes under their belts) with the old school of poker experience being represented by runner up Alan McLean (who was also GUKPT Bolton Summer Series runner up).
By far the most experienced player on the final however, was Santa Cruz based Bay101 Shooting Stars Executive Poker Host Chuck Thompson who boasts a poker CV dating back to 1984 that features five WSOP final tables including a 6th place finish in the 1995 Main Event – the one that 'Action' Dan Harrington won.
"Yeah… thanks I'd forgotten about that for about a week…' Chuck chuckled, 'I moved in on Harrington with Ace Queen… and Dan called immediately and I said 'You got two Kings?' and he said 'I got 'em'. That would be the logical hand that he would have right? Calling that quickly…' He continued:
'I loved this tournament, the structure is beautiful, the levels are long and there's a lot of play involved and what I like are the people. In addition to there being really capable players, there seems to be a bit of joviality and camaraderie here that I really enjoy and that makes me feel great to be here with these guys so it's been a good experience for me and coming from a long way away it seemed like I was made to feel really at home. It's not different at all [from playing in WPT's and WSOP's] in fact I'm over there in Vegas playing against some of these same guys in a lot of the cases."
However, despite the calibre of the players, the final table action was fast and frantic with both youngster James Morris and poker stalwart Alan McBride eliminated in the first hour of play; James running his top and bottom pair into the middle set of Stacey Clarke on a 4c–9d–6s board and cashing in 9th for £6,100. Alan McBride was eliminated in 8th cashing for £8,200, when his all in shove with Pocket Queens found Clive Padden waiting with Pocket Aces.
James Williams was next to fall, his all-in shove with a gutshot holding Ace Seven on a 6–9–10 board quickly called by Alan McLean who promptly turned top pair and rivered the straight holding the mighty Queen Jack.
Proving that the GUKPT is not just the poker professional's stomping ground, home-game hero and St Albans 'Under-the-Gun' poker club member Stacey Clarke put up a valiant effort, turning his initial £100 UTG poker club SNG buy-in into a tasty £14,300 after exiting in 6th place following an ill-timed bluff.
The experienced Chuck Thompson did one better than he managed in 1995, cashing in 5th place for £17,350 (in addition to a 14th place cash in the £200 side event and a £4,000 winning session in the cash games) after running King Queen into the Pocket Queens of Richard Gryko – so that's some money that the American poker economy has managed to wrestle back after the UK's good showing during this years WSOP.
One of the more aggressive players on the final table was Nick McLellan who pulled off some well-timed bluffs as the blinds and antes began to rise; after getting Clive Padden to lay down top pair on the turn by double-barrelling his inside straight draw his stack yo-yoed up and down as he attempted to assert his authority over the table. However, after numerous blind v. blind battles with Richard Gryko his number was finally up after his shove with Pocket Eights lost out to Richard's Ace King with the later turning Broadway to leave Nick drawing dead and having to settle for £23,400 and 4th place.
The first hand back after the dinner break saw a million chip pot after an early position Clive Padden shove was snap called by Alan McLean. The look of horror on Clive's face could only mean he was in trouble and indeed he was – his Ace Eight dominated by Alan's Ace King, and with no Eight forthcoming Clive was left with just 109,000. Despite doubling up with Queen high through Richard Gryko on the very next hand it was the beginning of the end for Clive and he eventually busted when his push with King Seven lost to Richard's Ace Six taking the tournament heads-up.
Despite being one of the UK's more experienced tournament players Alan McLean was unable to overcome Richard Gryko's 2–1 chip lead and after a 40-minute heads-up battle it was Essex-based poker professional Richard who was the last man standing – his Ace Nine beating Alan's Pocket Fours for an £88,850 pay-day. What made his victory so impressive and proved his calibre as a player is the fact that Richard went into the final table as the chip leader with a stack of over 500,000. What, a chip leader winning a tournament? That's not impressive I hear you cry – well it is if you consider the fact he went from chip leader to a short-stack of just 70,000 and managed to battle back against aggression and experience to scoop the Luton leg of the GUKPT. The tour now moves on to Coventry , where the fourth and final Summer Series event of the year will take place at the G Casino at the Ricoh Arena (formerly the Isle of Capri casino) from the 27th-30th August. Leg 7 of the GUKPT will then take place at the Grosvenor casino in Cardiff from August 31st – September 6th.
Pictures courtesy of the GUKPT