Challenge James - Synchronised Breaks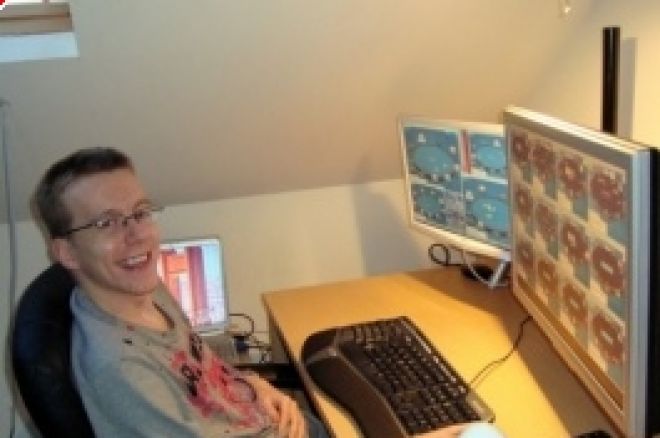 I am very pleased with the recent announcement that Pokerstars will be testing synchronised breaks in their tournaments. I can only imagine them receiving positive feedback on this, as this was one of the main advantages I felt of playing on Full Tilt Poker last month. Hopefully that will mean they are incorporated site-wide, and I can only hope they are introduced to the 45 person MTTs that I've been playing for the last month or more.
My poker set up is a good 2 flights of stairs and then 3 rooms away from the toilet in my house. My mad dashes to the toilet could perhaps be a thing of the past, which should greatly reduce the chances I will break my neck! I was rather amused to read on the forums that numerous others have shared my plight when multi-tabling on the internet, as apparently I'm not the only one who has to resort to desperate measures when multi-tabling at the computer. Apologies if this is too much information, but I wouldn't have been able to play so many MTT SNGs at once in the last few weeks if I hadn't invested in an 89p bucket from Wilkos (the missus isn't a huge fan of me using this facility in the bedroom, which is where I play poker...especially when she is present...even more so if I'm doing an early morning session and wake her up via this method!).
Some funny comments have come out on the forums since the announcement. 'BadgerPro' proclaimed "Stars and Tilt unite to help poker players urinate". 'Thetank' noticed an extra advantage pointing out that we now have "the luxury of a decent handwash afterwards...PokerStars Grinders 1-0 Staphylococcus Aureus". Another person who I'm sure will be more than happy about synchronised breaks is Simon 'Amatay' Jones. At the beginning of the year he discovered the pitfalls of multi-tabling, which he documented in his popular blog:
"One of the well documented pitfalls to playing many tables simultaneously is of course the fact that your concentration levels and ability to play your very best poker significantly diminishes with each added table. Despite these well publicised problems of multi tabling a further and much less written about issue concerns the lack of breaks in play and more specifically a lack of toilet breaks. I found myself faced with this problem the other night when needing to take a massive dump whilst nine tabling the $26 45 manners on FTP. Usually I just sit out a few blinds and quickly nip to the bog to do my business, job done. However, I had stacks in about six games plus I was at the final table of two of them so I couldn't really afford to miss a hand. I also kinda had the feeling that this particular shit wasn't gonna wait for a few minutes and also that it wasn't going to be one of those nice 1-2 minute clean breaks jobbies either. So, I had no other option than to take all nine tables off my wide screen monitor and move them onto my laptop and take my lappy to the throne with me so I could have my poo. To my relief I got to the bog just in time complete with my lappy and quickly pulled down my pants sat down and started to take my dump whilst continuing to play poker. However, in my haste I hadn't popped my cock into the actually toilet bowl and ended up pissing all over the floor, my jeans and even sprinkled some on my laptop, f*** my life!!! So there I was sat in this precarious position taking a crap and covered in my own piss whilst my laptop was furiously bleeping at me, lol."
Both PokerStars and Full Tilt Poker seem to be doing their best to improve their respective software. Full Tilt has recently been updated to improve the graphics and reduce the lag on their site, and their new lobby now has vastly improved game filters. Interestingly, PokerStars are reportedly developing a feature that it's suggested will be 'better' than colour coded notes. Being able to attribute a colour to a player's notes is very helpful so you can see at a glance whether they are a green/donkey, a blue/regular or a red/nit, so I am looking forward to this potential improvement.
Over the last few weeks I have pretty much settled on my game of choice, which is the $6.50 and $12 45-man turbo tournaments on PokerStars, I have experimented around with different buy-ins, different sites and also played 18, 90 and 180 man tournaments variations, but this seems to suit me best, or so my results would suggest. I have increased my number of games at once from 8 when I started, then to 12, and recently I have been playing up to a brain numbing 24 at a time. I think this is a little excessive, but I'm trying to find the best hourly rate possible. Having read Edme Christophe's article on Multitabling as part of my next column I plan to explore the different methods of multi-tabling, such as tiling, cascading and stacking, as I have been experimenting with them all.
Anyway, with the 45-man tournaments going well, it seems that I no longer have to be jealous of those guys that have awesome Sharkscope graphs that just go up in a straight line, with a nice and steady gradient with seemingly no downswings, as I am making progress on my own graph (see *below*), which documents my $6.50 & $12 45-man progress in July and August. 1200 tournaments is just the beginning though, now I have found the game I intend to play, have got my poker set up just as I like it. In further news; the missus let me buy a new computer and it runs so much smoother with no lag. Get in!), and soon might even be able to have a 5 minute break so I can walk leisurely to the bathroom at no risk to my health. Hell, I might even have time to pour a drink. It might even prevent my corneas from shrivelling up after staring at a screen for 4 hours straight at a time! One downside is that Optrex sales could suffer, also recycling of bottles may occur less frequently amongst poker grinders, lol!