Adam Latimer Tops UK Day 2B Chip Counts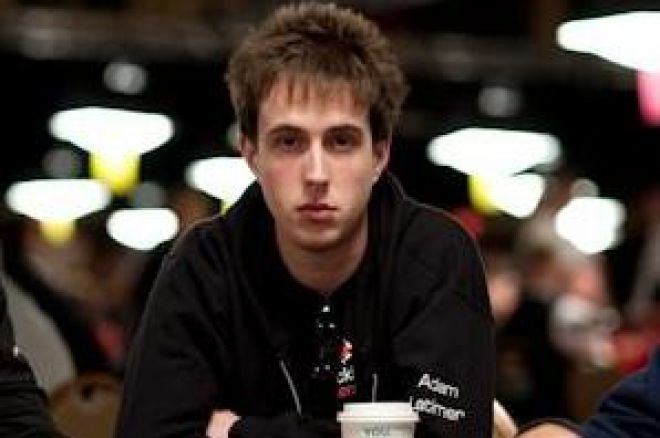 Another good day for the Brits as Day 2B comes to an end and 51 UK players will be moving onto day 3 to join those that did from Day 2A. Perhaps the most excited UK player, however, will be none other than
Neil Channing as 5 of his 8 BlackBelt Poker Brown Belt's are riding high. Adam Latimer & James Keys are 1st and 2nd respectively in the UK counts, and Jamie Roberts, Kevin Allen & David Tighe are also well stacked up. Nik Persuad, a mentor at BlackBelt, is also left in the field.
You may remember Keys made the final table of the very first WSOPE Main Event, but this trip to Vegas is really a big deal to Latimer. He admitted on the Poker Show when he was told he was a Brown Belt that he had never played a live tournament with a buy-in of much more than £100 and now here he is, one of the chip daddies in the main event. Neil Channing must be licking his lips and rubbing his hands together in anticipation of a possible massive score for one (or more) of his young disciples.
Elsewhere one of the big favourites from the UK to do well, James Akenhead, is amongst the big stacks going into day 3 and other notables from the UK include Joe Beevers, Jeff Kimber, Karl Mahrenholz, Laurence Houghton, Surinder Sunar and Simon Zach. The top ten UK chip counts from day 2B look like this:
Latimer, Adam 340,100
Keys, James 278,200
Akenhead, James 240,200
Skrypec, Mark 187,700
Suarez, Neil 186,500
Pavlicek, Tommy 182,800
Smith, Asa 176,700
Roberts, Jamie 169,500
Stacey, Dwayne 162,600
Nicholson, Stu 158,300
Going into day 3, the combined top 5 UK chip counts is something of a UK players dream young line up, with 5 of the top up and coming young players in the country all in with a great shot at big things. None of them are amongst the overall top ten chip stacks but it is still very early days yet:
Brown, Jamie 360,400
Latimer, Adam 340,100
Keys, James 278,200
Akenhead, James 240,200
Carter, Daniel 239,900
There is now a day's break before we combine the fields for day 3. 2044 players remain overall with 648 players making the money. Of those players, just over 80 of them are from the UK which is very impressive considering the relatively small number we had in at the start of the main event. To follow all the action from day 3 onwards, go straight to our Live Updates.