UK Bookmakers Release WSOP Betting Odds, England Lose Poker Ashes + more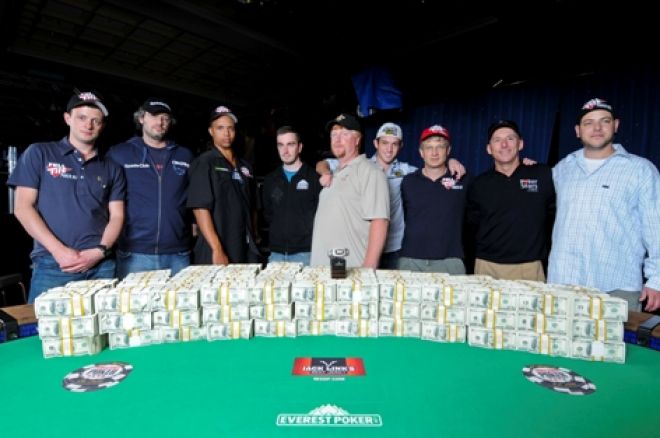 WSOP Betting Odds at UK Bookmakers
This year's World Series of Poker final table is already creating a bit of a buzz and we still have 4 months to wait, but all the top UK bookmakers are already putting up prices for the November Final. Ladbrokes, 888.com, Victor Chandler, Blue Square and Betfair all have winner markets on the final, with of course the latter allowing you to play to bookie yourself and lay players instead.
Naturally Darvin Moon is the favourite on account of his huge chip advantage, best priced on right now on Betfair at 3/1. Despite having one of the more modest stacks, Phil Ivey is still understandably 3rd favourite at 8/1 on Betfair. Any hopeful UK punters will at least get a good price on James Akenhead, the short stack Londoner is at 20/1 on Victor Chandler.
Selected WSOP Final Table Odds
Darvin Moon 3/1
Eric Buchman 4.5/1
Phil Ivey 8/1
Steven Begleiter 6.5/1
Jeff Shulman 7/1
Joseph Cada 15.5/1
Kevin Schaffel 15.5/1
Antoine Sauot 20/1
James Akenhead 20/1
England Lose Poker Ashes
We might be having things our own way on the pitch but England have been bowled out of the Poker Ashes by Australia. The five heat TV shootout that mirrored the England vs Aussie test match format ended in a 4-1 victory for Australia. Captain Shane Warne led the Australian team to victory over Darren Gough's England. Warne and Gough had a side bet in the final test, as England had already lost the series, which saw loser Gough have to wear an Australian shirt at Lords.
As a result, the $50,000 prize will be donated to the Shane Warne Foundation charity.
JP Poker Mini WSOP
We have word of a juicy looking tournament over in Dublin that will be running alongside the November Nine final table. The JP Mini WSOP takes place at the Maldron Hotel in Dublin and has €50,000 in guaranteed prize pools. Each event starting stacks and blind structure will mirror the structures used at this year's WSOP. Its a very novel looking festival which is both modest buy-in, well structured with a guaranteed prize pool to boot:
Friday 6th - €350 Main Event - €30,000 Guaranteed
Starting Chips 30k
Blinds 45 Mins for 10 Levels followed by 60 Mins
Reg 7pm, Game 8pm
Capped 250 Players
Saturday 7th - €250 Side Event - €20,000 Guaranteed
Starting Chips 30k
Blinds 30 Mins for 10 levels followed by 40 Mins
Reg 4pm, Game 5pm
Saturday 7th - €150 Omaha Event - Est €5,000
Starting Chips 15k
Blinds 20 Min for 10 Levels followed by 30 Mins
Reg 8pm, Game 9pm
Sunday 8th - €150 Triple Shoot-Out - Est €10,000
Starting Chips 15k
Blinds 20 Mins for Round 1 & 2, 30 Mins for Final
Reg 2pm, Game 3pm
Capped at 90 Players
Sunday 8th - €150 Short Handed - Est €15,000
Starting Chip 15k
Blinds 20 Mins for 10 Levels followed by 30 Mins
Reg 5pm, 6pm