Win Free Seats in Major Live Tournaments at Poker770!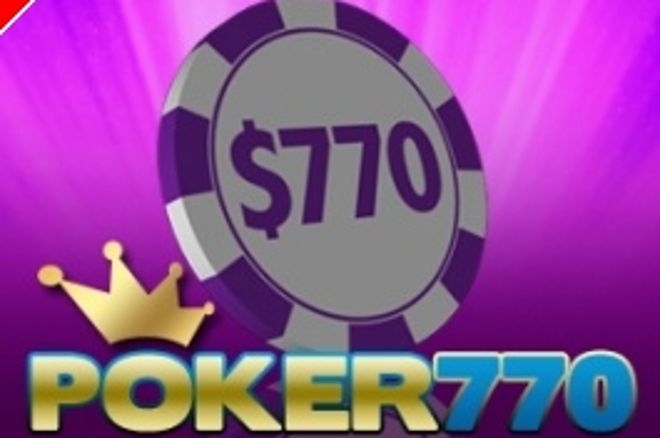 There are so many great skins on the iPoker network that picking one that is right for you depends entirely on what your poker preferences are. And if qualifying for the most prestigious and richest tournaments in Europe for nothing (Or next to nothing) then the only place to play is Poker770.
That's because they have qualifiers to all the biggest tournaments in Europe, most of which the rest of the iPoker network don't have, and a lot of them are completely FREE!
Right now you can qualify for the Asian Poker Tour Macau in August from as little as $2.75 with a weekly final on Sundays for $268 to win an $8,000 package to this tournament with an estimated $1 million prize pool. You can also book your seat for the WPT Marrakech main event which takes place in October. Again you can with your $8,000 package for as little as $2.75 with a weekly $268 final on Wednesdays. EPT Deauville is another major you can qualify for next to nothing, as well as the Irish Winter Festival in Dublin in October.
Poker770 also give you the chance to qualify for a major tournament each month for free, in a promotion called the Zero $ Monster. Every day at 5pm and 7.30pm a freeroll takes place with the top 3 players will bag a place in the Zero $ Monster final each month, as will any player who cashes for at least $150 that month in lobby tournaments. The winner of the Zero $ Monster Tournament will win a $3000 side event package for EPT Deauville.
Finally, for all your SNG experts out there, play in the Jackpot SNG tables and if you can pull off an amazing run of results you can win the WPT, pokerstars.com EPT or WSOP Europe package of your choice. Win a the Jackpot Sit'n'Go Live Poker games (buy-in $5+$1) 7 times in a row OR win in the Jackpot Sit'n'Go Live Poker games (buy-in $1+$0.25) 12 times in a row and you get the package of your choice plus all expenses paid.
Add on to this a fantastic $600 bonus plus weekly $770 freerolls exclusive to Pokernews and you will surely agree that Poker770 is the only place to play if you want to get out onto the live circuit this year!