Major Concerns Over Manchester Tournament, Ladies Tour Hits Cardiff + more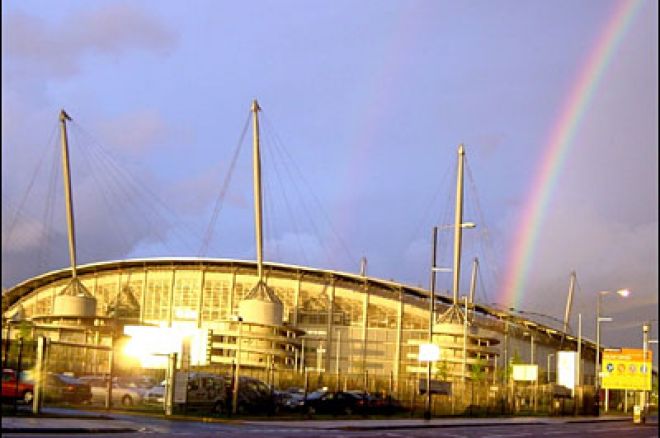 Question Marks Over Manchester Tournament
There is concern brewing in the UK poker community about a scheduled tournament in Manchester which doesn't look quite right. Lets-play-poker are apparently holding the UK Poker Championships between August 29th and September 3rd at the City of Manchester Stadium. This is apparently a £100 buy-in event with a cap of 750 players, yet it suggests a £100,000 first prize with a further 9 players making the money.
A number of major UK forums have been questioning the legitimacy event, most of which think that this could be a possible scam. We don't want to directly suggest that it is, however we do think in the interests of social responsibility we should highlight some of the many concerns that are being raised about this event:
First of all, the numbers simply don't make sense. The website claims £100,000 first prize for a 750 runner £100 buy-in event, with another nine players getting paid. Where is the £25,000 overlay coming from and also, where is the money for the rest of the winning players? It doesn't specify whether rebuys are part of the event or not. The website doesn't use the word 'guarantee' at all with regards to the prize pool.
Secondly, only ten players from a possible 750 make the money, this smacks of inexperience of the industry as few players would ever turn up for such a top heavy payout structure.
Numbers are dropping for live events round the country and APAT, the GUKPT and the Brighton Rendezvous are all holding big festivals that clash with the event (APAT have almost 450 players guaranteed for their event)– where are these 750 players coming from?
There is no mention of the starting chip stack or structure online. When you go to the rules section it merely presents a very basic texas hold'em rules guide, rather than which set of tournament rules the event subscribes to.
The City of Manchester Stadium have confirmed that the event has provisionally reserved but nothing concrete has been signed yet. This event would also most likely clash with a Manchester City home game, which could cause a problem down the line.
The sponsors of the event are US telephone provider AT&T - how did this come around? Normally an online poker room would be the natural choice of sponsor, not a USA based phone company. Surely someone such as at&t would opt to sponsor someone such as the World Series of Poker rather than a debut £100 event in Manchester? The banner for at&t does not include a hyperlink to the at&t website, which is again odd.
You have to pay for the event with a credit/debit card after one of their representatives calls you. You have to register an interest online and then await a phone call, rather than being able to ring them directly to register. A number of people have been contacted by the call centre (And when they are the phone number is blocked) and been told that over 1000 people have registered an interest, yet the call staff have rang several players multiple times to request payment for the event from them.
One source said they were told that Circus Poker would be holding an online feeder with a live final at Manchester235. Stanley's Casino (Circus Poker) have confirmed they know nothing about this and Manchester235 is a Caesars Casino, it seems very unlikely that they would work in conjunction together.
Not much in the way of marketing has been done other than flyers outside casinos. No websites or magazines have been promoting the event, nor has any representatives appeared on the forums to promote or defend the tour.
The website is very basic, contains no tournament structure information and does not include any terms & conditions. The listed phone number does not appear to work when called.
UK Pokernews are not saying that this event is a scam, but would certainly suggest you exercise a great deal of caution and use your best judgement before considering parting with your money if you want to play in it. It is perhaps an overly ambitious and naive first attempt at a poker tournament. We have contacted the organisers directly to get their response and if they are reading, please contact barry@pokernews.com if you wish to make a formal response.
Thanks go in particular to the members of the aworldofpoker forum who first raised their concerns
Betfred Ladies Tour hits Cardiff
The next leg on the popular Betfred Ladies Poker Tour sets down on the Aspers Casino in Swansea this weekend. The £100+£10 ladies only event is once again added value packed, with £1,500 added to the prize pool and perhaps even more tempting is the winner gets a seat in the Grand Final at the end of the year, which boasts a £20,000 sponsorship package from Betfred to the winner.
New Poker Venue in Waterlooville
We have just got wind of a new poker club in Waterlooville, Hampshire. Duffs Full House is a private members club which opened last month. It has 20 fully dealer dealt poker tables as well as boasting snooker, pool, darts, chess, backgammon and Sky Sports. Its open seven days a week between 11am and 4am with a tournament every night. Like all private members clubs, it has a 48 hour waiting rule between joining and being able to play. You can find it at 1A/2B Clockhouse, London Road, Waterlooville, PO7 7HE