172 Brits Make Day 2, Boylepoker IPO 2009 + more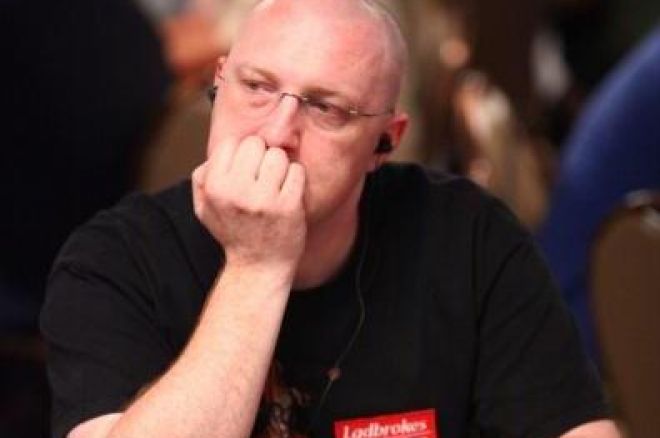 172 Brits Make Day 2
Day one of the WSOP Main Event is finally in the bag after four grueling opening days. 6494 players began with 1816 remaining. Of those 1816, 172 are from the UK which is a massive achievement as the Year of the Brit seems to continue, as we have more than 10% of the remaining field going into day 2.
Former final table star Jon Kalmar is the biggest UK stack with a meaty 135,050 with Charles Clarke, Asa Smith, Karl Fenton, Simon Zach, Dwayne Stacey, Andy Ward, Joe Beevers and Stuart Rutter all up near the top. Other notables left in the Brit Pack include the Devilfish, Andrew Feldman, Teddy Sheringham, Marty Wilson, Paul Parker, James Akenhead and Ian Frazer.
Day 2A resumes today and the only place to see the action is our fantastic Live Updates.
Top UK Main Event Chip Stacks
Kalmar, Jon 135,050
Smith, Asa 134,275
Stacey, Dwayne 127,475
Clark, Charles 126,575
Zacharias, Simeon 118,850
Fenton, Karl 110,950
Ward, Andy 110,075
Lusher, Neil 110,000
Kimber, Jeff 107,100
Rutter, Stuart 96,200
Beevers, Joe 92,625

BoylePoker International Poker Open 2009 Returns
Europe's largest live poker tournament returns this October, the International Poker Open is back for its third year. Sponsors BoylePoker are adding $25,000 to the prize pool and made a major change to the structure of the event.
The $225+$25 main event takes place between October 16th and 18th at the Regency Hotel in Dublin and has a capacity for 1300 players. Last year it was a packed house as Ruairi Coy beat 1300 players to win the €37,530 first prize and this year a $300,000 prize pool is expected.
This year Boylepoker have added a unique twist by changing the starting stack to 8,000 (Instead of 10,000) and rewarding players who play on their website in August and September with an additional 1000 chips per month played.
Paul Spillane, Head of Poker at Boylepoker.com said, "The Boylepoker.com International Poker Open is back and looks set to be bigger and better than ever before. We've added $25,000 to the prize pool and, like last year, players can expect a festival atmosphere and a plethora of well-known pros at the event."
"What makes the event so popular is that it is truly a tournament for all pockets, and with surprises in store like the extra starting chips for players who play at Boylepoker.com during August and September, the event is likely to sell out in well in advance, just like last year.
But not everyone is so excited about the new innovation, as a lot of players think that the starting stack is sacred and should not be tinkered with in this way. It's understandable that a poker room that are adding a lot of value to the live poker scene might want to reward and motivate players for sticking with them, but it will be interesting to see if this affects numbers down the line (We are guessing it won't because all registrations will be taken exclusively online, so anyone who wishes to enter will be fully aware of the stipulations in advance).
Derek Kelly Book Signing at Poker in the Park
The founder of the infamous Gutshot Club in London, Derek Kelly, is the latest addition to Poker in the Park on August 13 & 14, 2009 in Leicester Square, London. Kelly is amongst many speakers at the two day event, giving a talk on the growth of modern poker in Britain and Ireland. He will also be signing copies of his book 'Tales of a Degenerate Poker Player'.
Also confirmed to be giving talks at this years event are Neil Channing, Kara Scott and Ian Frazer.