Gus Hansen: Every Hand Revealed - Poker Book review
As most other people I'm not too fond of dry theory. Although it might be important, it can be so so boring. Gus has succeeded in writing a very exciting book in which he replaced a lot of the boring theory with interesting real-life examples. This was also his goal when writing the book. In his introduction, Hansen mentions that he finds most poker books far too theoretical or conservative.
So Gus decided to take a different route, which becomes apparent in the structure of the book. Gus Hansen is known for taking notes during his live tournaments, as he did, for example, during the Aussie Millions in 2007. 747 players began the tournament, with Gus Hansen ending up being the last man standing, taking home $1.5 Million.
Structure of the Book
Hand for hand, blind level for blind level and day for day, you accompany Gus Hansen through the tournament. Hand for hand can be taken very literally here. During the tournament he plays 329 hands, all of which are mentioned in the book. These hands come with detailed commentary and a lot of relevant information. In each hand he describes, he includes information about the blinds, his position, his hand and his chip stack. Later on in the book he even mentions the chip stacks of his opponents as well. One example:
Crucial hand 13: busting Full Tilt's Kristy Gazes 9-9 versus AQ
Blinds My position my hand my chip stack
15k/30K/5k ant Button 9club9hearts 4,91 mio
Kristy opens 2 off the button for 100,000. I am on the button with 99 and I have to decide in which direction I want to take this.
Fold – never going to happen
Call- seems stupid. My hand plays better pre-flop than when facing over cards on the flop.
Re-Raise to 350K – a bit silly, since I will then be potcommitted against Kristy's 1,07 mio
All-in- much better. Puts Kristy to the test and I am potcommitted anyway.
I make it a total of 380K. The blinds fold and after a quick study Kristy goes All-in. I take a couple of seconds just for the heck and call the remaining 720K. Kristy turns over AQ and my 99 is a 53-47% favourite. The Board comes, etc
In the introduction, Gus mentions that his approach to poker is mathematical as well as analytical, which, according to him, is the only way to win at poker. He also explains that his aggression has nothing to do with being a macho, but that it's simply the right way to play poker.
The reader is reminded of this throughout the whole book. The concept of pot odds bears no more secrets after reading this book. It is very instructive to read about how Gus makes his choices between calling, folding or raising and why he then, for example, decides to go all-in. In that respect, this book is the complete opposite of the Harrington on Holdem books, where, as far as I know, the word 'all-in' isn't mentioned once.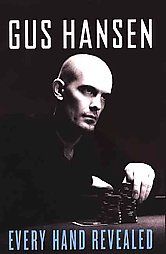 Title: Every Hand Revealed
Author: Gus Hansen
Pages: 370
Publisher: Kensington Publishing Corp.
Language: English
ISBN13: 978-0-8184-0727-7
ISBN10: 0-8184-0727-1
An eye opener for me was how Gus Hansen takes the time at the beginning of every level to think about the blinds, what they mean for the different stacks at the table, and adjusts his strategy accordingly. He even goes into detail about the ante-small blind ratio. Of course we all take a second to look at our stacks when the blinds increase, but Gus actually spends a couple of minutes thinking about how this will affect the strategies at the table and acts accordingly.
The book itself is made up of an introduction, 4 chapters on Day 1 through to Day 4, 3 chapters on the final table, and one chapter in the end with statistics and tips.
Hansen starts every day with a forecast and some advice for himself, and every day ends with a short review about the events of the day. The final table is split up into 3 chapters. The first chapter covers everything from 7-handed down to 3-handed, chapter 2 covers 3-handed down to heads-up and the final chapter covers his heads-up match against Jimmy Fricke. The heads-up section is just great. Hand for hand Gus shows the reader that heads-up play is a completely different game and that everything comes down to aggression, aggression and even more aggression.
Gus also has a very good writing style that makes the book a pleasure to read. Here are some examples:
"I can remember three times in my career where I raised preflop, flopped top pair and folded facing a single bet! Was this going to be the fourth?
Really, there is no excuse for playing conservatively at this level!
I open one of the button with Q6s for 19K and again the BB pops me. This Time it is Alvin Barroin who moves all-in for 65,500, giving me precisely 2:1 odds, or 33.33%. I call.
The main reason to buy this book is to get an insight into the thought processes of one of the best tourney players in the world, while also learning about the differences between playing a full table and playing short handed, how important aggression is and how to apply it properly.
£8.99 is a bargain for this book. Every player, who is in the process of developing his/her own game should add this book to their collection, together with the Harrington on Holdem series. I was very impressed with the Harrington on Holdem books and a lot of playing style is based on what I learned from those books, which is why it was very interesting to learn some new things from Gus Hansen. Not that Hansen's ideas are revolutionary to poker, but there are a lot of small things that you might not be thinking about at this point but are definitely worth considering in the future. Usually the aim of these books is to teach the reader a couple of new things and make him/her think about certain situations. Well, if that was Gus Hansen's goal with this book, he succeeded in every way!