Summer of Shove - GUKPT Walsall Summer Series Review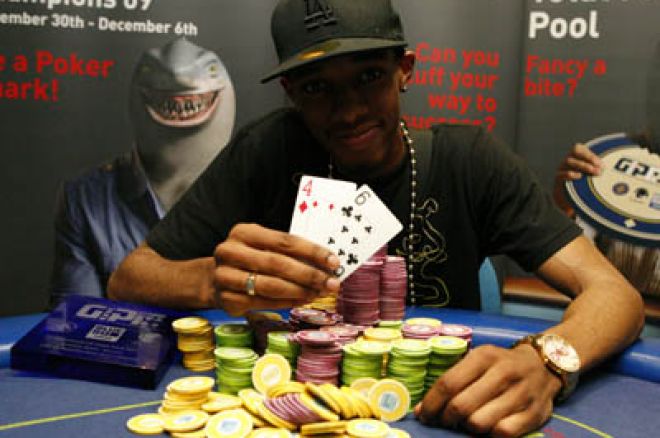 In the summertime when the weather is high, you can stretch right up and touch the sky. When the weather's fine – you got poker, you got poker on your mind….
With the re-branding of the Gala casino's British Poker Tour (GCBPT) to the Coral British Masters (CBMPT) and Grosvenor adding three Summer Series legs with £200, £300 and £500 freeze-outs to the GUKPT, this summer has been a good one for all you British poker players, especially those who's bankrolls don't stretch to £1,000 buy-ins, let alone $10,000.
"The Summer Series has really been a new thing for us on the GUKPT this year and the intention with it was to recognise that not everyone has bankrolls that take them to Vegas in the summer. The idea was to hold three events in different parts of the country – which was why we held them in consecutive weeks – to go for smaller buy-ins,' said GUKPT tour manager Jonathan Rabb.
"I think that this is something that we are going to look to expand upon next year. It's not always about absolute numbers so we may take the tour to places that are in the further corners of the UK where the intention will not be to get over 100 runners, it will be to put something on the map for the local players – to take the tour around the UK and make it more accessible to more people."
While Walsall may be a long way from the poker Mecca known as Las Vegas (5137 miles to be exact), poker is a universal game and fortune, glory and the small matter of the £60,500 prize pool at the last leg of the GUKPT Summer Series is enough to inspire any poker player to great deeds at the felt.
With 121 runners turning up to pit wits on the baize, including GUKPT Champion of Champions champion (that's a lot of champions) Ash Hussein, Blackbeltpoker.com blue belts Henry Griffiths, John Lundy and Toby Lewis, Liam 'the gentleman' Flood, Maria Demetriou and UK poker stalwart Mickey Wernick it was a pretty tough field duking it out for the trophy, seat in the Champion of Champions event and the £19,520 on offer for first place.
No poker tournament is complete without some drama and also in attendance to add that little bit more to play for was GUKPT Newcastle winner Tony Phillips; fresh from his victory in the £300 side event on Saturday [28 June] for a cool £9,400. With this win he moved into third place on the GUKPT leaderboard with 190 points, just behind Irishman Martin Silke (winner of the GUKPT Vic leg) on 225 points and previous Walsall winner Sunny Chattha who is on 230 points. If the likable ex-poker dealer finished in third place or better he would top the board and topple the Hit Squad's Sunny Chattha from the vaunted number one spot.
These tournaments serve as perfect proving ground for the next generation of poker professionals; those with the talent but who are either too young or not quite rolled enough to hit the bright lights of Vegas. Nowhere was this more in evidence than in the £500+50 main event with the 29 runners who made it back for Day Two providing a great mixture of seasoned pros like Mickey Wernick, established players like Ash Hussain and Maria Demitriou and the younger generation represented by the Blackbeltpoker pros, Tony Phillips and Birmingham's Vincent Price – all of whom are 22 or younger.
Action at the final table was thick and fast, and while poker's old guard put up a valiant effort it was the next generation of poker professionals who were to win out. When the dust had settled poker stalwart Mickey Wernick had been eliminated in ninth place for £1,210. Tour regular Jeffery Buffenburger was out in eighth for £1,820. Poker Stars business analyst Richard Connelly took seventh for £2,420 and Tony Phillip's dreams of a GUKPT leaderboard top spot were dashed leaving him to take sixth place and £3,020. While young Mr Phillips looked disappointed to finish his tournament prematurely his weekend has seen him net a tasty £12,420 and he currently sits on 206 points on the GUKPT leaderboard. Vincent Price rampaged over the table eliminating both Gordon Gainford and Abed Eid in fifth and sixth for £3,930 and £5,440 respectively and Blackbeltpoker's Toby Lewis saw off Simon Wickenden to take the game heads-up, leaving Simon to take £8,770 for third.
After an epic heads-up battle that lasted for just over an hour and a half the price was right for Vincent. The 21-year-old West Midlands Business council worker who was playing in his first major live tournament (£500+ buy-in) played a strong, patient game, and despite a spirited challenge from 19-year-old poker professional Toby Lewis that saw the chip lead change hands on several occasions, it was Vincent who was to emerge victorious; his turned full house with Six Four proving too strong for Toby's King Nine on the 6-4-9-4-8 board.
"I'm over the moon, shocked still really, it still hasn't sunk in yet and I can't believe that I've won,' confirmed young Mr Price, who has been playing poker recreationally for the last three years.
"My heads-up opponent Toby was solid and was the one player going in to the final table I didn't want to get involved in many pots with. It was a brilliant match and all credit to him he was very persistent and he raised my blinds like 90% of the time. He's a very good player.'
"I think that the next GUKPT is in August so I actually might play in that one, I hadn't previously considered playing in any of the Coral British Masters Tours, but after doing so well I'm now actually considering taking more shots on the tournament circuit because if yesterday is anything to go by, then hopefully I can replicate my success in some others."
While the GUKPT doesn't resume until 1–9 August in Luton, those of you looking for an affordable poker fix can rejoice in the fact the CBMPT is running events throughout July and August and also, according to Jonathan Rabb, this might not be the last you here of the Summer Series: "We recently bought the Isle of Capri casino, which is in the Rico Stadium in Coventry. It is really a very well equipped venue and it's quite possible that there may well be a Summer Series event 4 there in September, but we have yet to finalise those details.'
"Just one other thing to kind of give you a little teaser about as well, and this is possibly – nothing is confirmed at this stage, but it might be a hint of what maybe to come next year on the tour. Rank does own two casinos in Belgium and as we have recently started to offer poker in those casinos it's not impossible that there could be a Belgium leg of the tour next year.
So while Vegas might remain out of the reach of some of you, it would seem that poker is still available to all, possibly with a continental feel. Looks like it really is a Summer of Shove.
Pictures courtesy of GUKPT