GUKPT and DTD Festivals this Weekend, Gala Coral Financial Rumours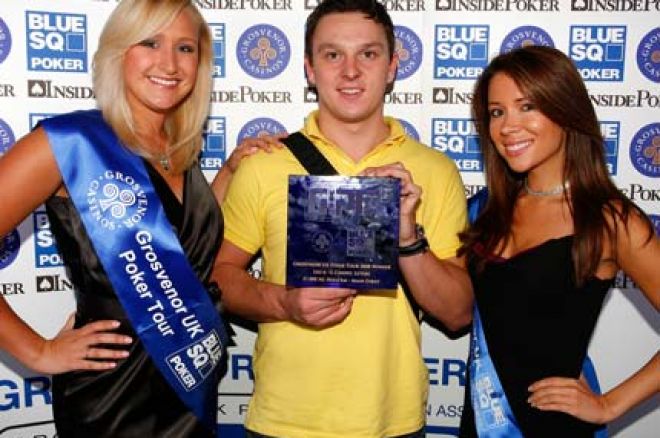 GUKPT Luton Begins this Weekend
Everything is back to normal for the Grosvenor UK Poker Tour (GUKPT) post-WSOP as the next leg begins tomorrow at the G Casino in Luton for a nine day run. Last year Sam Trickett took down the main event and a £109,050 first prize and will be looking to become the first player to defend a GUKPT title this time round.
The festival starts tomorrow night with a £100 freezeout, the winner of every event also gets a seat in the Champion of Champions event at the end of the year.

Sat 1 Aug at 6.00 pm £ 100 + 10 No Limit Hold'em
Sun 2 Aug at 6.00 pm £ 150 + 15 Pot Limit Hold'em
Mon 3 - Tue 4 Aug at 8.00 pm £ 200 + 20 No Limit Hold'em
Tue 4 - Wed 5 Aug at 8.00 pm £ 500 + 50 No Limit Hold'em
Wed 5 Aug at 8.00 pm £ 300 + 30 Pot Limit Omaha
Thu 6 - Sun 9 Aug at 2.00 pm £ 1,000 + 60 Main Event
Thu 6 Aug at 8.00 pm £ 100 + 10 No Limit Hold'em
Fri 7 Aug at 8.00 pm £ 100 + 10 No Limit Hold'em
Sat 8 Aug at 6.00 pm £ 250 + 25 No Limit Hold'em
Sun 9 Aug at 6.00 pm £ 300 + 30 No Limit Hold'em Bounty
The race for the GUKPT Player of the Year is starting to heat up, with Sunny Chattha and Martin Silke neck and neck. Silke leapfrogged Chattha over the summer when he won a GUKPT online festival event (Chattha was also at the final table) and just behind them Tony Phillips is hot on their heels. With £50,000 in prizes up for grabs, the race to top the leader board looks set to be very competitive for the remainder of the year.
GUKPT Leader Board
Position Player Points
1st Martin Silke 255
2nd Sunny Chattha 242
3rd Tony Phillips 208
4th Robert Topp 180
5th Haitao (Colin) Wu 158
6th Nick Gibson 144
7th Joe Grech 140
8th Mickey Wernick 133
9th David Johnson 128
10th Bernard Litman 125
10th Simon Moorman 125
Picture courtesy of GUKPT
£100,000 Guaranteed DTD Deepstack this Weekend
Anyone within close proximity of the M1 is spoilt for choice this weekend as Dusk Till Dawn are also hosting their monthly deep stack event. £80,000 is guaranteed in their £300+£36 deep stack event (At the new start time of 2pm) on Saturday with another £20,000 guaranteed in their £150+£18 side event at 3pm on Sunday. Last month Christopher Phillips won £28,324 in the main event and with the WSOP well and truly over, we expect just as big a prize pool this time round.
Gala Coral in Financial Difficulty?
There are rumours abound that the Gala Coral could be facing financial difficulty. The Royal Bank of Scotland has suggested that the company needs to act fast to avoid defaulting on money that is owed to them (Which is estimated to be £80 million by September and a further £150 million next year). The group who have just finished the 3rd leg of the British Poker Masters Tour, but did turn a few heads last year when they cancelled the Great British Poker Tour only to launch this new, virtually identical tour, which sparked discussions about the finances of the chain.
A spokesman for Gala Coral commented recently in the Observer "We are not looking to sell off assets or break up the group. We have £200m on the balance sheet and we are not seeking an equity injection