Challenge James - My New Poker Set Up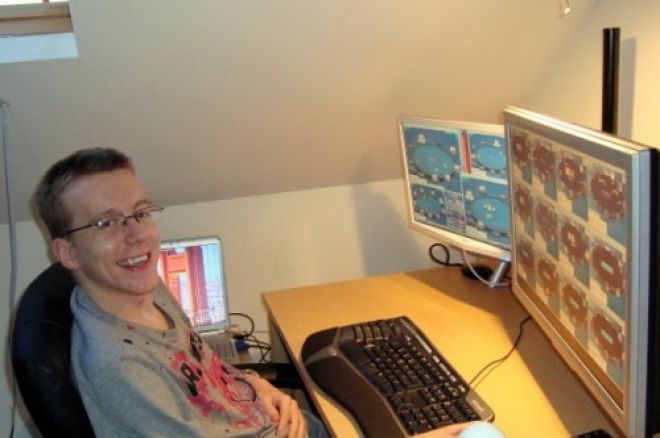 I have been busy perfecting my poker set-up for the last week or so. I used to play with a 24" monitor raised at the back of my laptop. However, playing 12 tiny tables on PokerStars has made me want to improve things for tiling a lot of tables. I did try both cascading and stacking tables, but I didn't like not being able to follow the action; it's especially annoying in a limped blind battle in the first level where a simple check down with 84 off takes 4 flashes up of the screen in the midst of playing many other hands.
So I invested in a new 19" monitor to use as my primary screen, and intend to use my laptop only as the computer (I'm still working on the missus to let me buy a new computer, but my laptop is only a year old or so, so it's proving difficult!). In addition I've purchased two monitor arms, which attach to my desk, and allow me not only to move the monitors around, but also rotate them at any angle I desire. When playing, I now have my 19" monitor rotated 90 degrees beside my 24" monitor and play a row of tables on that. This allows me to actually make out what the stats on my HUD are, and maybe eventually will allow me to add a couple of tables to my general play (although I'm not sure about this, the time-outs are racking up. Before I discovered card modifications for Full Tilt Poker, I managed to call a raise with T8 thinking it was TT. Consequently I was only semi-pleased with the 9JQ, and delighted with the 8 on the turn, after betting and taking it down, I suddenly noticed I'd flopped the nuts and was quite aggrieved that I didn't get paid off following my jammyness!).
I've gone a little crazy with the gadgets to help my play. I bought an ergonomic mouse (which is supposed to cause less strain to use) and now have it set-up to move all-in when I click the extra button it has (could be dangerous?) as well as have it fold on right click which I previously had set up. I also bought an ergonomic keyboard, seeing as I won't have my laptop in front of me anymore. Still getting used to it as the keys are laid out a little weird, and although I'm a fairly good/fast typist, I don't necessarily use the correct fingers to press the correct keys. Many typos have occurred, and its possible Barry (editor of this site) will be earning his wage sifting through this one!.
On-top of that I bought a wireless number key-pad to reduce clutter on my desk whilst playing, using it for typing amounts if I need to, and for a couple of hot-keys I have created. I also bought a 30m Ethernet cable and have hung it out the window to the router, as I thought the fact my computer is a couple of floors above the wireless router might be affecting my connectivity. I haven't noticed much difference though, but still not a bad thing to have when playing so many Sit and Goes where it is fundamental you stay connected. My girlfriend wants to know when Amazon is delivering our new kitchen sink. Har-Har!
A good set-up is definitely important if you're intending to put in a lot of volume and are playing a lot of games at a time. This includes making the most of any software that is available. I have been able to modify both Pokerstars and Full Tilt Poker to make them much easier to play on. The modified cards especially are useful when playing lots of tables.
I have experimented with a bunch of "Auto-Hot-Key" scripts, and have felt more like a computer programmer than a poker player (I can't imagine Doyle Brunson trying to make it so a table switches from monitor to monitor when it requires action?), but I've discovered the best thing to do is just play with tiled tables whilst using only Table-Ninja, which essentially combines all the AHK software I have been able to find into one piece of software. I've been using it for several months, and now I feel like I couldn't play without it.
So all the procrastinating setting up of my "Poker Palace" (a fairly grubby corner in my bedroom) has left me with no excuse but to go out and play a sick amount of games online. Lets hope I can make enough to pay for all this damn stuff I've bought!