Catman's Column - Poker and the Sex Reporter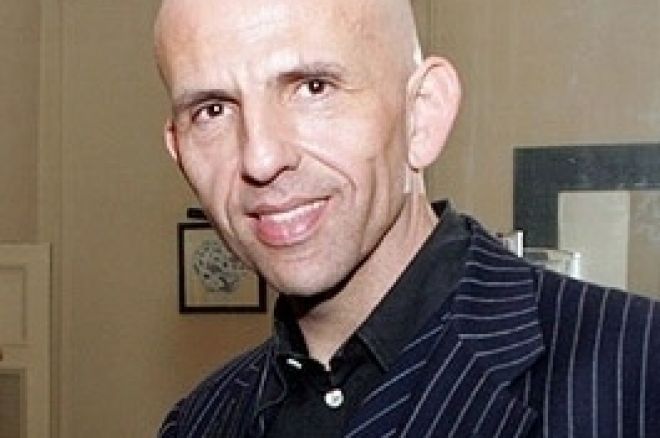 My WSOP was set off this week with a Facebook chat to Dan 'The Scrote' Carter a super kid and regular successful Horse for Matt ' the most eligible' Dale. Through some 'luckbox play,' as he described it, had become $25,027 richer for coming in number 468 out of 6494. At the time of writing this piece of literary genius, James 'Hit Squad' Akenhead was getting the cake with 1.5mill chips and PokerStars Presenter / player Kara Scott is giving it large for the ladies with $399k, God Save the Queen and if anyone can do it these two can, good luck kids. Of course if it was purely a game of skill then Phil Hellmuth would obviously win every bracelet and an Oxford Degree ain't going to help you win The WSOP or is it?
For those of you kind enough to read this column, and wonder what the heck it is all about, it is simply the ramblings of someone who loves poker and loves the micro and macro community surrounding it. Of course the game is not just about playing the players, but more so playing yourself. So with a grin on my face, I wandered down to the Hen and Chicken Theatre in Highbury to watch a man who is very good at playing against himself. PKR Poker Pro, TV Star and Sex Reporter ' Ashley Hames,' a good signing by PKR yes, especially if they use Ashley's great Persona to its full. I have a signed copy of his book ' Sin City,' up as a prize for the first person who tells me they have played Hames whilst sober. For Ashley is a hell raiser, and is about to expose the behind the scenes tales, of six years as a sex reporter, all I can say is youtube Ashley Hames and 'Butt,' 'Sac' or 'man in a rubber pig suit.' Decency will not allow me to say more, Ashley is unique and he will be appearing at the Edinburgh Fringe and deserves every ounce of success in poker, presenting and swearing. Also there was Poker Player and commentator, Grub Smith, a man with a Cambridge University Masters Degree in history and anthropology, who like myself was amazed at how much one man could swear whilst baring no resemblance to 'Regan' in the film 'Exorcist,' as her head was about to spin around her shoulders. Catch and support Poker's own ' Daniel Craig,' on Facebook now.
Humour is something so often missing from our game so I almost pissed myself when my ignored call to an up and coming player in the poker industry was responded to with a ridiculous text:
"Hello, 9.30 is the cut off for phone calls unless it is good gossip or a death. If neither speak tomorrow old bean.' Class, I would not have minded if he meant 9.30am.
My next call was to a seriously busy and successful man, Poker Industry Legend Jonathan Raab the Vics Poker Host and Manager of GUKPT. The call was returned within 5 minutes, a chat and the same procedure for the next three days, so I could learn a little more about The London Poker Open and The Unibet Open Main Event at The Grosvenor Victoria Casino next week.
The moral of this story is bollox, bollox and more bollox or respect is vital.
So without further ado, I buggered off to watch another Oxford graduate in action, Sacha ' Ali G / Borat / Bruno Cohen', he had paid for my local cinema and given it to a charity for a showing of 'Bruno.' Word's find it hard to express, but Ashley Hames and Bruno are both two of the sickest and intriguing people I know.
Whilst on the subject of stomach churning, I came across this photo of a real poker superstar, Daniel Negreanu, posing with Playboy cards and 3 clothed girls. If Hugh Hefner and Playboy, and naked women are the world's most successful brand, you tell me what this photo was all about. It is amazing that a man with this money behind him has not yet seen 'Bruno,' if you are going to do it, put some effort into it. I have naturally attached a photo of some micro minuscule celebrity, called 'Catman' showing just how a publicity shot should be done (my photo went into The Sunday Times Style Magazines), however Danny has won $10 mill plus and I have won bugger all, lol. They say money can't buy you love, class or happiness, as a general rule this again is bollox.
I will still rant and rave about Betfair's WSOP Europe of which I have been a loyal groupie to, " Richard Bloch let me know by Facebook there would be no free seat for me in The HORSE, which I thought was a nice bit of humour, considering I have never had one from Betfair yet, But the upside of that call was that there will be a £1,000 WSOP E Hold em Event, which should be nearly sold out by now, and if it is not then why. I mean a grand for a pop at a Bracelet has got to be value, naturally I am happy to play Naked if sponsored for all events. This will in turn be great news for Colin Hunt head of Poker for London Clubs, parts of Harrah's chain, who is doing a cracking job with London's other leading Casino Poker Scene.
Finally at 7pm in the evening I manage to disturb Jonathan Raab at 7.30pm, as he is enjoying a rare night off and dinner with friends, he really should have told me to get on my bike.
So what has interested me so much at the Victoria Casino, it was in fact the emergence of The Unibet Open an event, which I thought, might be a future contender to The EPT. Unibet seem to be a very powerful and substantial force in European Poker and I am sure there will be a lot more to hear about their European Series of events. So this week at The Victoria Casino see's the culmination of the London Poker Championship on the 14th July, followed by the main £320 satellite on the 15th of July for The Unibet Open, a £2500 buy - In event.
So Mr Raab do you need to be a cockney to play The London Poker Championships: "No but it help's."
Can you give me three glamorous and fun reason to attend the Vic next week (a fairly enigmatic quest)?
JT " First it is much cheaper way than spending thousands in Vegas, where else can you see a dealers choice tournament, you know you would miss Jeff Leigh." The man is pure genius, he is Scottish and I may well see if Ashley Hames requires an assistant at the Edinburgh Festival.
What can you tell me about The Unibet Open? " Originally it was a private event, we are expecting around 200 European Players who have qualified online. Along with that a Polish Pop star, Estonia NBA Players and no idea who else but it is looking like a real fun event."
I am intrigued and doing my best to get The Catgirl to play the Satellites for the Unibet Event, it is really nice to see a fresh face here in the United Kingdom, even if they do have 3.3 million registered customers.
It seems that along with genius there is often tragedy, Stu Ungar we have already mentioned – a much troubled man, who us Brits love although we only really know him from one WSOP tape, when he is sitting with my mate Mel Judah playing the final out in the baking sun in 1997. So after having to hear the same old (negative) story, as a child, I loved and adored Michael Jackson, he too was a child. As a man I still love and adore the music of the Jackson 5, google "I wanna be where you are," Rest In Peace, a tragic and troubled man.
Peace Respect and Love
Europe's Best Looking Poker Agent