Catman's Column - The durrrr Million Dollar Challenge in London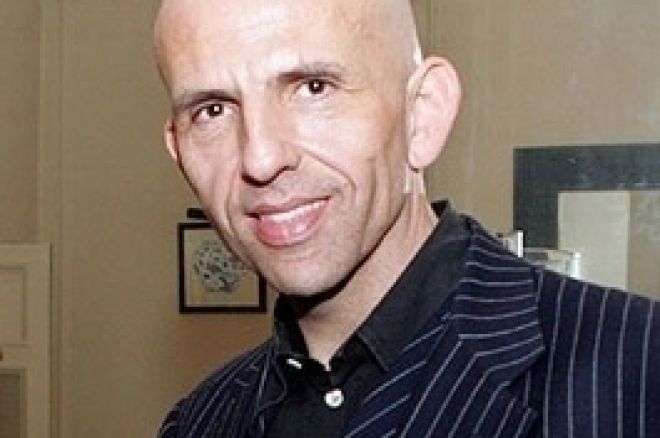 The game is on and yet another mother of all parties is coming to my London town, perfectly timed to coincide with the WSOPE presented by Betfair.
From the creative genius, enclosed within the cranium of Matchroom's Hit Man Hearn, we are about to find out who is the 'Real Slim Shady,' of poker.
'Fo' shizzle my nizzle' Mr Hearn, ain't nobody as dope as cool as Matchroom Eddie except Tom 'durrrr' Dwan and Catgirl of course lol.' If you were lucky enough to see my 52 venue Playboy TV tour you will understand that I know showbiz intimately ( Pic enclosed for no reason other then glamour).
I always said TV Poker would become like The World Wrestling Federation, my words are all over Pokernews. So Gus picks a boxing matching, 2 Poker Babes slug it out in a ring, Catgirl nearly played Poker Naked and now the match that is gonna make watching some jumped up mother's holding cards as exciting as it can physically be is about to happen. For in those immortal word's 'It's Showtime.'
Phil Hellmuth is without doubt the 'Mr Showbiz' of poker, and his latest TWATTER performance is literally name dropping in another universe:
'phil_hellmuth : I enjoyed chatting with 'Fifty Cent' today on the phone, he sounded positive! I like his lyric: 'the money aint a thing when u party w me.'
Phil Hellmuth, has gone to multiple orgasmic levels in his artistry of not only playing the world's greatest poker, but also in playing his almost universal stardom. Phil not only advises Presidents but also 50 Feckin Cent.[/I]
Out of the blue I got a call from the man at Matchroom, I was thinking it can't be that Durrrr Million Dollar Challenge thing, they aren't going to send me a boring press release, I know the news, maybe they were going to ask me if I wanted a press seat in the Full Tilt Poker Million. Bollox, the Durrrr press release comes through from Frankie,
My Reply: From: catman@pokerageny.co.uk Sent: 17 July 2009 16:39
To: Frank Smith Subject: Re: Matchroom Sport and Tom Dwan announce
'Durrrr Million Dollar Challenge' [Scanned]
Yo Yo Franky -Sup - When is the Biatch in town for interviewssssssssss
Best Catman (talking Like Luke Schwartz ).
I don't know if he does talk like that, cos he blanks me on Facebook, but Fullflush can talk like no other from what I have seen....
I sat back and thought, had something actually just excited me in the world of poker PR?
Last week I was seriously excited when I watched 266 mainly Scandinavians, invade the Vic for the Unibet Open, at £2500 a shot buy in. According to one player "there are a lot of mental Scandinavian players here Catman, they play any two cards," which echoed the rest of this pro's bad beat story. They also seem to smile more I noted as I got to chat with Nils Anden the charming and very happy Unibet spokesman, who said "The Unibet Open is normally a 1500 Euro event, we want to make our event fun, not deadly serious like the EPT. Our events stem around parties and making the game fun, it's recession friendly. Unibet is not yet so big, but we want to grow and keep the game fun." The Victoria casino was definitely buzzing and a £665,000 prize pool definitely indicated that Unibet was a force of the very near future The event was won by Finn Thanh Doan €187,000 with Brit Arkady Kielman €122,500 second. Next up on Unibet schedule of six events is Prague 17th Sept 09.
So back to the Real Slim Shady:
'When you walked through the door, It was clear to me You're the one
they adore, who they came to see You're a … rock star Everybody wants you. Player… Who could really blame you. We're the ones who made you. '
23year old Tom ' Dwan' Durr' kicks it, he made himself, he is the new Eminem of poker, and no other mother comes near the man. Enigma - not enigmatic - just an enigma, where did this character come from to dominate, invigorate, violate and light up the poker table?
So enough was enough, I got on the blower:
"Eddie please, this is Catman,"
"Catman, Eddie is on the other line, I will get him to call you."
Four hours later I was not having it, just cause Eddie is worth trillions, is 6 foot 4 and built like the proverbial brick shithouse, I still needed to know more.
"Can I speak to Eddie, Catman again," I yawned,
"He is out I will get him to call you." 2 minutes later, the Hearn is on the Dog:
"Sorry Catman, I am playing cricket, but we are batting so shoot."
"Whose Idea was it?"
"Well mine, I am not one to take all the credit, but in this case, yes my idea."
"Is he Gay like FullFlush said?" I asked in jest
"No, I spent a lot of time with him, he likes partying and having a good time. He is fascinating and seriously intelligent."
Eddie was talkng about this event in the style of Poker's very own Don King on the blower.
"This is going to be a live event, in a major London Hotel, Tom will not be giving odds as it is only 500 hands each player putting in Half a mill each, so there is a lot of variance involved over 500 hands. It will go out on Sky Sports, worldwide and probably live online."
Great Eddie, now serious business "can you put the Catgirl and Catman in the event please?"
"Only one of you Catman, I would love to play him myself," said one of the few that could afford it, but would probably be more likely to shoot each toe of individually than risk a real life, visible HALF MILL in a card game against the best in the world.
"Whose playing?"
"I have invited the best in the world, likes of Phil Ivey, Patrick Antonius. Gus Hansen, Zigmund, JC Tran one of the top 3 in the world, Andrew Feldman wanted to play, but it looks like Sammy George is definitely in, subject to contract. FullFlush, well we really want to see the colour of his money, we really hope he will be playing."
So Sammy is officially in, and FullFlush is wanted, just who will sponsor Flush will be the eye opener and someone will. In fact Flush verse Feldman would be just as an exciting match up.
So is this madness or the work of a genius, let's picture the scene:
It's the day of the event, the smoke machines are blowing, curtains are opened. THINK 8 Mile where Eminem is rapping his white bitch ass off on stage in a room that happens to be full of very tough looking black chaps. Now lets think of Durr as the Real slim Shady, with the likes of Full Flush, Sammy G etc etc as very plausible opposition in a very implausible game. Now here is, the choice, which takes more kahoona ( balls) taking Half A mill of hard earnt cash in a room and playing cards or rapping in a room where the glocks ( machine guns) were more common than Time clocks. Well if Luke Schwartz, alias FulFlush, takes the bait and does play this game for us, and is that same King of the Verbal Luke Schwartz that rips up the chat box on Full Tilt along with 2+2, we are going to be on for some real poker entertainment. Entertainment being the key word that Eddie has realised will make poker an even more attractive proposal to TV exposure. Of course I would love to see the angry Tony G of past kick ass, but this Million Dollar game is not about sense, it is a fantasy game for those deep into that world.
So why will they play the 'Rude Boy,' of poker in this super elitist game?
• Mine is bigger than yours.
• How big is my Ego
• I am the greatest
• Sit on this and swivel
Or is it all captured in this statement by Tom Durrrr:
"I am looking forward to sitting down and playing some of the World's best players
live in London. There looks to be lots of interest in people wanting to play me but they never seem to appear on-line. It will be interesting to see the response Eddie gets and just who is willing to get it on."
Eminem's Loose Yourself say's it all, stated here for educational purposes:
*Look, if you had one shot, one opportunity To seize everything you
ever wanted …One moment. Would you capture it or just let it slip? His palms are sweaty, kneesweak, arms are heavy. There's vomit on his sweater already, mom's spaghetti. He's nervous, but on the surface he looks calm and ready. It don't matter, he's dope. He knows that, but he's broke. He's so stacked that he knows
He better go capture this moment and hope it don't pass him forever. You only get one shot, do not miss your chance to blow this opportunity comes once in a lifetime you better."
Well I think that captures our game and the way James Akenhead might be feeling now as he prepares for the biggest opportunity of his life. I also think that it captures in essence any poker event, but more so this challenge, for it correctly staged will draw the biggest TV audience yet.
Tom 'Durrrr' Dwan and Eddie Hearn have thrown out the biggest biatch assed challenge any of his potential opponents could wish to face. For Tommy boy, knows 'No Fear,' and it is my palms sweating not his.
First up and definite contender is the legend that is 'Sammy Any 2 George.' I know little of Sammy as of yet, what I do know is that he owns at least a million pounds worth of cars, he plays Roland Heads Up, plays the biggest live games in Europe and will be one of the very few European's who will enjoy the game as much as Tom. Without doubt he is playing for chuckles and giggles in a game he loves and wants to be respected in. Well Sam, you got the respect by being first up, that is confirmed today.
Well enough said, it's an outrageous abuse of money that Gus Hansen, Tom Dwan, Phil Ivey mess with on a daily basis; they too know 'No Fear.' It's a level of cash that FullFlush, Sammy George or Andrew Feldman will enjoy playing, but very few other European Based players will see any sense in it. I mean imagine the look on a backers face when you have got to shove with Top Pair and Crap Kicker for even money on $500,000. This is a story that will run and run, it is a monster and I love it.
But hey, who does know about the game and who cares, it is about fun, have fun and the money will follow.
Love and Peace
Catman
Poker Agent and Founder Member of the Eddie Hearn Facebook Fan Club.