Boeree vs Castello Live Tonight + more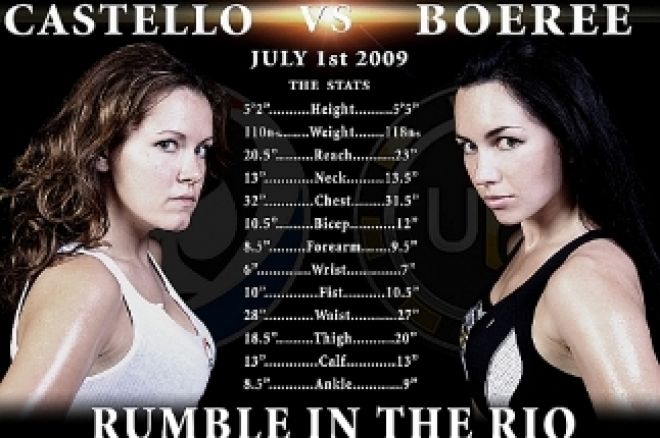 Boeree vs Castello Live Tonight
Probably the most unexpected story of the 2009 WSOP but also one of the most strangely intriguing, the fight between UK pro Liv Boeree and Pokernews Hostess Melissa Castello. It takes place tonight at 1pm Vegas time (9PM UK time) and you can watch it exclusively at Pokernews.
Boeree has a big reach advantage and as it clearly is the year of the Brits in Vegas, we fancy her to win the bout, especially as former bookie Neil Channing suggested she was a 3-1 favourite. It won't be too hard for it to be more entertaining than Gus Hansen vs Theo Jorgensen, and you can watch it live tonight at Pokernews.com.
Summer Festival at the International 09
Just a reminder that the International Club in London are hosting a summer festival which starts today and has a nice varied schedule. The centrepiece of which is the £500 Main Event which starts on Saturday, as well as the HORSE and PLO events:
Wed 1 Jul at 8.00 pm £ 200 No Limit Hold'em
Thu 2 Jul at 8.00 pm £ 100 No Limit Hold'em Rebuy
Fri 3 Jul at 8.00 pm £ 50 Pot Limit Omaha
Sat 4 Jul at 4.00 pm £ 500 No Limit Hold'em – Main Event
Sun 5 Jul at 8.00 pm £ 50 No Limit Hold'em
Mon 6 Jul at 8.00 pm £ 100 H.O.R.S.E.
Sky Poker Hits Vegas
Multi platform poker room Sky Poker have announced the lucky players who will be representing them at the WSOP main event this year. Ben Nuttall, Marco Wilson and Will Brewin have all won main event packages with Tony Hayes and Dan Brown winning Vegas Lite Packages. All three main event package winners have a great shot at big things in Vegas, Ben Nuttall is a self taught poker professional from Grimsby, Marco Wilson has some massive wins under his belt including a 2nd place in the SPUKT and Will Brewin won a package last year and converted it into a 118th place finish in last years main event for over $40.000.
All five players will be accompanied in Las Vegas by Tony 'Tikay' Kendall and supported by a team from Sky Poker. Tikay might be a bit distracted, however, as he seems to have won the affections of Pokernews own Lynne Gilmartin: