Boeree wins Boxing Match, Matthews Leads $5,000 Shorthanded Final Day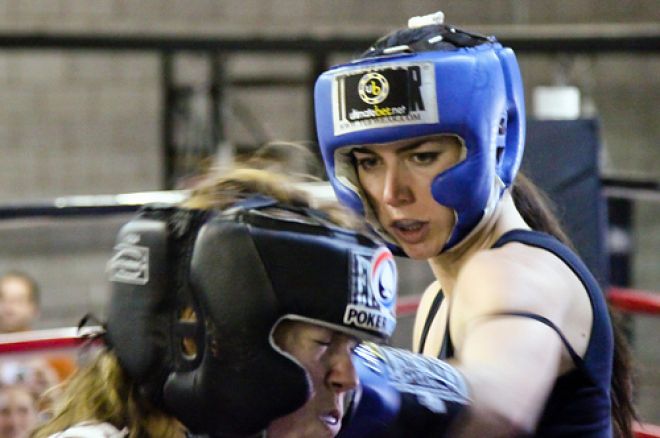 Boeree Beats Castello on Points
The poker prop bet boxing match between UK player Liv Boeree and Pokernews Hostess Melissa Castello took place yesterday in Barry's Boxing Center in Vegas. Both ladies entered the ring to the Rocky theme and Boeree immediately made the most of her sizeable reach advantage, managing to get the better of the exchanges in all three rounds. As much respect was shown at the end of the fight as there was venom during the fight, both girls took this event really seriously, and in the end Boeree was unanimously awarded the victory.
Well done Liv and stay tuned here for the exclusive archives of the fight.
Rory Matthews Chipleader in Final 16 of $5,000 Shorthanded Event
The $5,000 Shorthanded Event at the WSOP is without doubt the 2nd most prestigious no limit event of the series and really is the one the online players want to win. 928 players entered to create a $1,003,218 first prize and the UK have a fantastic shot at bracelet number 4 with 16 players remaining. Scottish nosebleed cash player Rory Matthews is the chip leader, as he was the day before it, with 16 players remaining. He boasts a 1,358,000 stack but its a narrow lead with 5 players within a couple of hundred thousand of him. They will play down to a finish tonight and you can see it all tonight via our live updates.
Day Three Seating
(Table 58)
Seat 1: Peter Feldman - 1328000
Seat 2: Aurelien Guiglini - 549000
Seat 3: Josh Brikis - 294000
Seat 4: Thorsten Schaefer - 1094000
Seat 5: Matthew Waxman - 1132000
Seat 6: Alex Venovski - 684000
(Table 59)
Seat 1: James St Hilaire - 876000
Seat 2: John Conkright - 749000
Seat 4: Rory Mathews - 1358000
Seat 5: Jonas Wexler - 848000
Seat 6: Eugene Katchalov - 356000
(Table 60)
Seat 1: Robert Kay - 1213000
Seat 3: Frank Calo - 569000
Seat 4: Sean Keeton - 641000
Seat 5: Matt Hawrilenko - 1327000
Seat 6: Faraz Jaka – 778000
Picture courtesy of aworldofpoker
Paddy Power Announce Full Irish Winter Festival Schedule
Paddy Power Poker have unveiled the full line up of the Irish Winter Festival, which takes place at the Citywest Hotel in Dublin on October 23rd – 26th. The centrepiece as always is the €1,500+€150 Irish Masters main event and there will be a €150+€15 rebuy satellite on Friday October 24th. There is also a €500+€50 No Limit 2 day side event on October 25th and a great looking €300+€30 Round-Of-Each (Holdem & Omaha) freezeout tournament taking place on Monday October 26th.
"Many players have already made plans to get to Dublin for the October Bank Holiday weekend, so we're happy to be able to release full details on the festival schedule", said Eric Booth, Head of Poker at Paddy Power Poker. "I'm particularly excited about our new Round-Of-Each freezeout, a tournament which many players have hoped for. We've done our best to make the Irish Winter Festival a 'must-attend' festival for both local and international players; it's gonna be great!"
Weekly super satellites ($200 + $15 freezeouts) to the Irish Masters run on Paddy Power Poker each Sunday evening, with a variety of feeders running daily. The Irish Winter Festival packages to be won at the super satellites are made up of an Irish Masters ticket plus accommodation and expenses.