Tony Phillips - Interview with GUKPT Newcastle Champion Tony Phillips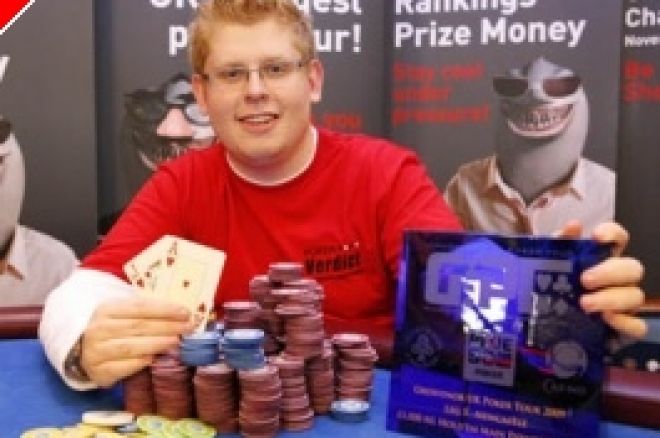 Normally when we talk of a player being a 'nearly man' or 'finally winning a big event' you expect to be talking about a seasoned old pro who has been playing the circuit for years. However, 22 year old Tony Phillips also falls into that group despite his young age, as he has had several near misses in major events over the last 12 months. He finally put that to bed last month when he won the GUKPT Newcastle Main Event for £47,200, becoming the youngest ever GUKPT champion in the process:
Pokernews: So for those that don't know, how did you find poker?
Tony Phillips: I found poker when I was 17 years old with a group of friends playing 10 pound sitngos around the kitchen table and my love for poker started there, before I knew it I was 18 years old and in the casino 5 nights a week playing small buyin tourneys. At the time I was a poker dealer too and I was learning all the time, the best way to learn poker is just to play so I was playing in all my spare time and seeing people play for 8 hours a day at work. Then my big break came when I bought into the 500 pounds GSOP (Gutshot Series of Poker in 2007) where I managed to win the event and add £18,000 to my bankroll, the next day I quit work to be a professional poker player and I haven't looked back since. Now all my money I make is from poker but I do think the term 'pro poker player' is overused a lot.
PN: So where can we normally find you playing when you are not taking down major UK main events?
Tony Phillips: My normal games are online cash poker and bigger buyin live comps, mainly online I'll be playing pot limit omaha heads up and stakes between $1/2 - $5/10. After my GUKPT London second place I had a period where I was playing massive online the smallest game being $25/50 and this was way out of my bankroll and I really regret that but now I learnt my lesson and now I grind to win every week and stop taking shots basically.
PN: You were the first player to drop out of the BlackBelt Grading, why was that?
Tony Phillips: Right, I dropped out of the BlackBelt Grading for a few reasons, the main reason was that I'm15k stuck in make-up already. If I made brown belt I go to Vegas with $20k and in Vegas there's so many runners that its more than likely than I'm NOT going to get a result so on return back to England I would be stuck with 35k in makeup. With staking every month into GUKPT main events and side events, to get even from my 35k makeup a side event doesn't pay that much and I need a top 3 finish in a main event just to get my makeup back to zero before I get any money out of it so in my opinion I may as well work in MacDonald's for 7k a year and probably make more money working there. Obviously I could go Vegas and the win the main event and life would be easy but I'm not relying on a 5000-1 shot. Other reasons were that 6 hours a day and 4 tabling at micro stakes was too boring and to be honest I'm too lazy for that, hence me quitting.
PN: Onto Newcastle and this win must have been very sweet after so many near misses?
Tony Phillips: Your right I've had a lot of near misses some of those being a WSOP PLO event, EPT Prague and GUKPT London. With no bad luck and not losing monster pots on the way then maybe I could of won all 3 of these major events but everything happens for a reason and I have zero regrets about the way I played my exit hands in all 3 of these comps, having said all that winning GUKPT Newcastle and finally getting a Title under my belts feels amazing. The support I've had and just the reaction from people has been great and I'd like to thank the most important people in helping this success POKERVERDICT. Without them then maybe me playing every GUKPT in the season might not be possible and they have been really good to me over our 18 months relationship and I would just like to say Thank you for your support and help!
PN: It was the quickest GUKPT final ever and many are saying the most dominant performance ever, was it really that easy?
Tony Phillips: I ran good in the fact that all the big pots I either had my opponent crushed or we were flipping. There was only once on the final when I was crushed that being AQ v AK and I made 3 queens but what people don't read on the internet is that I was honestly, and this is no exaggeration, raising 80% of hands throughout the whole final table which means that yes I did run good in the big pots but I must of stole 300k from blinds steal and continuation bets. I'm pleased I managed to get the final done within 3 hours of play and even happier to become the youngest ever GUKPT champion.
PN: Finally, Vegas is finally here, will you be going out there to try and go one better on last year?
Tony Phillips: I went to Vegas last year for 7 weeks, spent a crazy amount of money on hotels and nights out when I was young and stupid, now I'm more sensible and Vegas is an amazing place but it's also a place that can either make or break you and right now in my life I'm more happy to try and grind in the UK and build my bankroll every week. With the majority of the good poker players going to be in Vegas and out of town it should make UK poker even softer for 2 months so I'm going to be sensible and say no to Vegas this year. What's next for me in the UK will be following the best tour in the UK the Grosvenor UK Poker Tour Summer Series........can't wait!
Pictures courtesy of GUKPT/Quentin Kozma