Robbie Fisher-O'Brien wins SPUKT Grand Final, Kevin Parkes wins GUKPT Summer Series Bolton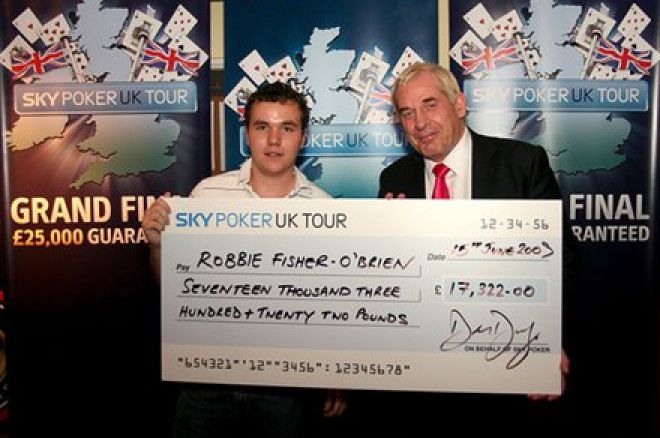 Robbie Fisher-O'Brien wins the Sky Poker Tour Grand Final
The first season of the Sky Poker UK Tour (SPUKT) came to an end last night at Dusk Till Dawn in Nottingham, with their £220 grand final. Following lower stakes legs in Nottingham, Birmingham, Edinburgh, Newcastle and Swansea, this was the biggest event with the deepest structure yet. 280 players generated a £56,000 prize pool and a first prize of £17,322.
This event probably attracted the most varied mix of players ever assembled at a poker tournament. There were recreational players, online players who had never played live before, Sky poker celebrities, blackbelt poker graders, GUKPT champions and even WSOP bracelet winners. Any pros that turned up thinking this event would be easy pickings were quickly silenced, and although the early action was thick and fast, this was one tough tournament to win.
Sky Poker were kind enough to invite yours truly over to this event and as always, it was a blast. A very healthy mix of serious poker action combined with a 'last day of school' party atmosphere. Win, lose or draw the event had incredible camaraderie and the guys at Sky, as well as the legendary staff of DTD, put on a fantastically run tournament.
Alexander Mcwhinnie and Robbie Fisher-O'Brien went into the final table the two chip daddies and remained that way for the rest of the tournament, until Fisher-O'Brien took a monumental chip lead into the heads up match after busting Pete Winter in 3rd place, when his pocket queens held against the ace-queen of Winter. Heads up lasted all but one hand, when short stacked Mcwhinne pushed with pocket threes and was insta-called by Fisher O'Brien with ace-eight, with an ace on the turn sealing the title for the young up and coming star.
A fantastic end to a fantastically received debut tour from the guys at Sky Poker and we can't wait to hear about the next season.
SPUKT Final Table
1. Robbie Fisher-O'Brien - £17,322
2. Alex Mcwhinnie - £10,127
3. Pete Winter - £6,076
4. Wayne Barber – £4,264
5. Toby Lewis – £3,198
6. Paul Frampton – £2,399
7. Simon Lee – £1,866
8. Mkesh Kanabar – £1,333
9. Nicholas Stinson - £1,066
Kevin Parkes wins GUKPT Summer Series Bolton
The debut of the Grosvenor UK Poker Tour (GUKPT) Summer Series kicked off in Bolton over the weekend. The reduced buy-in, £500 main event attracted 77 players from around the country for the two day affair, making a £12,700 first prize for the eventual winner, plus a seat in the Champion of Champions event.
The final table was a pretty tough affair and included the man in form, Andy Bradshaw, who is making final tables for fun at the moment and slowly climbing up the European Rankings. But it was to be the day of 33 year old van salesman Kevin Parkes of Walsall, who took down the title after beating Allan McLean heads up for his 2nd GUKPT trophy (After winning a side event in the same venue last year).
The next stop on the Summer tour is Aberdeen at the end of this week, then finally in Walsall next week.
GUKPT Summer Series Bolton Final Table
1st Kevin Parkes £12,700
2nd Allan McLean £8,570
3rd Lee Atherton £5,780
4th Greg Hunt £3,460
5th Andrew Bradshaw £2,600
6th Anthony Mace £2,020
7th Najam Qureshi £1,540
8th Ghalib Hussain £1,160
9th Philippa Flanders £770
Photo courtesy of the GUKPT