Jason Brennan wins Sports Star Challenge, DTD Owner Speaks on Closure Rumours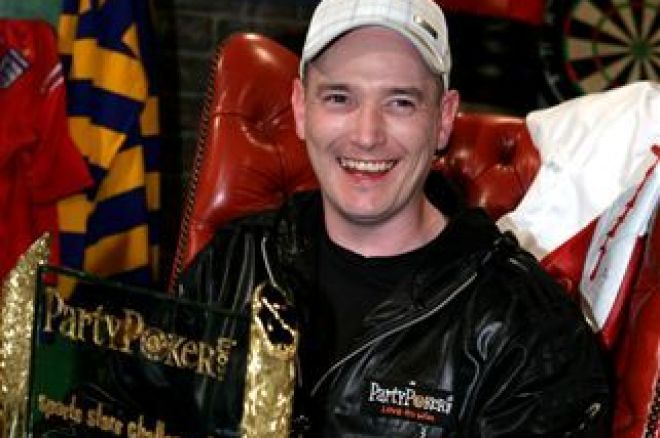 Jason Brennan wins Sports Star Challenge
34 year old unemployed road builder Jason Brennan has overcome some of the best poker playing ex-sportsman in Europe to win the Party Poker Sports Star Challenge IV in London. The online qualifier beat boxer Dave McAuley heads up at the final table for the £27,000 pay day, after winning the Darts heat of the competition, which he qualified for free for at Party Poker.
"I'm completely stunned, this is a dream" said Brennan. "Not only did I get to play poker with many of my sporting heroes, I also managed to win and qualifying did not cost me a penny! It means so much to me. I am currently out of work and the money couldn't have come at a better time."
A PartyPoker.com spokesman said: "We'd like to congratulate Jason on his win - it is truly remarkable that he managed to be the last man standing from over 140,000 players. He says his poker hero is Tony G but he looks like a contender to become UK poker's Ali G figure in a straight fight with Luke 'Full Flush' Schwartz and Josh Tyler! Kara Scott's win in this event in 2008 was a huge springboard to further success so it will be interesting to see what the future holds for Jason."
Eddie Hearn, Director of Matchroom Sport said: "It was a fantastic event and there was no surprise that the fastest heat was the motorsport one. All the sports stars were great fun and spent plenty of time socially with all those lucky players that won seats online. Giancarlo Fisichella and Ronald De Boer, in particular, showed they have some serious form on the green felt and they were unlucky not to be in the final."
Final Table
1st - JASON BRENNAN (ONLINE QUALIFIER DARTS) £20,000
2nd - DAVE MCAULEY (BOXING) £10,000
3rd - SCOTT O'REILLY (ONLINE QUALIFIER MOTORSPORT) £5,000
4th - HENRY PAUL (RUGBY)
5th - THOMAS HELMER (FOOTBALL)
6th - PARESH PATEL (ONLINE QUALIFIER FOOTBALL)
7th - JEAN VAN DE VELDE (GOLF)
Rob Yong speaks on DTD Rumours
Following yesterdays rumours that Dusk Till Dawn in Nottingham might be closing, DTD owner Rob Yong has clarified the situation. Speaking on the Blondepoker forum which he has always used to communicate openly and honestly about the club, he said the Nottingham Evening Post had 'jumped the gun' when they said the club was to close and it will not be closing in the next few weeks. He did say, however, that the team at DTD will be looking at their options for the medium and long term future of the club, with shutting their doors being an option.
Yong highlighted the three main problems with running the club on the forum:
1. The VAT hit us with additional costs categorising our 50 poker tables and the space they take, as effectively having 50 roulette tables, therefore we cannot claim VAT back on almost all of our start up, re-fit and running costs, because effectively we have a huge % of our space dedicated to "gaming".
2. Our business rates have recently been tripled by the local Council, we are now paying the same rates as a full casino with 50 casino/blackjack tables, I have been told this review of our rates was caused by another casino objecting to the difference that we pay vs casino's pay.
3. The recent "poker tax" legislation on MTT/STT juice and cash game rake
He also confirmed that no quick decisions will be made, especially regarding operating illegally like many other poker clubs do in the UK:
As the moment, some of us feel a little "punchdrunk" - especially me, so we need some time to do some logical thinking, there will be no knee jerks reactions over the coming weeks and there is no chance that we will consider anything that is not 100% legal, it's time to take stock after a whirlwind few years and whatever happens, I am especially proud of everyone that helped us to open the doors in the first place.
This is obviously one of the biggest topics in UK poker at the moment and we will be following it intently over the coming weeks and months.
Jonathon Wilcox wins inaugural One Way Poker Tournament
We don't hear as much about poker in Wales as we probably should, but this event might turn a few heads in the future. Last weekend a £125 buy-in tournament took place in Aspers in Swansea where the winner walked away with a CAR! The One Way Poker tournament was to celebrate the launch of an online room of the same name, and 21 year old local boy Jonathon Wilcox walked away with a Ford Ka Zetec worth $17,000, with 14 other players winning prizes, including three Grosvenor UK Poker Tour (GUKPT) packages.
One Way Poker Director Nicky Romanello (Brother of Roberto) said "We are delighted with the success of our first live event; we have plans to host more in Cardiff and Newcastle throughout the summer".