Robbie O'Brien - Interview with SPUKT Champion Robbie O'Brien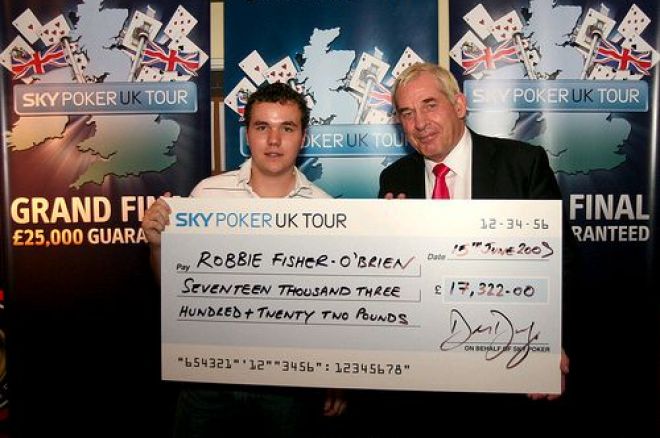 Last weekend multi platform poker room Sky Poker held their SPUKT Grand Final in Nottingham. It was a healthy mix of pros, amateurs, live regulars and people who have never ventured to a live card room before. With a total sell out and over 280 poker players singing the events praises, it was pretty clear to say it was a success. Especially for 19 year old Business Management student and eventual winner of the £17,322 first prize, Robbie O'Brien.
Pokernews: There was such a varied mix of players on the tour, some had never played live before, what's your history in the game?
Robbie O'Brien: I started playing when I was about 14, which was a very cheap way to learn the game. I don't have massive experience in large fields with big buy ins live, but I'm not 'new' to live play either, I've played in a few side event festivals, which have mainly been crapshoots and cashed a few times. In my first year of Uni I was probably a break even player, maybe a small winner, but my second year I found my niche which is heads up cash, the odd tournament and a soft live cash ring game. I don't play many tournaments because there is so much variance in them, taking bad beats in tournaments can have much more effect on your confidence than in other games. I won $11,000 for first place in an online tournament in April, which was my biggest win before this, which boosted my confidence.
PN: So what attracted you to the SPUKT Final?
Robbie O'Brien: My friends play at Sky Poker a lot and they recommended the tour to me, it sounded like less shark infested waters than your average £200 event. I was comfortable with the deeper stack, I wasn't scared by any of the well known players, I have to say the standard of play overall in the event wasn't bad at all.
PN: This was the first two day, deep stack event on the SPUKT Calendar, what was your strategy?
Robbie O'Brien: I usually play a tight aggressive tournament style normally, but in this tournament I started by raising 75% of the pots to get a feel for the table, and when the blinds were low. There were a lot of limpers and I got my chips by putting pressure on them at the start. As the blinds got higher I adjusted to a narrower range and chose my spots a lot more carefully. I didn't bust many players, but I ended day 1 2nd in chips and also went to the final table 2nd in chips, which was a very comfortable position to be in.
PN: A 19 year old student with a £17,000 score, it must be tempting to ditch your studies and go pro?
Robbie O'Brien: I will try to be sensible with the money, I have moved up poker stakes before and donked my money off quickly, so I will be careful. I will put it in the bank and think about it for a while and try to concentrate on my studies. I'm definitely planning a trip to Vegas when I'm 21 and would love a bracelet to my name. It is a bit of a dream to be a pro, but it's risky, it's hard to see where that would leave you in ten years time. I'm a few years off being a pro yet, but it is an option I will be considering
It hasn't sunk in yet, at the moment it's much more thrilling to have won a live tournament in itself than to have won the money. I had a really bad night playing cash at DTD the night before and I felt that something good was going to come of the weekend. I'm about to go on holiday with some of my friends, so I am sure they will be expecting a few treats along the way.
PN: Finally everyone was raving about the success of the tour, you must be one of them?
Robbie O'Brien: I'm sure the tour will continue for another season and beyond, the venue of Dusk Till Dawn was great, the dealers were excellent, the commentary was brilliant. I can only see the SPUKT getting bigger, as poker is still growing in this country.