PokerStars.net Launches IPT in San Remo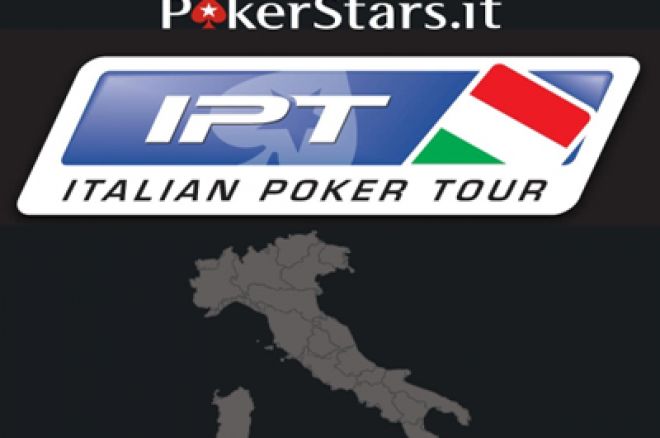 The Inaugural Italian Poker Tour (IPT) kicks off tomorrow with the €2000 IPT San Remo Main Event. Thanks to PokerStars.net and Pokerstars.it, Italian Poker players now have their very own high stakes poker tour with big tournaments at glamorous venues across Italy.
The Idyllic seaside town of San Remo hosts the first official PokerStars.net IPT event on now through through 7th of June at the San Remo Casino. The final tables of Italian Poker Tour events will be broadcast across Italy on the Italia 1 hit show "Poker1Mania."
PokerStars.net has been working with one of its top Italian pros Luca Pagano to bring the Italian Poker Tour to life and now with PokerStars.net Launching IPT in San Remo, things are looking up! Pagano has been a force on the PokerStars.net-backed European Poker Tour (EPT). He took sixth at the season 4 Monte Carlo Grand Final for €337,000, and another €153,000 at the next season's stop in Dortmund.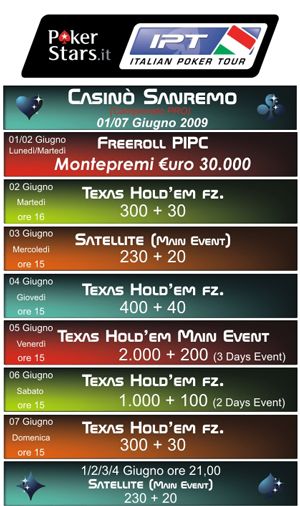 Of course poker in Italy has already seen some large events. The Pokerstars.it Italian Pro Championship (now part of the new tour) took place in San Remo at the end of January with a record number of participants and many famous Italian and international players: Dario "Supernova" Minieri, Isabelle Mercier, Max Pescatori, Claudio "Swissy" Rinaldi, Alessio Isaia. In the end, young Italian player Filippo Candio made his way to the first spot for the biggest chunk of the €545.140 prize pool (making it the largest non-EPT event in Italian Poker history).
This week's main event should have a large field featuring many of the top European players with play scheduled for 3 days of action. The whole tour will consist of several northern stages, including Venice, Saint Vincent, San Remo and the Campione d'Italia. The PokerStars.net sponsored tour culminates in a grand EPT event back in San Remo on April 2010.
[B]Don't Forget: Uk.Pokernews.com is currently offering readers a 100% PokerStars match bonus. [/B]