Neil Channing - Interview with UK Poker Legend Neil Channing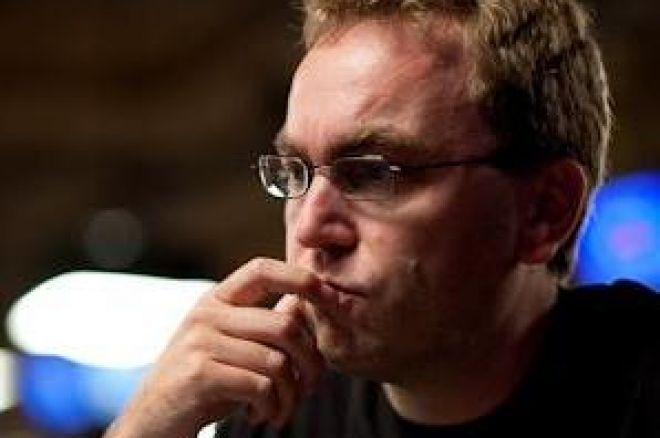 We caught up with Neil Channing earlier this week to find out about Vegas so far for him and his Brown Belts. Channing and his Brown Belts are staying in a Mansion just outside of Vegas for the WSOP and are hoping to bring back a bracelet between them
Pokernews: So how has the WSOP been so far for you?
Neil Channing: It isn't going too great, I just had another min cash in the $5000 shootout. Its not going very well in the deep end, the business end of the tournament, I think I have had 15 races for my tournament life in Vegas so far and I've won two. I've had full houses run into quads twice, I think I am performing well just not running too well.
PN: Is it at least relief to be making a return or does it feel worse than busting out on level one?
Neil Channing: Its really frustrating, I was talking to Tony Cousineau while I was queuing for another min cash payout and he was also saying how he was frustrated at all the min cashes. He also said that he had been presented with a few opportunities to gamble for a big stack but didn't want to put himself at risk of elimination – that to me sounds like someone who really is playing to cash. I have been in lots of races where I didn't need to be in one, I've been doing crazy things like raising to 50 big blinds to put someone to a decision to race. I've been the guy putting players to decisions and always giving myself two chances to win the hand. That isn't trying to min cash, that's trying the create a stack that will win me a bracelet.
PN: So do you think you can turn it around?
Neil Channing: I'm looking forward to the $10,000 Pot Limit Hold'em Championship Final, I think I have a very good chance in that. I think the internet kids have overtaken the other players in no limit, they play so many hands and there are so many good players, but pot limit doesn't get played that much live or online, I think I probably have more pot limit hands under my belt than anyone. I also think David Pham, Phil Laak and John Kabbaj have a really good chance in this event (ed note: We asked this on Tuesday just before the event started, nice prediction Neil).
You are a bookie at heart, who else have you been tipping this series?
Neil Channing: I liked Isaac Hacton going into the Series, I had a bet on him in the $40,000 event and then he fucking knocked me out of it. Jason Mercier didn't surprise me at all getting a bracelet but I was a little surprised it was in PLO, I think that showed its more important being a good tournament player, rather than a good PLO player, in these events. Vitaly Lunkin really surprised me with how well he has done, he just seemed really straightforward to me when I played him, but I guess it's a very good thing if you can convince people you are a rock in a tournament.
I also think Liv Boeree is a big favourite in her boxing match, I thought that was a joke at first it seemed crazy, the tale of the tape suggests she is a 3-1 favourite to me.
PN: Besides your own frustration, how has the series gone with your Brown Belts?
Neil Channing: I couldn't be happier with how it's gone, we are all having a great time in the house, it's nice to get away from it all, to get off the strip and have some time off. The boys have had a few nights off, a few have been clubbing or playing in the smaller events, but they are behaving. We are having a barbeque this weekend which will be fun.
PN: You don't think that the extra distractions you have with BlackBelt Poker might be effecting you at the tables?
Neil Channing: I like it, I need distractions when I am in Vegas, I find it hard to focus at the table without them. Distractions away from the table mean I don't get distracted in the game; I don't play too many hands or do anything silly. Obviously me winning a bracelet is more important to me than one of them winning one, but it's a close thing.
PN: The other graders seem to be appearing all over the final tables in the UK, a good sign overall for BlackBelt?
Neil Channing: Nick Wright did very well in the GUKPT in Aberdeen, he is a good player, I think he really wanted to impress in his first outing as a Blue Belt and he was a bit gutted that he didn't win it. All 50 of the graders were very strong, I think they would have all been in everybody's top 100 unsponsored players in the UK list. I think the experience has really spurred on the ones who didn't do so well to prove a point, like James Atkin who has done very well since.
PN: After Vegas, whats next for BlackBelt Poker
Neil Channing: The poker room should finally go live in August, regarding the next grading we will basically see how much we have lost out in Vegas. We will reinvest the money if we fluke a bracelet, if we do our bollocks we will be much more conservative with the next grading. We might have a trial period before the grading and definitely have less graders, maybe 40, so we can take more care and attention with the players. We will probably do something in time for the EPT or the 2009 World Series of Poker Europe, probably the WSOPE because I like bracelets.
After Vegas the Brown Belts will be going to the GUKPT in Luton, which will be......glamorous.