Julian Thew - Interview with Julian Thew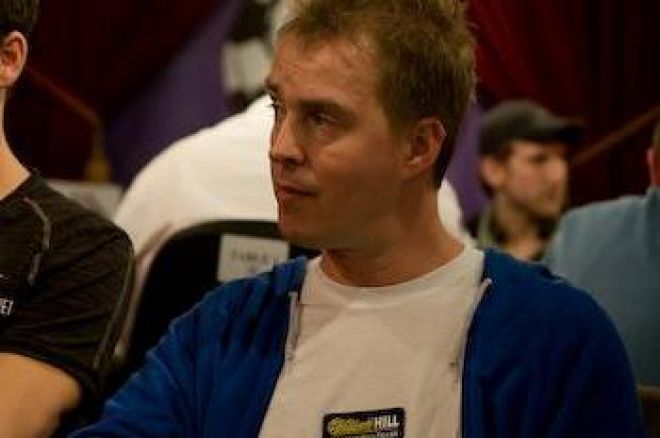 One player we will all be keeping an eye on at the World Series of Poker is Julian 'YoYo' Thew. The Nottingham based poker pro has two GUKPT titles and an EPT title to his name, as well as winning the Venetian Deepstack Extravaganza Main Event last year. On Sunday he made another final table with a 3rd place finish in the £20,000 guaranteed side event at DTD.
Pokernews: Well done on your final table last week Julian, how do you get yourself up for a small buy-in tournament when you are used to winning EPT titles?
Julian Thew: It was probably my best result so far this year actually, I don't play the big events every week and I go to DTD whenever I can, I still really enjoy playing poker whether it's an EPT or a £50 freeze out. It's still poker, obviously the structure and play is a lot different, but you can always take something from it, a final table is still a final table and they are always tough to make, a £500 win is still £500, its still real money which you have to appreciate.
PN: Being a Nottingham local you must have a few thoughts on the difficulties they are facing at the moment?
Julian Thew: It is such a shame, if they pulled the plug on it, it would be awful, it's very easy to forget what it was like before Dusk Till Dawn was around. I'm sure Rob won't close the doors after all he did to get them open in the first place, but I don't think the government will change their policy overnight either, nor will many people lobby against it. They were very unlucky with the overlay in the Grand Slam but hats off to them for honouring it.
PN: You mention not having many big results this year, tournament poker is such a high variance affair, how do you cope with these bad stretches?
Julian Thew: I've had a few 6 month stretches before where nothing really goes your way, since Vegas last year that's what it's been like, I've had a few sprinkles of final tables but not in any main events, no big finishes. Confidence is a very delicate attribute and it does get knocked easily, but I've been doing my homework, I know it's just variance, experience teaches you that. I know I am a lot luckier than most players in that I have my sponsor William Hill Poker, who really help me ride out these difficult times.
PN: You must then be looking forward to going out to Vegas to the scene of your last result, when you won the Venetian Deepstack Main Event?
Julian Thew: I've been out there 8 times now and I never even came close, so it was really nice to have a touch out there last year at the Venetian. Nobody knows me out there like they do in Europe, its lovely, it's just like the old days. It's nice to be able to fly under the radar in those events.
PN: You're not tempted to get out to Vegas as soon as possible then?
Julian Thew: I'm flying out on the 21st, I can't go for the full stretch as I have a wife and three kids and I wouldn't want to either. 2 weeks is long enough and this year I am going for 3 weeks, which is the longest ever for me. It's easy to over play while you are there, to chase the bucks. I will try not to play two comps a day, or one a day for that matter, but I probably will.
PN: So what events have you got planned?
Julian Thew: I don't like being in one place for 3 weeks, so I will be playing the $10,000 Pot Limit Hold'em, the $5,000 6 max, the main event and maybe one of the $1,500 events at the Rio. After that I will be looking at some of the events at the Bellagio, the Venetian and Caesars and see what tickles my fancy.
PN: Just how important is winning a bracelet, or is it all about the money?
Julian Thew: 2 years ago it was purely financial, I used to work for a living, now I have a few titles under my belt a bracelet appeals more, I do think they are overvalued a bit now there are so many of them though. I would still rather come back with a nice big cheque than a trophy though, I'd rather come 5th in the main event than win one of the smaller bracelets if it was financially more beneficial.
[I]Julian Thew is sponsored by William Hill Poker.