JP Kelly Chipleader in $1,500 Pot Limit Final, GUKPT Summer Series Begins + more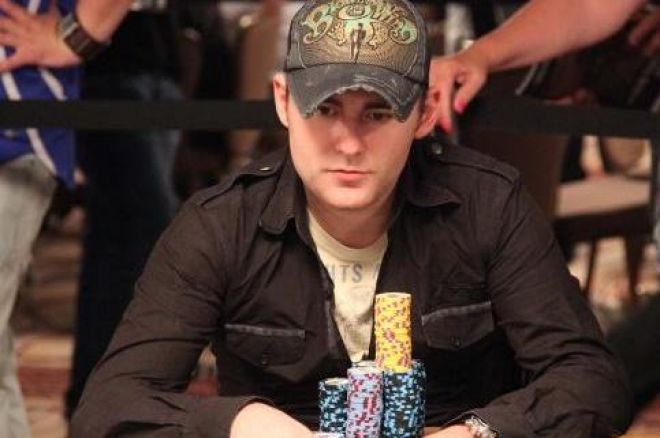 JP Kelly ChipLeader in the $1,500 Pot Limit Hold'em Final
Without doubt one of the best young players on the UK circuit, John Paul Kelly, is just 8 players away from the first UK bracelet of the World Series of Poker. JP navigated his way through a 633 player field to make his 2nd WSOP final table (Having come 9th in the PLO/PLH mixed event last year) and is eyeing up a first prize of $194,434. He will no doubt have his work cut out though, as he is joined by none other than 8 time bracelet winner Eric Seidel, who will be looking to close the gap on Doyle, Johnny and Phil tonight for his 9th.
Not that we want to divide loyalties here at UK Pokernews, but you can still win 0.5% of Seidel's winnings tonight on ChipMeUp. That's right, we are holding an auction for 0.5% of Seidels final cash amount, with 50% of which going to the highest bidder, 30% going to the user with most bids and the rest going to the 2nd highest bidder. The bid currently stands at $0.36 and could be worth almost $10,000 in total, we have already paid out huge sums in other winning players at the WSOP and this one will surely be like shooting fish in a barrel.
The $1,500 Pot Limit Hold'em final table looks like this and you can see play by play action tonight via our live updates.
Seat 1: Marc Tschirch - 268,000
Seat 2: Erik Seidel - 337,000
Seat 3: Jason Dewitt - 476,000
Seat 4: Kyle Carlston - 320,000
Seat 5: Andrew Radel - 250,000
Seat 6: John-Paul Kelly - 627,000
Seat 7: Ravi Raghavan - 145,000
Seat 8: Kirk Steward - 231,000
Seat 9: Aaron Virchis - 191,000
GUKPT Summer Series Begins Today
Poker just doesn't stop in the UK during the World Series, nor does it stop during a recession, and the good folks at the Grosvenor UK Poker Tour (GUKPT) know that. Which is why they have chosen to hold a lower stakes, Summer Series, which begins today. Across three destinations, the series starts tonight in Bolton. The series begins with a £200 two day event, followed by a £300 event tomorrow and Saturday and finishes with a £500 main event starting on Saturday. All at the Grosvenor Casino in Bolton.
The winner of the each event will also win a prestigious seat in the Champion of Champions at the end of the year. Next week the series continues in Aberdeen and the following week in Walsall, with matching schedules.
Face to Face Festival at Southend
Another summer festival offering in Southend, which is becoming a bit of a hub of live poker in the UK. The Rendezvous Casino at the Kursaal plays host to the Face to Face Festival on the 22nd to 26th of July. It looks like there is a lot of play in all the events, which boast deep stacks, in particular the 15,000 stack main event. A satellite to the main event takes place on the Monday, with the rest of the schedule looking like this:
Thu 23rd July 8:00PM £100+10 NL Freezeout 7,500 chips, 30 min clock
Fri, 24th July 8:00PM £200+20 NL Freezeout 10,000 chips, 30 min clock
Sat,25th July 7:30PM Main Event £500+50 (2 days) 15,000 chips, 40 min clock
Sun,26th July 7:30PM £100+£25 Bounty10,000 chips, 30 min clock
DTD Deepstack Start Time Changes
Great news for anyone who wants to make a real weekend of it, the next and future Dusk Till Dawn Deepstack Main Events will all start at 2pm instead of 7pm on the Saturdays. This will surely make for a much easier day one, for what is a very long main event with 300+ runners. It will also no doubt make the cash games and side events much juicer by potentially filling the seats up sooner and for longer.