UK Bracelet Number 3 - John Kabbaj Captures Pot Limit Hold'em Championship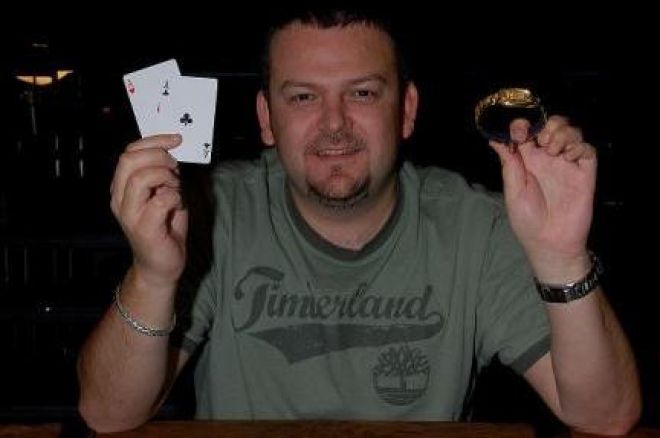 Rule Britannia! The UK is celebrating its third bracelet of the 2009 WSOP as John Kabbaj has finally captured his first WSOP bracelet. He went into the $10,000 Pot Limit Hold'em Championship Final with a massive chip lead which took him all the way to the heads up match with Russian poker legend Kirill Gerasimov.
Aces could be the story of this tournament for Kabbaj, after bubbling the final table of this very event last year when his aces got cracked by queens, he found himself in a similar scenario while deep this time round. That time his aces held against the kings of Bryn Kenney which gave him a monumental chip lead, which he used to bulldoze his way to the heads up match After a long battle, a TV poker dream of a final hand was played out as he was once again dealt aces against the kings of Gerasimov, which once again held to give him the bracelet and the $633,335 first prize.
His aces may have held several times in huge pots, but Kabbaj dominated the final table this morning just as he did the day before it. He went behind Gerasimov in the chip standings heads up but continued to put the pressure on him throughout, including a hand where he reraised Gerasimov on a




turn forcing the Russian to go into the tank for over seven minutes, before folding (Kabbaj later revealed he had 10-6 for two pair) which gave Kabbaj the lead again.
Pot Limit Hold'em is not only considered a very British game, it is considered to be John Kabbaj's best game, you only have to look at our interview with Neil Channing where he correctly predicted Kabbaj could emerge the winner of this very event. It is actually the UK's second pot limit hold'em bracelet of 2009 after JP Kelly won the $2,500 event and many experts think it is a more skilful variant of the game than No Limit.
"I'm still a bit dizzy right now. I can't believe this has happened." Said Kabbaj after the win "Sometimes in poker, you just know when it is your day. To me, it was my day, and I was right."
"Poker has changed in the last five years, or so. Bracelets are a big thing now. In previous years when I came to the World Series, I really did not play in that many tournaments. I was a cash specialist. Pot-Limit is my game and live action is where all the money was. I won a few big tournaments in Europe. But I never put a big effort here. The last few years I really tried, and now it has paid off."
Not only did Kabbaj bubble this final table last year, he also lost heads up in this event in 2004, which added extra pressure this time round:
"In 2004, it was the first time in the history that the WSOP went to a day three. We were so tired and exhausted. When we got three handed, it was all over in 15 minutes. It was like – bang, bang, and it was over. Afterward, I didn't pick up my money for a week. I didn't talk to anyone for about three days. I was really down. It was the biggest score of my career at the time, but I thought I let myself down heads-up. There were a few demons here, but I dealt with it."
36 year old Kabbaj is the 3rd bracelet winner to hail from the UK this year, alongside Roland De Wolfe and JP Kelly. This puts the UK firmly in 2nd place in the bracelet counts (behind obviously America on 31) and is already the most successful bracelet haul ever by the Brits at the WSOP. With 12 more events in Vegas and 4 at the WSOPE, all eyes will be on the UK to see if we can go one (or more) better.
UK Pokernews would like to congratulate John Kabbaj on this excellent and thoroughly deserved result. Now let's have another one!