Ian Frazer - Interview with PartyPoker Pro Ian Frazer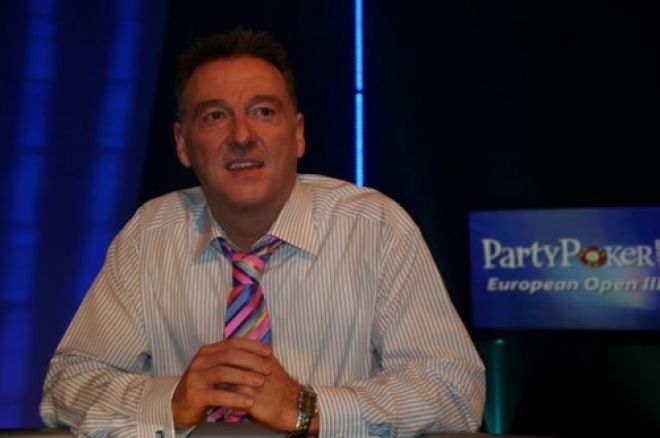 We caught up with TV shootout specialist and newly sponsored Ian Frazer as he was heading out to Vegas. Frazer is arguably the most prolific TV shootout tournament player ever, having won the 888 UK Open and the PartyPoker European Open, as well as many other TV finals. He has just been named as the first sponsored pro in the new Party Poker scheme which rewards loyal players with dream sponsorship opportunities.
Pokernews: This sponsorship deal is a bit different to 99% of the deals out there isn't it?
Ian Frazer: It's a different approach to sponsorship and that's what got me very excited. It's much better than just plucking some random successful player from nowhere, putting a badge on their chest and giving them a load of money to play with. Whenever you see these sponsored players being interviewed they are always talking about themselves, which I think is wrong, they should be promoting their brand. I know it's not quite as easy as that, because poker is gambling after all and you have to be responsible, but it didn't seem right to me.
PN: Do you think this is how all poker sponsorship models will look like in the future?
Ian Frazer: Its reflective of how business is these days, you see lots of firms partnering with suppliers and contractors, showing loyalty to them and committing to using them instead of others. This is the same thing, if you are loyal to Party Poker they will be loyal to you. I've been playing on Party from the start of my poker career, I know people think I have been playing for 20 years but I haven't. This for me is the easiest job in the world, I get to promote something I believe in and I honestly think they will be the biggest poker room in the world again soon.
PN: You are on the way to the WSOP, what are you planning on playing?
Ian Frazer: I'm planning on playing the Omaha Hi/Lo events, the shootouts and the shorthanded events.
PN: It sounds like you have took the time to pick events where you clearly have an edge?
Ian Frazer: I think so yes. I love the shorthanded events; I think I might have an edge in them based on my TV experience. My game is based on tells and reads, playing what my opponent has rather than what I have, which I think lends itself to shorthanded play. 10 handed you have to be much more patient, I wouldn't feel obliged to play a hand in 2 hours. But shorthanded you play so many more hands, you get reads more quickly and they are proven much quicker too.
PN: After Thang Luu Defended his Omaha Hi/Lo Bracelet this year, many people would say that Omaha Hi/Lo is the biggest skill game in poker, do you agree?
Ian Frazer: I do, 100%, there is definitely more skill and less variance in hi/lo. I play it on Party quite a lot and losing sessions are rare, plenty of break even sessions, but I am rarely more than 1 buy-in down at the end of one. You don't have to commit as much without the goods in hi/lo, we all know hold'em is the game for spin ups but you can also have a huge edge in hold'em and still lose ten times in a row.
PN: Would you say the skill edge comes mainly from the mistakes of others being amplified in this game?
Ian Frazer: You can always tell when a PLO high player wanders onto a hi/lo table by mistake because they get up and leave right away. The average player really overrates their hands in hi/lo, you can usually spot these players pretty quickly. There is one really good hi/lo Canadian player on PartyPoker whom I usually avoid unless there are a few stars at the table.
PN: As a TV poker specialist, do you think we will ever see hi/lo on our screens?
Ian Frazer: I don't think this would make good TV really, unless it was restricted to players that knew the game inside out. I think bad play would send the wrong message out to the viewers as it would be hard enough for new players to understand anyway. New players should probably play PLO high before they progress to hi/lo.
[I]You can play against Ian Frazer at Party Poker, don't forget that you can get $50 for FREE with no deposit when you sign up using our links.