Catman's Column - The Gloves are Off!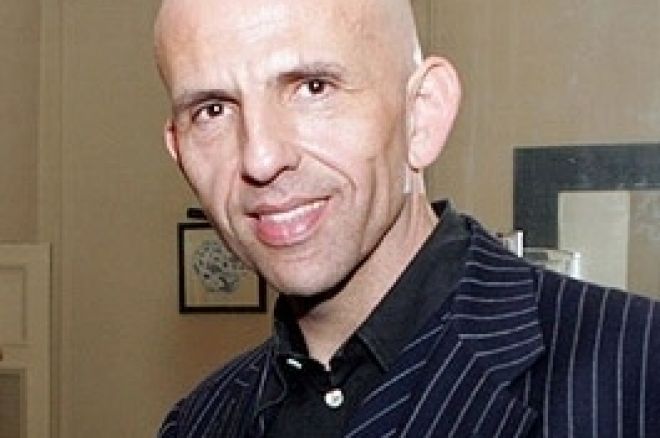 First things first congratulations to our third WSOP sponsored by Harrahs, Bracelet Winner John Kabbaj, this will bring JK up over the $2 million mark, well deserved and God Save The Queen.
Like many, I am full of powerful memories associated with a man that was Inspirational, Iconic, talented and abused, but now he has come to rest in a heavenly sanctuary. He can't sing as well as the Devilfish but yes, that hero of the six seater shoot out Mr Ian Frazer an Officer and a Gentleman, is an officially Sponsored Pro Poker Player. More importantly his backers are not hit and run, like Jamie Gold's recent last sponsors. Party Poker has finally come out of the closet, they say to accumulate you must speculate, and getting players out on the circuit who will be noticed is vital. Frazer is a right Diamond, he has got a lot of play up his sleeve, can be slightly mental, but driven by this inspirational sponsorship Mr Frazer will make poker a lot more entertaining.
Entertainment is what it is all about, bollox should poker players get sponsored on results alone, no no no. I love that little kid who plays for Pokerstars, errr Dario Marineri, OK I have no idea how to spell his name, but he is so cute, I couldn't give a brass monkeys what he has won, but I want to watch him spar on the tables, hoping that he never comes up against that 'Boogie' man Schwartz on a live TV table. So in comes some news hot from Vegas, I read in a PokerNews interview from our favourite Bad
Boy of Poker, Neil Channing that Liv Boeree is a big favourite in her boxing match that the tale of the tape suggests she is a 3-1 favourite to him.
So obviously I will await the call 'Catman , your seats are waiting on the PokerNews Lear jet,' I know They have one, trust me, I know it. Now the tape was lit, two of Pokers finest Gals, were apparently about to put their dukes up in a boxing match, what the feck has inspired this grudge match. I had a chat to my editor Mr Barry Carter and again, my ten years working as Agent to Mr Nigel Benn the Double World Super Middleweight Boxer, boxer kicked in, what were they doing.
I exhausted the googler with Melissa Castello Nude searches and it kept coming up with an actress , Monica Bellucci. Now her opponent Liv is someone very special, a beautiful young girl, who through hard work and graft got sponsored by 'Ultimate Bet' and has done bloomin well. As stunning as Liv is, she is a rock chick with a smashing boyfriend, and I don't want to see herget her teeth kicked in or punched in.
So I am heading a petition, which I want signed, this event has got to be turned into a Wrestling Match, you see we are looking at the old proposition that sex sells, and two women boxing is not sexy. Yes Gus 'Invincible' Hansen and the other geezer got in the ring, both as fit as a fiddle, but entertainment, it was not, Gus playing poker, no finer entertainment. If you are going to do it, make it watchable, so it is either Full on Cage Fighting with lots of blood, that is sexy or Mud, Stroke, Oil Wrestling, something funny or sexy. I have discussed matters with two of my good friends Mel 'Got to be there' Lofthouse and the Catgirl, and both are more than happy to fight them Biatches in the nod, so come on let's make this a night to remember. I was looking for 'Catgirls,' Nude challenge Video to Tony G and Gus to play poker 'Naked,' they bottled it and You Tube took it down, lol..
However, I am thinking why not make this a little more exciting, maybe get Phil Hellmuth and Roland Oiled up and stuck in the middle of it all. Yes, stick that right up the boy's prop bets and light the fuse, that would be pay for TV, Catman strikes yet again.
Imagination is what is required, creative artistry, Pr is an art and shortly i will come back to you with The Anti Christ of Oxford University Pr, the great Oxford Poker Cup, next week. The Oxford Poker Cup was a little beaten by the launch of 'Oxford
Undressed Travel Aid Charity Calendar.' Oxford University is the oldest university in the English-speaking world, teaching having existed there since at least 1096, so with the permission of Oxford they took these photos and stormed the world press. Now maybe we can get a little more imagination into selling poker, it's not sexy but hey.
Please go and buy the calendar it is for Charity too, search oxford + calendar + .co.uk
It times to give a big shout out to notable poker friends and dignitaries. All visible on Facebook, feel free to harass them, they deserve it lol:
1- My love and respect goes to 'Partouche Pokers' Jean-Jacques Ichai. Partouche are a huge French Casino Chain and all massive online. JJ runs the Partouche Poker Tour and the Partouche Poker Team, the lucky
French Git is off to Vegas and would not take me. the Partouche Tour is very simialr to the GUKPT but they speak French lol. More news will follow, once Partouche have sorted out my transport and Catgirl's event entries. Love the Poker Pimp.
2- Phil Gregg and the London Poker Circuit sponsored by 888.com - PokerNews has followed the LPC. Diamond Geezer, running events in stunning locations, will be a great success with some minor tweaking.
3- Jay Luck - Jay is doing a stunning Pr job, on her 'Poker War.' A team event which Pokernews may well be putting in their very own 'Naked Poker Team,' led by Barry Carter Editoreeeee (Ed Note: Not on your nelly Catman)
4- Finally a shout to someone that said 'Catman, can you let players now about our £500 freeze out," as I asked for my free seat, they disappeared. My hat does go off to Mr Colin Hunt, the man behind London Clubs very sexy Poker Scene.
I must say, I really hope Doyle Brunson can get to a century, he is the 'King of Poker.'
Enough said, Love Peace and Respect. Life is too short for boxing matches, but not greasy Oil Wrestling, that involves lots of hugging, Ayeeeeee.
Respect Catman Poker Agent / Pimp
Facebook add catman.catman