Catman's Column - The VIP Room at the Vic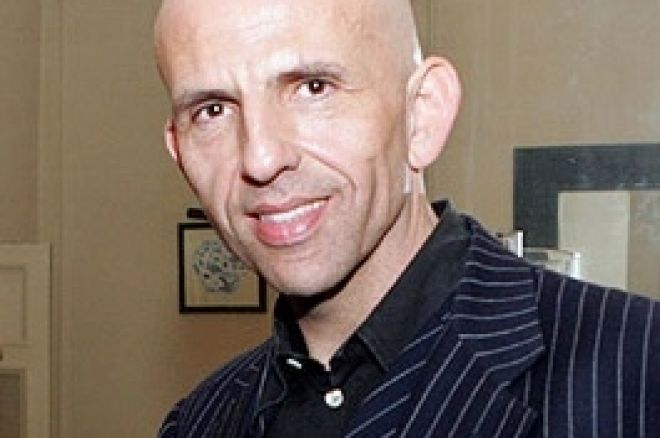 Congratulations to UK Superheros, John-Paul Kelly and Roland De Wolfe, an Englishman doesn't win a bracelet for two years and then two come along at once, typical. Well it is a numbers game so they say; with over $190 million dollars at stake last year and 68% of bracelets going to the Yanks and ground zero to us, I wouldn't say they are better, would you?
A couple of weeks back one of my 500 closest friends on Facebook, the one and only Jonathan Rabb, said "Catman, will you and Catgirl come to the launch of the Vic's new VIP Room, we are also running a charity Pokerthon for St John's Hospice too," I enquired if there would be lots of food and drinks and responded with an immediate 'yes.' JR is another one of poker's super heroes, not for helping in the creation and management of the GUKPT, but for having accepted the roll as 'Poker Host,' to The Victoria Casino. If you have ever spent anytime in the bookies, you will know that the most common word uttered is 'Sh*t,' so in a room that can deal so much pain, it is only fair to bring in Doctor JR to deal with any grumpy patients. Make no doubt The Grosvenor Victoria is one of the most sexy, sensual, exciting, eclectic and esoteric club you could ever wish for. Its heritage and history make for a club open to all but in some ways a closed shop.
The Vic offers anyone the chance to learn cash poker at its best, let's say ten years ago you walked into the small poker room/dive downstairs for the first time, it was a little like stepping on a broken bottle whilst paddling in a pool full of starving Piranhas- scary beyond imagination. But don't worry all the sharks are now quietly basking in a huge room with so much plankton to feed on, you would never know they are there. For The Vic will give you the best education you can wish for, your opposition will be 70% real live 'PRO.' Think of one of those experience day's when you get to Paintball, Driving a Bugatti Byron and crashing it, then busting one out, enough said get down there.
The Grosvenor Victoria Casino, alias 'The Vic,' The Vic's, all singing all dancing, 240 capacity PokerRoom opened in May 2007 after a £2 million refurbishment. The Vic is one of Europe's largest card rooms, a venue I titled, 'The Shrine of European Poker.'
It is one of the world's most exclusive clubs by default, to feel as if you were an accepted member of this esoteric poker elite, you would need to quietly serve your time.
In a Nutshell, The Vic – Eight Wonder of The World or a club I refer to as 'The Shrine of European Poker," started in a casino built by Judah Binstock in 1965. The second floor housed a Barber's Shop, The association of British Bookmakers and 'The Victoria Club.' There was Poker from the very start, Strip Deck was banned after alleged collusion from the 'Greeks.' Several private owners, Playboy and finally to Mecca in the 80's passed the hallowed lounges of this most exclusive of Gentlemen's club, I say Gentleman's club as alas the female population is still very sparse in numbers. The games were massive virtually from the word go. My great hero, the grumpy old git legend Roy Houghton was one of the original bosses at The Vic and responsible for some right old tear ups, he was followed by Russel Tamplin, the Ninja like figure behind all Grosvenor Poker, the Jeff Leight and his team Brian Masterson, Joe McCann, Caroline Reilly.
So is this VIP area a new move by the Vic?
In 1983 the card room re opened as a self deal and at this time there was an area an area behind screens, that hosted a £2,500 sit down 5 card strip deck game. Most of the players sat down with a minimum £20k, the pots were always huge. It was really a group of friends, but this was the beginning of the big game," Exotic names like Max Thomas, Paulo Tessi were regulars, you see the Vic is a place of legendary names, even Amarillo Slim has ridden his white horse to The Vic, Michael 'Seat Here Arnold' riding shotgun. The £1,000 game developed, saw the likes of Donnacha O'Dea, Tony De Graci, George Crawley, George Russo, Eric Dolby. Surrinder Sunnar was a regular at The Vic, Ben Roberts who started in the £50 game and Stewart Reubens to name but a few. £15K-£20K pots were common, in a time when money had meaning, millions were won and lost. Vic regulars include, The Revered Stavros,Silver Fox Bambos Xanthos, Neil 'Bad Beat' Channing, , Joe Grech, Dealers Choice Murry Brown, Alex The Egyptian, Haida, Nuri, did I remember Bond 007 (no joke), Sandra with the bottomless Handbag, Vicky Coren with nearly a $1 Million won at The Vic, some names you might recognise, some you may not, but trust me visit the Vic and you will slowly get to know all of these characters. Play them and learn, you will not meet much better.
We are now near The Vic's cash desk and bump into Betfair sponsored Tabs (John Tabatabai) "I want to be involved in the very first hand, part of history. I wouldn't mind winning tonight, I spent £5k at Crystal Nightclub last night, luckily not many girls so the Champagne bill was low. The first time I came in with friends from Cardiff, yes Tabs is Welsh." Blue Cheese, Salmon and Pate have one, said the Waitress.
Can you tell Catgirl, how many people shag sheep? " Wales does have the highest rate of teenage pregnancy, I don't think there is much sheep shagging." By the way, John is one of the few sponsored players I know, who really appreciates his place on the poker ladder.
Jonathan Rabb Greets us and led us into the new VIP room where I promptly nicked a tray of stunning canapes - I shit you not, Canapes at The Vic, along with a couple of bottles of bubbly and we were ready for the party to roll. JR . Flat Screens, nice chairs, 'Why didn't you get the ones they use on High Stakes Poker, you know something comfortable" roared the Catgirl at poor JR, a good point from a player who wasn't sitting too far away from The Russian Football Club owner when he allegedly lost a small yacht in a poker game recently. We sit down with JR, " Jonathan, it is very nice, I hope you are going to put something in between these mirrors, you cannot leave it as it is, why don't you get rid of that wall too," said Catgirl who is a designer too. " We have two big Plasma Screen, players may feel cut off, but I want to be able to offer them .
Someone big comes up and tells me Andrew Feldman, had apparently lost £750,000 in a heads up in a private game a fair while back, I Feck You not.
JR rattles on, he talks a lot more than me and a lot more sense too:"The room is nice, increases the size of the card room, we are not trying to force big games, it is just a facility. The game limits will start at £10-£25 here, maybe £8, but whatever they want. The Casino have considered it for a while, a number of players have been requesting it. Certain players want privacy. We will also use the room for functions and private hire. This room is nearly the same size as The Old Card Room. Poker is back on the top floor when it all started, the whole top floor was 7 card."
JR, When will you have Coyote Ugly Girls dancing on the bar?
"Let's imagine flashing lights in this room and a girl dancing in every corner while players played, I really don't know Catman. You need some tasteful Naked Pictures on the Wall," pumped in the Catgirl champagne in hand."
The room would lend perfectly, it really does have a sort of Feck Me Style. After attempting to get Steve, one of the fantastic dealers to pose Naked on a table, we settled for a photo with two promotion girls, one did offer to sit on my lap, but that seemed inappropriate.
"Tonight everything is for St Johns Hospice, 24 Hour Pokerthon consisting of 6 tournament every 4 hours, all juice to charity.."
The Players roll in to initiate the new table, I grab the great Vicky Coren: " I am here for one night only because they are doing a charity fund raiser and it is for St John's Hospice who I particularly like. I will not be coming into this room again, I think it is wrong, anything that makes those playing in smaller games feel not as important to the casino as those playing in the bigger games is totally misconceived. I think English poker is a level playing field, it's all about equality, I don't think playing bigger poker makes you a better person and you deserve better thing. Therefore I won't be playing in this room again. But I think it is brilliant The Vic is doing something for charity, they should do it every month."
Jon Shoreham, takes £15,000 of chips and offers to bet Vicky she will play here again.
The game kicks off and Vicky grabs another wad out of her handbag to cash up for more chips, the first game is looking fun, with the players teasing the staff with their normal humorous and feisty, banter. The air conditioning is too cold, it is rubbish, the lighting is ridiculous, at least the new Quality of table, "The tables are level, nothing not heard on a daily basis for 40 years. The Vic is the Vic, it is loved and often despised, but at last Grosvenor are totally catering for ever poker player, across the board.
Vicky declares that if this room deserves special treatment then every player deserves it, which is absolutely fair, but poker is a game of super egos and the desire to be recognized, if not famous.
David Young walks in and if you don't know Mr Young, he is a fiery and hyper intellectual ex journalist and pro poker player : " It's repugnant, disgusting. The room is built on a lie, VIP stands for very important persons, there are no important persons here,, people who gambled lots of money, daddy's money, but that doesn't make them very important does it. How many of these people heal the sick? How many human rights lawyer? How many people got someone innocent off death row? How many Nobel prizes? To me it's argghhhh, if they can give nicer tables and chairs here, then give it to all players."
David Young is a legend, straight to the point and dynamic with his very fair views. Catgirl is now demanding the same swivel chairs as in high stakes poker, even though she is not in the game.
So is that what a VIP room is all about, well yes sir, I can tell you exactly what it is all about, cos I ran many of them. If there is an area that is exclusive a major part of the target audience will aspire to taste that divine unobtainable nectar. 78.935 of the poker market want to play the big games, want to win big, want to be recognised. There is much Willy waving in poker ( mine is bigger than yours sort of thing) and even those at the very top Phil Ivey, Danny Neg, Phil Hellmuth, Gus Hansen will sell their souls to 'Durr' to ensure the wqorld see them bigging it up for the video camera diaries and good luck to them.The best Poker TV is High Stakes Poker and the story goes and as sure as I love fish and Chips, The VIP room wil host some big Monster Games, all we need know is that live table camera they have in the Bicycle Casino and the job is done.It is a bit of a bummer, that after we are blessed with the Vics huge booming room and The Empires Sexy Cash Game, along with Phil Cleggs London Poker Circuit, they all get hit with 50% tax on poker, which in turn may well hit the player. It has take the Vic 44 years of pumping and dumping Poker, but the VIP High Roller Bobs your Uncle Fannies your Aunt Room is the dog's butter bollox.
A Few Points:
All characters in last times article were fictionless, none of them are confirmed Gay.
Thanks to Joe Barnard and all at the Oxford Cup - who I will write about next time.
Contact or add Catman Catman on Facebook and let me know anything exciting in the world of poker, please.
Love and Peace CatPimp