Catman's Column - The Bad Boys of Modern Poker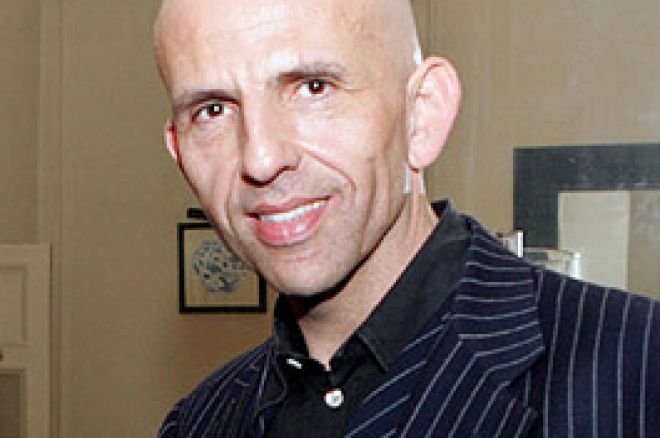 With The World Series Of Poker $40,000 event having just finished all I
can think about is Gay Poker and Lesbian sex, something that has been
on my mind every day since I watched Luke Schwartz/FullFlush kick
it, when his word association for Durr was the word 'Gay' on the
Pokernews TV Network. It's all about body language, they say.
First thing to tell the world of poker my email is now
catman@pokeragency.co.uk, the former got swallowed up by Lycos. Not
that I am expecting any free trips to Vegas (ship it), but I would
like to hear from anyone with anything interesting for Catgirl and I
to attend. I am especially keen to get out there and meet players,
both pro and recreational alike, along with any faces of poker
companies, I really hate invisible poker execs. From a funky pub game
to Catgirl sitting down in the $3 million live cash game (with
someone else's money obviously) that is regularly played out in London,
yes it does exist. The Catmobile is ready and the aim is to get out
there, taste it, and take the news across the internet highway, so add ' Catman Catman' on facebook and keep me informed.
Neither I nor my new learned Editor Barry Carter, have yet to work out
what my ramblings will be but I really hope you guys let me know what
is going on..
It's been a big week, I attended two Poker Luminaries Birthday Parties.
One the great John Sullivan, ex Mansion, a company who I had some
great fun with, they also own or owned (not sure now) Les
Ambassadeurs, they also put The Catgirl into her first £5k sit down
live cash game. Petty peanuts for today's Goliath's, but still a couple
a hundred Stirling or so at the table. For anyone who knows JS, now
semi residing in KLL ( Kuala Lumpa) you will know how feckin mad the
world of poker can be.
The next night saw the birthday of another
Poker Legend, Big Rob Spencer from Gibraltar, Rob has launch a poker
site called G5 - his aim is to list every live poker tournament in the
world. I get 5 quid for everyone who visits his site, go take look.
Robs Party was at a lovely pub in Fulham, where he and G5 partner
Craig Dunn celebrated in style with a poker game at the back of the
pub. As any big game, this £5 re buy, was lit up, when the interloper
Phil took a few chips of Rob with 7-9 post my 4BB raise under the gun
call. As I noted the look on Robs face, I have got to admit, I felt
the power of this big ever smiling man, it resembled a little like the
rage you might face when meeting a psycho on Ketamine. I thought of
FullFlush, was now the time to tell Robbie Boy, he was 'Gay'. I have
spent the last few weeks trying to work out if calling someone 'Gay'
was as bad as it sounds.
So here is the S.W.A.G ( Silly Wild Ass Guess ), my 'God daughter,
Jodie' is 12 years old and her Bro, 'Bobby Joe,' Butters and Peng say,
that using the word 'Gay' only has bad vibes. Ryan and Rhys are 7yrs
and 9 yrs old, they use the word 'Gay' continuously.
I worked for many year with Double World Super Middle Weight, Boxing
Champ Nigel Benn, a gent and a true superstar who pisses on any poker
player for fame and style, call him Gay and you would be decked at an
educated guess, in those days. The grandson and former son-in-law of
Charlie Kray was jailed for life yesterday for hacking off a man's
head. I have met Joseph Jones in my time, as I remember a total gent.
He claimed he was playing poker on the night of the murder. So would
calling another poker player gay incite violence or be confused with
prejudice, or can it be forgiven. I remember, someone once called me a
likeable enough chap in a press article, I considered that to be an
absolute Feckn insult, for a long long time. Gus Hansen took it to the
boxing ring , he has a mighty fine set of Abs, even though, I still
haven't discussed with him, his referral to Catgirl and Pussy in the
same breath, hats off to him for getting into the ring though.
So Sticks and Stones may break your bones, but names will never harm
you. All I can say is, it must be toned down , I don't want to see it
kick off at the table, but there again I have always been the man
saying poker needs to be like WWF (Ed Note: We presume Catman means the WWE rather than the World Wildlife Fund) for it to succeed, so eat it.
It is too easy to misconstrue a little show biz from true insults.
Talking of Eating it, some forums slated Lady Ga Ga's, PokerFace Song,
when they believed Poker Face was a song about poker. Lady GaGa, she
does Bluffing with her Muffin ( her words), stated the song related to
her thinking of women whilst shagging her ex, and putting on this,
her 'Poker Face.' Did Lilly Allen mean it when she started to 'Biatch'
about Susan Boyles singing, no it is just show biz, but was it one
step to far.
Hats off to Luke Schwartz, I have been told he has walked away will
more than a Million from FullTilt and his verbal's online are way, way
more than just a bit of banter. You see, walking away with a million puts
you into a very special elite of winning players. Both Luke and Andrew Feldman have without doubt won a shitload online cash, both have small
areas of their mind working at a level way above genius. This area is
known as the FuUSonicofabiatch I am going to take your moneybellum. I
sat down behind (don't go there) Andrew Feldman and watched him put
Zigmund on Full Tilt at Full Tilt without even starting up the
conversation. Andrew Feldman sat down for his first time ever on the
big game, after just having become a Full tilt Red Pro, the welcome
from Zigmund was a straight forward 'Feck Off, Andrew.' Andrew Feldman
verbally destroyed Zigmund without crossing the boundaries, Zigmund
tilting himself off, and losing $325k minutes later, don't mess
with these young guns online, they are from a starship destroyer that
is buff. (Look at that he's pumpin' 200 pounds! Damn he's buff. )
So Poker is a Battle without blood, no longer a game of smokey dens,
no longer associated with people being shot in the back. The community
side of poker is getting bigger day by day, the hard end of the game
'24 hour cash' is popping up all over the place. The Vic really does
resemble Vegas in many ways now, that is another story. Alas Jonathan
Raab the host with the mostest of The Vic has informed me FullFlush
has already been barred which means that there is little likely hood
of a tear up between him and Michael 'Seat Here' Arnold.
I have never seen a fight at a poker game, only heard one man shot in
the leg when trying to shaft the wrong people. Now that Tony G is my
friend on Facebook , I am going to have talks in re incarnating the
real bad boy of Poker, no one, but no one can beat The Ex Nasty G Man.
A game of the future, Schwartz, Feldman, The G Man (original nasty
version) and of course The Wicked Witch of The East ' Catgirl', send
me the money and I will give you poker TV to kill for, simple as dat.
Editor's Note: The opinions of the author do not necessarily represent those of PokerNews.