Rumours that DTD is to Close, Brian Yates wins APAT Irish Championships, + more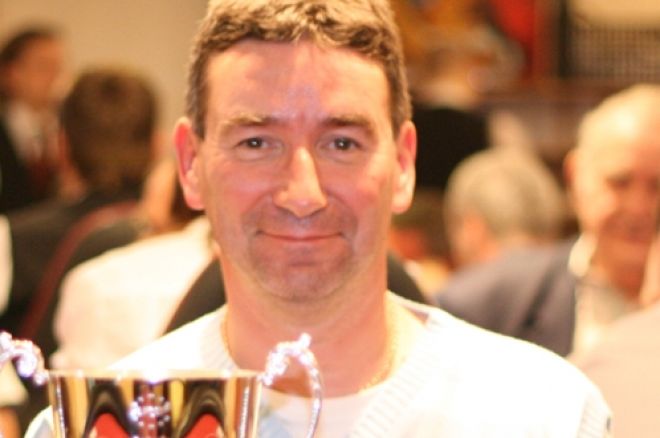 Brian Yates wins APAT Irish Amateur Poker Championships
Last weekend the (Amateur Poker Association and Tour) APAT hosted the APAT Irish Amateur Poker Championships at the Fitzwilliam Club in Dublin. As always it was a £75 buy-in event with a generous 10,000 starting stack and slow structure, and once again it was a sell out, with 144 players in total including alternates.
It was a noticeably faster tournament than usual, with plenty of early bust outs as one would expect in Ireland. 29 players made it to day 2 with a healthy mix of UK and Irish players at the final (With APAT UK Champ Steve Redfern being the final table bubble boy. Eventually it would be Brian Yates of Walsall who walked away with the title, as well as €3400 and perhaps most desirably a seat in the prestigious GUKPT Grand Final at the end of the year, courtesy of Blue Square. This is a unique double for Brian, who also is the 2008 APAT online champion and the first player to win a live and online APAT major.
Another fantastically organised and good value event courtesy of APAT, the next event is the Scottish Championships at the Maybury Casino, Edinburgh on the 18th and 19th of July.
British MPs invited to win back cash with InterPoker
A cheeky little promotion now from the folks at InterPoker now. British MPs are getting a bad rap at the moment after taking a gamble with taxpayers money, claiming for outrageous things including a duck pond and a tennis court. They are giving the disgraced MPs one last chance to hang onto the cash, by entering an exclusive heads up tournament at InterPoker.
They have also made an exclusive offer to speaker Michael Martin, who claimed for things such as a trip to Celtic Football Club, saying they will give him a season ticket and chauffeur service to every game if he plays in the tournament.
A spokesperson for InterPoker commented: "InterPoker is facilitating a challenge between these disgraced politicians and the public. We're giving them the chance to win back their dignity as well as the cash if they manage to beat the public in a fair fight. We hope that they'll take us up on our offer by visiting the site and registering for these very special online poker tournaments".
Rumours of Dusk Till Dawn Closure
The home of UK poker, Dusk Till Dawn, was left licking its wounds this week following an expensive DTD Grand Slam Main Event. Not only did they pay out a £56,000 overlay as a result of only 194 players turning up for the £250,000 guaranteed main event but they also lost £15,000 in an online satellite which guaranteed 50 seats to the main event.
Rob Young, Owner of Dusk Till Dawn, says: "It's been a total disaster. We've lost a lot of players due to the FA cup, upcoming poker events and the very good weather."
Simon Trumper, Poker Manager of DTD, says: "I'm a little disappointed by the turnout but all the players have been raving about how they haven't seen a structure as great as this in a long time."
The Nottingham Evening Post yesterday ran a feature suggesting the club was poised to close down, although on further inspection, it appears they are just paraphrasing an interview with Yong and taking what he said slightly out of context. This recent issue along with the poker taxation hike in the budget are currently costing Yong a fortune and he is mulling over his options. Tony Kendall has just been on the Blondepoker forum to put players fears at ease to say that Yong confirmed to him in an interview for Sky Poker that DTD won't make any knee jerk decisions about the clubs future and its business as usual until we hear otherwise.
Whichever way you look at it, this is very bad news for UK poker, whether DTD will be closing or if changes need to be made to keep it afloat. Rob Yong never wanted to profit from DTD, break even at best, but the recent poker taxation changes in the budget plus all the other problems the club have encountered could be a huge blow for the greatest poker venue in the UK, Europe and indeed the world.
One thing is for sure, the club would have no shortage of bidders should Yong be forced to sell it. Here at UK Pokernews we wish Dusk Till Dawn the best of luck for staying afloat during these difficult times.