Aisling Collins - Interview with Women's World Open Champion Aisling Collins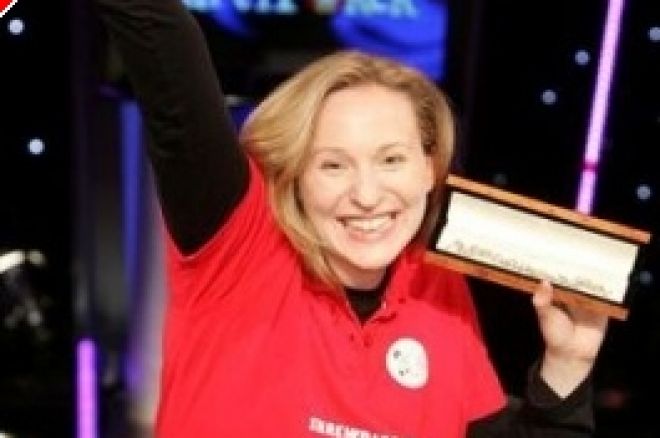 If anyone ever doubted the educational value of the interactive TV channel and poker room Sky Poker, they only need to look at the staff. Kara Scott is fast becoming one of the top female players in the world following her stint as a presenter on the show and the big news last month was of one of the shows backroom staff taking down a major honour. Aisling Collins had never played poker before producing The Club and The Open for the channel, but just a couple of years on she has gone on to win the PartyPoker Women's World Open for $50,000.
Pokernews: So it seems a pretty obvious question but...how did you come across poker?
Aisling Collins: It was literally a case of Tikay coming into the Sky Poker offices one day and being introduced to us as the man that was going to teach us poker. After that I started playing cash online, I had no idea what I was doing, and I wanted to dip my toes into a live game. I wanted to play a cheap competition where there was no pressure, but Tikay's idea of cheap and mine differed and I ended up playing a £150 freezeout in Luton. I ended up chopping the tournament 3 way, pure beginners luck, and thats where I also met Rookie (Aisling's poker pro boyfriend Ben Turnstill).
PN: So like most of us, you were hooked from the start?
Aisling Collins: I was very intrigued right from the start, I am one of those people who if they cannot master something they will spend forever trying to. I guess that means I will have a life long association with poker because you can never master it. I think I always had a lot of the characteristics of a poker player, I hate losing anything, and I think my job lends itself to the game too – it's a real test of how you react under pressure. I always want to get better, I study the game all the time.
PN: What made you want to play in this event in the first place?
Aisling Collins: The Shrewdies (A stable of young UK players, most of whom are backed by James Dempsey and post on the Blondepoker forum) backed me into this event, they thought I was a dark horse and had an edge because I was an unknown. I think they just wanted some action for when they were on the plane to Vegas.
PN: They were onto something, it must have been strange playing the format for the first time in front of the cameras?
Aisling Collins: I really felt out of my depth, maybe it was the cameras but also the buy-in, it was the biggest event I played so far and I was worried I would make a fool of myself. You can't prepare for the cameras but in the months prior to this I played a lot of shootout tournaments and 6 max SNGs online. I was lucky that Sky Poker is mainly 6 handed tables, so watching those games while I was producing the Open made a big difference, it meant I could study the format more.
PN: You came 2nd in your heat, did you feel more comfortable in the runners up turbo heat?
Aisling Collins: After my heat I was gutted by my heads up performance, it didn't help that Jen Mason is such an amazing player, but I quickly realised this was the weakest area of my game. But I had a seat in the runners up heat, which in my mind was a freeroll. I had nothing to lose, and everything to gain, so I wasn't afraid to get my chips in the middle.
[I]PN: You steamrolled the final table, how did it feel coming straight from the runners up heat that day?
Aisling Collins: The final was surreal, I was very calm, I had nothing to lose, there was no pressure any more, I hadn't lost any money for the Shrewdies. The other girls did have something to lose though, they had won their heats outright and had a few days to think about the money, but I was still on a rollercoaster ride, I had blagged my seat in the final and felt no pressure, I would be the one putting them to decisions not the other way around.
PN: With such a major title under your belt, will we be seeing more of you on the circuit?
Aisling Collins: I love producing TV for Sky Poker and that is my priority right now, I am currently hoping to produce another series of Sky Poker School. But if I get some opportunities to play poker on the side then of course I am interested.