Tony Phillips Wins GUKPT Newcastle, PKR to Broadcast WSOP Live + more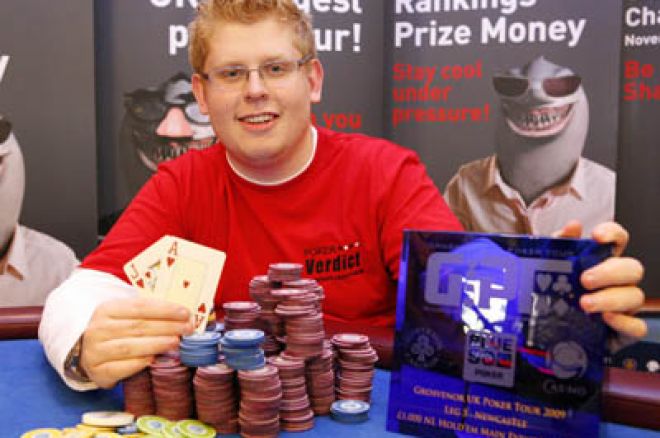 Tony Phillips Wins Newcastle GUKPT
Day 1a started with a very low turnout (42) but it was more than doubled in day 1b (109) to once again make the Newcastle leg of the Grosvenor UK Poker Tour (GUKPT) a complete success. One of the most promising young stars in UK poker finally took down his first major title after knocking on the door for the last year.
22-year-old Londoner Tony Phillips outlasted 151 players to take down the title and the £47,200. Despite being very young, many think this result is a long time coming, after Phillips has come very close in the past to a major title. Last year he came runner up to Ketul Nathwani in the GUKPT London Main Event and later suffered a very harsh exit to eventual winner Vanessa Selbst to bubble the final table of the $1,500 PLO at the 2009 World Series of Poker. Phillips possibly boasted the most dominant, and certainly the fastest, final table victory in the tours history, when he bested Steve Jelinek heads up for the title at 6.20pm.
Phillips was so dominant in fact, that it prompted the boys at Blue Square to knock up this amusing image of the man of the moment:
The tour is now on a break until August, but the much anticipated Summer Series takes place in June in Bolton, Aberdeen and Walsall. With £500 main events, these will surely be very popular with those players who didn't have the time or couldn't afford Vegas this year.
GUKPT Newcastle Final Table
1st Tony Phillips £47,200
2nd Steve Jelinek £30,200
3rd Henning Granstad £20,400
4th Dave Clark £12,850
5th Peter Smithson £9,050
6th Laurence Houghton £7,550
7th Haitao (Colin) Wu £6,050
8th Mohamed Muse £4,550
9th Finn Stewart £3,000
Pictures and results courtesy of GUKPT/Quentin Kozma
Black Belt Name the Brown Belts Live Tonight
The BlackBelt Poker graders will finally be put out of their misery tonight, when Neil Channing and Jesse May will be announcing which 8 players have made Brown Belt live on the Poker Show tonight. The graders will be standing by their phones as the lucky 8 will get called up live to be told they have won, which will mean a $20,000 WSOP package and a minimum of $4000 in live tournament sponsorship a month.
The folks at BlackBelt Poker were even good enough to quote yours truly when he said it's Brown Trouser time for the Brown Belt's (Thank you, thank you, I'm here all week) in their press release. Now all the friends of the player's are cruelly threatening to keep miss-calling them while the show is on air. Stay tuned here tomorrow for the results of the grading.
PKR Lands 2009 WSOP TV Deal
UK based virtual reality poker room PKR have agreed a blockbuster deal with Bluff media, which will see them act as the exclusive sole live broadcaster of 24 bracelet events from this year's World Series of Poker. You can watch the action live from their micro site free of charge.
One of the real big scores has to be the rights to broadcast the live $50,000 HORSE Championship, which will be something of a railbirds dream. They also have the rights to the $10,000 PLO Championship, which will as always be one of the sickest events of the year.
PKR Marketing Director Simon Prodger said, "The World Series of Poker is without doubt the biggest event of the poker calendar and it fills me with delight that PKR has managed to scoop exclusive rights to be the official broadcaster for these 24 bracelet events."
Full details of live coverage will be announced shortly and will include highlights like: • $50,000 World Championship H.O.R.S.E event
• $10,000 World Championship Omaha Hi-Lo Split 8 or Better (event #18)
• $10,000 World Championship Heads Up No Limit (event #29)
• $10,000 World Championship Limit Hold'em (event #33),
• $10,000 World Championship Pot Limit Omaha (event #40
• $10,000 World Championship Pot Limit Hold'em (event #45)
• $1,000 No Limit Hold'em 'Stimulus Special' (event #4)
• $1,000 Ladies Championship (event #17)
• $5,000 Pot Limit Omaha (event #35)
• $5,000 No Limit Hold'em Shootout (event #41)
For more details and for an exclusive $2000 sign up bonus, go to PKR today.